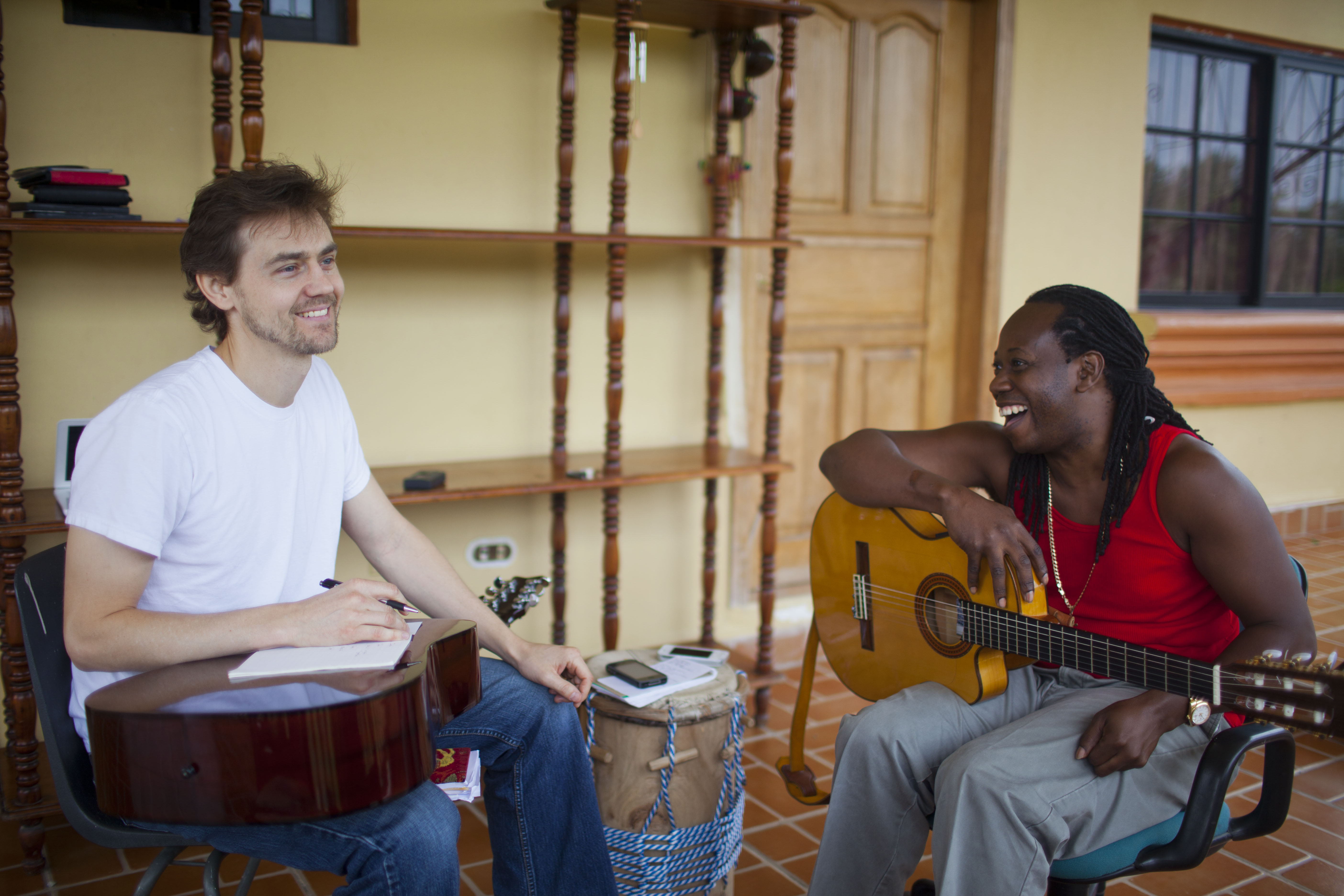 This video captures the making of "Sandi Le." The song, whose title means "This Illness" in Garifuna, tells the story of a woman who contracts HIV and feels ashamed because of a heavy stigma. In the end, she gathers the strength to tell the world, and hopes her bravery will inspire others to come out of the shadows.
When the door to his home studio swung open, the first thing I noticed about Aurelio Martinez was his enormous smile. I had seen it featured on the Garifuna singer/songwriter's album covers and his posters, but it was even bigger in real life, and was a reflection of his larger-than-life personality and the fiery character of his music.
I had called Aurelio several weeks earlier to ask him to co-write and record a song about HIV for our Pulitzer Center project. He was the perfect fit: he's an internationally-acclaimed musician with decades of experience in the Garifuna genre, he was Honduras' first-ever black congressman, and has even written songs on HIV for his community, an Afro-Caribbean people living in Central America. Despite his political side, it was his booming voice, contagious laugh, and incessant joking that permeated the house during the first few hours of songwriting on the rainy Saturday morning.
That changed when my fellow grantee David Rochkind put his computer in front of Aurelio over lunch. His joviality faded. He put his hands over his face. And just stared at the screen. David was showing him his photography. An old woman staring away from the camera with a solemn look, a blind 15-year-old girl under the covers, a fisherman in his kitchen, a mother brushing back her baby daughter's hair. All of them Garifuna and all of them HIV positive. "This is so sad," Aurelio said. "For me, any Garifuna is always a brother."
Those pictures brought out a side of Aurelio we hadn't seen yet. He had developed a proclivity for activism when he experienced discrimination as a boy. Garifuna children were punished at school for speaking their native language instead of Spanish, would eat separately from other Hondurans, and would be called derogatory names. His desire to better his community has inspired him to participate in numerous social causes during his career.
In recent years though, Aurelio had moved away from community outreach. He had stopped pursuing a project to promote HIV education and prevention among Garifunas. But the experience of recording our song on HIV over the next two days seemed to change Aurelio's outlook. It revived his desire to help, he said, and inspired him to take up that community project again. "At first, I thought I was just going to write a song with a friend from the U.S.," he told us. "But these photos touched me."
As journalists covering social issues in developing countries, we sometimes wonder about the reach of our work. Many people read our stories and see our pictures, and of course that is our objective—to inform. But often we don't see the tangible effects our work; we don't know our readers and viewers personally, and often never find out how what we do influences them. With Aurelio, we got to see it. He was inspired, his activist flame rekindled. And soon, his smile came back. "The song helps me to rehabilitate a part of myself that was asleep," he said.
RELATED ISSUES