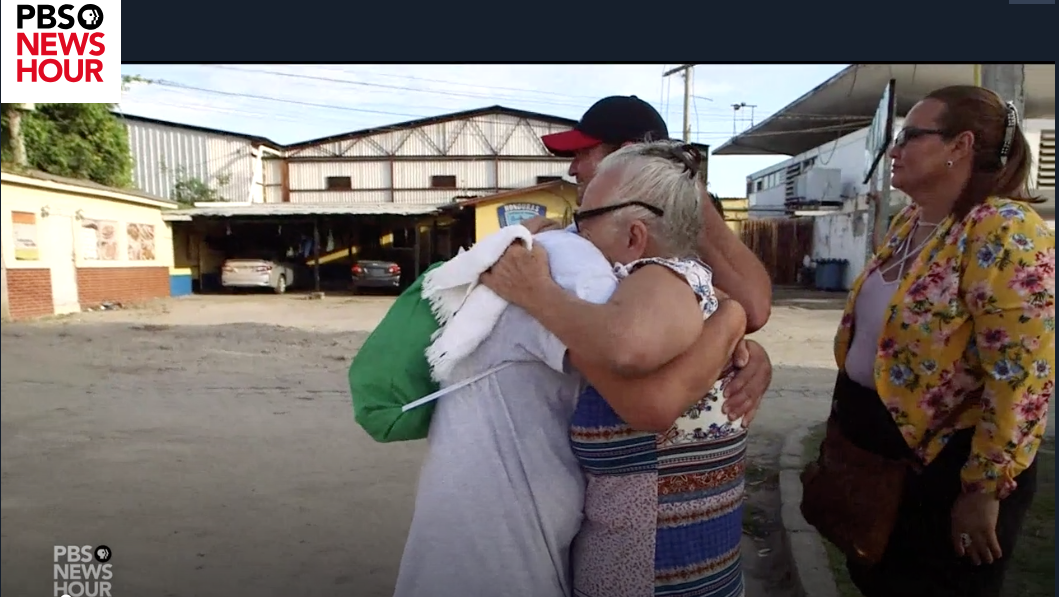 The deadly stranglehold of gang violence in Honduras drives tens of thousands of desperate residents to flee north to request asylum in the U.S. But few receive it, often due to a lack of documentation of the persecution they faced at home. Special correspondent Marcia Biggs reports from San Pedro Sula with harrowing stories of the fates of migrants who made it to the U.S., only to be deported.
Read the Full Transcript
John Yang:
And, as Nick just mentioned, one of the countries threatened with the aid cuts is Honduras.
For years, gang violence and insecurity have forced people to flee their homes, most bound for the United States. Many are caught, and then deported, which can lead to a new set of nightmares.
With the support of the Pulitzer Center, special correspondent Marcia Biggs and videographer Julia Galiano-Rios went to Honduras to find out the fate of some of those sent home.
Marcia Biggs:
It's a scene that takes place again and again in this airport parking lot in San Pedro Sula.
"I thought I would never see you again," weeps this 85-year-old woman.
"I promised that I would return one day," her grandson says.
He's home after five years of living illegally in the United States. His family says he was working construction in Orlando when he was picked up for driving without a license, likely by local cops, and then deported by ICE. The family didn't want to speak on camera. Most of them didn't want to talk to us.
"They're laughing at us in the United States," one woman told me. Around 500 deportees arrive here every week, and underneath the surface of what should be joyful reunions lies the tough reality of why they're coming home and what they now face.
Amelia Frank-Vitale:
If you're deported from the United States, you're sent on a plane. You are handcuffed at your ankles and your feet with chains, shackled.
Marcia Biggs:
Amelia Frank-Vitale is an anthropologist focusing on migration issues, working with the families of deportees. She says most of them are poor and were fleeing gang violence. Deported back to one of the most dangerous cities in the world, they now have nowhere to go.
Amelia Frank-Vitale:
If you have to flee, you can't go another neighborhood controlled by that same group. But you can't go to a neighborhood controlled by any of the rival groups either, because having come from a neighborhood known to be controlled by the first group, you will be automatically suspected of being a spy.
They go back to the same situation that they fled.
Marcia Biggs:
Giovanni is one of those people. Like so many young men in Honduras, Giovanni says members of a local gang threatened to kill him when he didn't join. He asked us not to use his real name.
"Giovanni":
I would never want to get into a gang, because here, to be in a gang means you have to do whatever they say, rob, kill, kidnap, whatever they order you to do.
Marcia Biggs:
So in the fall of 2017, Giovanni and his cousin left Honduras, intending to cross into the U.S. illegally. He says he tried to make an asylum claim after he was arrested, but had no evidence of the threats on his life, which are necessary to advance a claim.
He says he couldn't afford the $10,000 bail, so he sat in detention in Arizona while he waited out the process.
After five months, he can't stand it anymore. He signs a voluntary deportation order and is sent back to Honduras. Within a week of his arrival, he says members of the gang kidnapped him and took him to what's known as a casa loca, Spanish for crazy house, one of the many homes abandoned by those fleeing violence, and now stolen by the gangs.
Giovanni (through translator):
They held me for two or three hours. They already had machetes and everything to cut me into pieces. They wanted to kill me at once. They wanted to kill me because I didn't do what they wanted.
Marcia Biggs:
What did they do to you?
Giovanni (through translator):
Here and here. They were like metal rods. They put a rod through me. This one went in deep. They cut my hands. They burned me. I have several scars on my back where they were hitting me. They had a machete that they were going to use to cut my hands. They wanted to cut off my hands and kill me slowly.
Marcia Biggs:
And what was going through your mind?
Giovanni (through translator):
You can't think about anything, but how to escape, HOW to convince them not to kill you.
Marcia Biggs:
At the last moment, police burst in. They'd been called by his mother. She's still too frightened to show her face.
How did you know that you could trust the police?
Woman (through translator):
I didn't exactly trust them, but it was my only solution.
Marcia Biggs:
The family says the wounds were still fresh when Giovanni fled again to the U.S. a year ago, but that time he says no one even asked him if he wanted asylum, and he was deported.
When you left the U.S. the last time, were you worried that something would happen when you come back?
Giovanni (through translator):
Yes, yes. I didn't want to get off the plane.
Marcia Biggs:
The threats came almost immediately, and Giovanni and his family have moved three times in the last year. They're now in hiding, rarely leaving this small alleyway.
Several of their neighbors are making plans to leave on the next caravan, fleeing poverty and extortion by local gangs.
But for another family, it's too late. Sara Espinal is every bit the proud matriarch, showing off the photographs and graduation certificates of her children and grandchildren. "These are my treasures, my most valuable things," she says. "My family is the best thing I have. I am nobody without them."
But underneath the pride lies the pain of a mother in grief. It's only been one month since Sara lost her son Nelson, gunned down on his own street, in a neighborhood of Tegucigalpa controlled by gangs.
Sara Espinal (through translator):
I wanted to die with him that day. I couldn't see my son with all that blood. It's too hard for one person.
Marcia Biggs:
His family remembers him as a dedicated brother and uncle, a good neighbor, who spent his last days paving the main road in their village. They say he refused to join a gang and was working in construction. He dreamed of someday opening a barbershop with his sister Patricia, and was hoping to find work in the U.S.
He was special.
Marcia Biggs:
What were his dreams for his life in the United States?
Patricia Espinal (through translator):
He said: "I am going to work hard. My idea is not to be there for a long time. I'm going to work as much as I can. And I'm going to send money. We're going to start a business," he said. "We're going to start a family business."
Marcia Biggs:
Last October, he and a friend from the neighborhood headed north, but were caught at the U.S. border. Unable to make a case for asylum, they were deported.
Nelson's story is like so many horrible ones that we have heard. He was deported from the U.S. and had only been home for one week when his family says he walked out of his house from here, down to the corner, where three men approached him and, without saying a word, shot and killed him.
Patricia Espinal (through translator):
It was something I can't describe, a horrible pain in my chest. I never imagined that we were going to spend such a short time with him and we wouldn't see him again.
Marcia Biggs:
All they have left of Nelson are photos and a few of his personal items. They keep his shoes, neatly arranged in a closet. He also left a 7-year-old son, who plays with his cousins on the same street where his father was brutally murdered.
Patricia Espinal (through translator):
Passing through there generates so much pain, and, at the same time, fear, because, when you pass, you think, so anyone can die how he died.
Marcia Biggs:
Do you think he knew someone was after him?
Patricia Espinal (through translator):
I think he knew. He didn't tell us directly, "They're going to kill me," but he always said, "I can't do anything here. All there is this danger."
Marcia Biggs:
Like so many relatives of those killed by gangs in Honduras, Patricia knows who killed Nelson. But not only can she not say who did it. It's clear she doesn't even want us to ask.
Patricia Espinal (through translator):
This is an everyday thing, what you experience in these neighborhoods, and we have had to adapt. Of course, we never thought that it would happen to a family like ours.
Marcia Biggs:
Back in San Pedro Sula, we got some bad news from Giovanni.
His family have been receiving some threatening messages from the gang that was after him. So, we're going to go find out what is going on.
Giovanni doesn't have a phone, so the messages were sent to his cousin, an ominous voice cackling and taunting him, calling him a dog, threatening to kill him and his family, and claiming to know where they are.
Is there anywhere that you can look for protection?
Giovanni (through translator):
Only in a different country, not in Honduras.
Marcia Biggs:
Do you ever remember a time when you didn't live in fear?
Giovanni (through translator):
I have always had fear of being here. Traveling to another country, facing risk, that, I'm not afraid of.
Amelia Frank-Vitale:
Now he's been deported twice, the asylum — an asylum claim would be harder to make. His life here is absolutely under threat. Sooner or later, they're going to kill that boy. But what option does he have for international protection, really, at this point?
Marcia Biggs:
Against the odds, Giovanni sets off, packing a tiny bag. Afraid of being robbed, he's got just one change of clothes and a toothbrush.
He has a last meal before a tearful goodbye with his brothers and sisters. He's nervous and sad to leave his family, but says he's confident he won't be sent back. He knows the route better and he won't even bother trying to cross legally.
The bus comes quickly and, in an instant, he's gone, speeding off to an unknown future and hoping he won't have to return to a country that can't protect him.
For the "PBS NewsHour," I'm Marcia Biggs in San Pedro Sula, Honduras.
John Yang:
And an update to Marcia's report.
At the end of it, you saw Giovanni leaving Honduras, but he never made it to the United States. The journey proved too difficult and too cold through the late winter, and his fear of being attacked again materialized in Northern Mexico, causing him to turn back near the border. Last week, he returned home to his family in San Pedro Sula.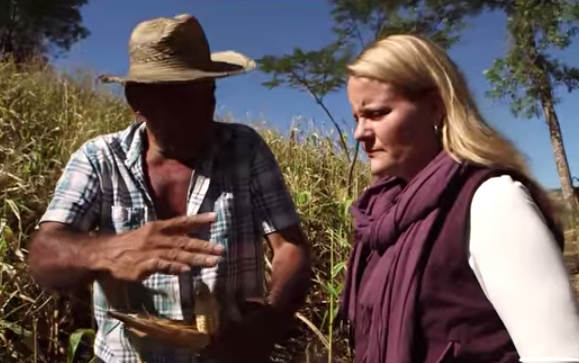 In this four part series, Marcia Biggs visits some of the most dangerous neighborhoods in San Pedro...
RELATED ISSUES