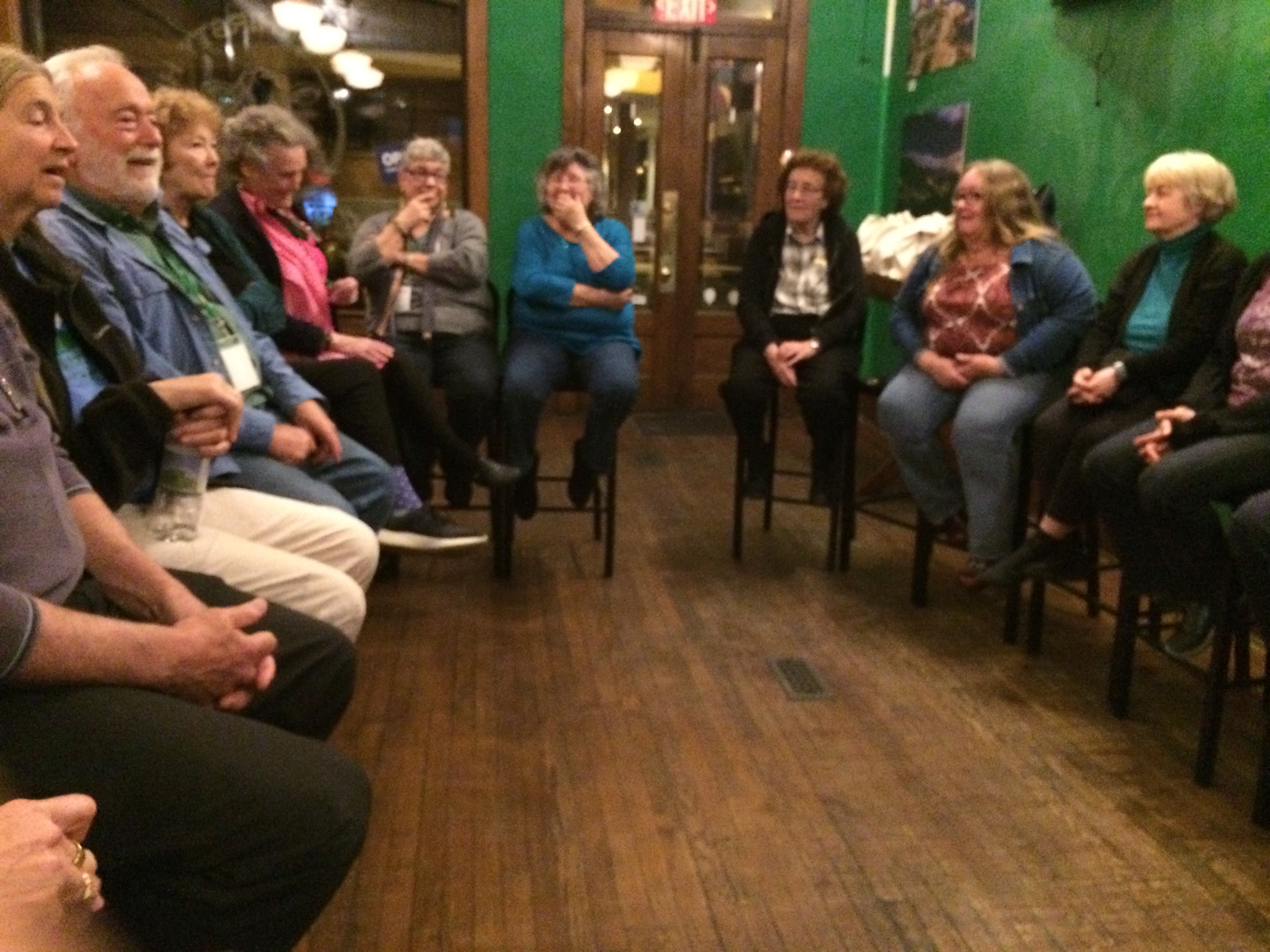 LEVERETT, Massachusetts—After a year of drawing attention solely from The Greenfield Recorder, this town's Hands Across the Hills effort and its organizer, Paula Green, are in the spotlight nationally and internationally as an effort to help bridge the political—and now racial—divides in this country.
The project, organized by a "bridging committee" in the aftermath of the 2016 election, brought to Leverett a 11-member delegation from Letcher County, Kentucky—where Donald Trump won 80 percent of the presidential vote, versus 14.5 percent here—for a three-day October 2017 exploration of cultural and political differences.
A New York Times article last week about Green and her career helping to resolve conflicts in Myanmar, Bosnia, Rwanda, Israel-Palestine, and other flashpoints around the globe, winning her the 2009 designation as honored in 2009 by the Dalai Lama as an "unsung hero of compassion" from the Dalai Lama himself,  grew out of a "U.S. Peacebuilding Award of Excellence" last October from the Washington, D.C.-based Alliance for Peacebuilding.
The Times article, which followed stories last November on National Public Radio's "Here and Now" and in The Boston Globe, also led to a New Yorker article this week and came with the release of an hour-long documentary by ARTE TV, a German-French arts and cultural network, that was viewed by 7 million people in Europe and North Africa in which the Leverett-Kentucky project was described in the  broader context about polarization in American politics.
The program, with English subtitles, can be viewed here. Efforts are being made to have an English version of the documentary shown on public television WGBH, said Green.
Another article, "The Same Hills, Two Americas," about the Leverett-Kentucky effort, ran in the Dutch newspaper Trouw just before last November's election.
"People are making up stories about 'the other'—Muslims, Trump voters, whoever 'the other' is," Green told the Times. "'They don't have the values that we have. They don't behave like we do. They are not nice. They are evil.'" But, she added, "That's dehumanization. And when it spreads, it can be very hard to correct."
Even as the Leverett contingent hopes to make arrangements for a second visit from Kentuckians for continued conversations this fall, a "Bridge for Unity" effort Green is coordinating is planning a presentation in Amherst February 24 at 4 p.m.—"Dialogues Across Race: South Carolina, Massachusetts, Kentucky" at the Unitarian Universalist Society, where they plan to share experiences from a recent interracial dialogue in South Carolina. 
"It is heartening," said Green in response to the flurry of publicity the cross-cultural dialogue is finally getting, resulting in calls from California, Colorado, and other parts of the country from people hungry to start cross-cultural bridging projects.
"People want to do this," says Green, a founder of Amherst-based Karuna Center for Peacebuilding and the Conflict Transformation Across Cultures program at Vermont's School for International Training. "They say, 'we're so divided. There's so much pain, we need to do this work.'" 
Beyond the interpersonal vision for Hands Across the Hills, helping people from both communities discover what they could begin to understand about one another, there's also been an educational mission, to show the rest of the nation "this is worthwhile, this is important and doable," says Green.
The Times article, which like the Arte documentary explained the dialogues in a larger context about American polarization, was met with comments from skeptical readers who Green says "want to hang onto their anger and hatred, who don't want to let it go and try something else, because they're comfortable and safe. We're trying to say to people that dialogue is not the end, dialogue is the beginning. It makes other work possible and makes people doing the work much more passionate, because they know people from this other place, this other culture, other race, other place, who are suffering."
Green, who worked as a co-facilitator at January's cross-racial, cross-cultural gathering of 30 people from Western Massachusetts, Kentucky, and South Carolina, says, "It's very important that people understand why we're doing this in the biggest context." She added that the conference in Beaufort, South Carolina, "was a powerful experience that exceeded my expectations in terms of honesty and intimacy. Talking about race and racism is harder and more delicate than politics because there's a 400-year-old tragedy that's never healed, and that continues to create undending pain within this country."
These careful conversations need to be facilitated and they need to develop over time for trust in a safe, intimate setting to build understanding, Green said.   
But she added, "There's a longing in our country for civil discourse. And more is going to come, because now it's on the national stage. It's a national conversation."