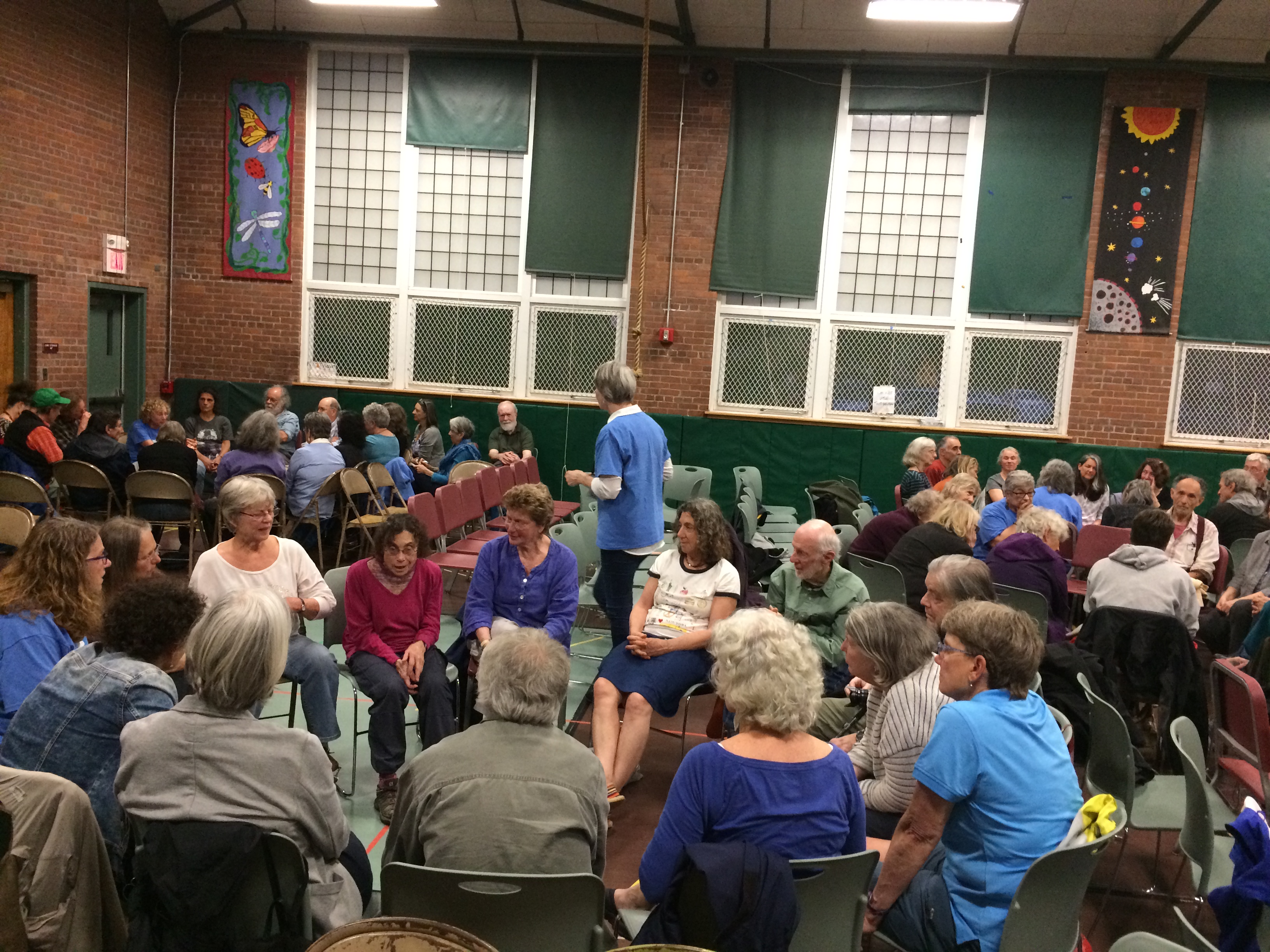 LEVERETT—Even though many of them had already heard about the trip, about 200 people filled Leverett Elementary School Tuesday night to listen to details about the Hands Across the Hills visit to Kentucky last month.
A dozen Leverett residents, dressed in identical "Hands Across the Hills" T-shirts, addressed questions in small groups about the four-day visit to Whitesburg and Letcher County, Ky., where they had gone to learn more about the culture and political underpinnings of a region where Donald Trump won 80 percent of the 2016 presidential vote. "We got past Trump and the hot-button issues," said Leverett Bridging Subcommittee member Paula Green, who had facilitated eight to 10 hours of closed conversations with the Kentuckians who visited Leverett in October as part of an exchange launched after the election. "It stopped mattering. It's just not where we put our focus when we saw each other as human beings with our joys and our sorrows, our tragedies and our triumphs, with a kind of respect, acceptance and love."
"We didn't step on their story," she said. "We understood that this was their story, their way of thinking, and people wanted to own their story. They wanted us to see their resilience, which we did, their hospitality, their dignity and their strength. And we felt all those things …. It really helped us understand the soul of these people."
Those attending had questions about the economic distress in the region after the decline of coal mining, about a $444 million federal prison planned there as a remedy for the economy and about questions that linger after the visit.
Committee member Debbie Roth-Howe told the gathering she felt the Kentuckians also left their visit to Leverett last fall with stereotypes shattered: "They left just feeling that we're people, and we cared about each other, and we all made ourselves vulnerable to each other. And something really solidified through that process."