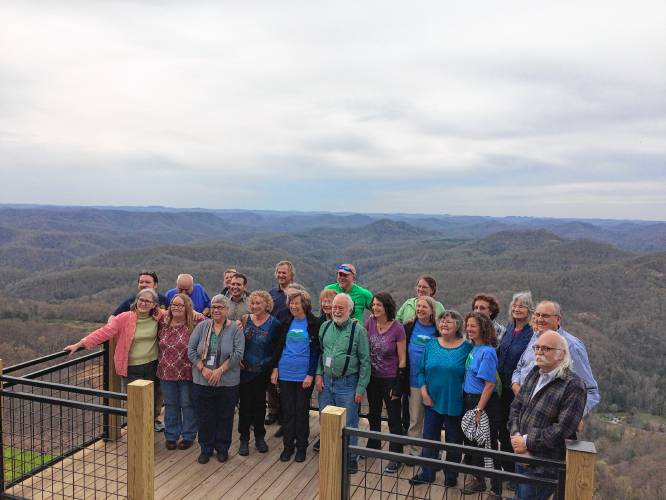 Imagine U.S. Senate President Mitch McConnell of Kentucky and his political nemesis, Sen. Elizabeth Warren of Massachusetts, sitting down over lunch together.
As farfetched as that might seem, encouraging that kind of dialogue is one of more than a dozen potential follow-up projects being pursued in the wake of the recent visit to Kentucky by 14 Leverett residents.
Leverett's connections with Letcher County, Ky., created during hours of deep discussions as well as days of activities when the groups were together last October and again last month, weren't meant to end overnight.
The brainstorming session concluding the four-day Hands Across the Hills visit that ended April 23 spun out more than 30 ideas for follow-up projects, a testament to both groups' willingness to continue working together, and also to carry forward the cross-cultural dialogue its leaders believe is needed to address the polarization of American society.
"If we can get together to discuss our differences, they can, too," suggested Tyler Ward, the Whitesburg, Ky., lawyer and restaurant owner who broached working to get the Senate's top Republican and the progressive Massachusetts Democrat together.
Members of the Leverett and Letcher County delegations—who plan to continue meeting online, pledged to roll up their sleeves to work on other projects as well. Among them:
Working together on "sensible gun legislation."
Expanding the cross-cultural dialogue to include a third community.
Creating a "youth exchange" program between the two communities.
Fundraising in Leverett to help the Letcher County Culture Hub and its member organizations.
Expanding Hands Across the Hills to include all of Franklin County.
Continue working on getting the word out about Hands Across the Hills.
Incorporating more Kentucky voices on the HandsAcrosstheHills.org website.
Continuing the groups' conversation about economic disparity.