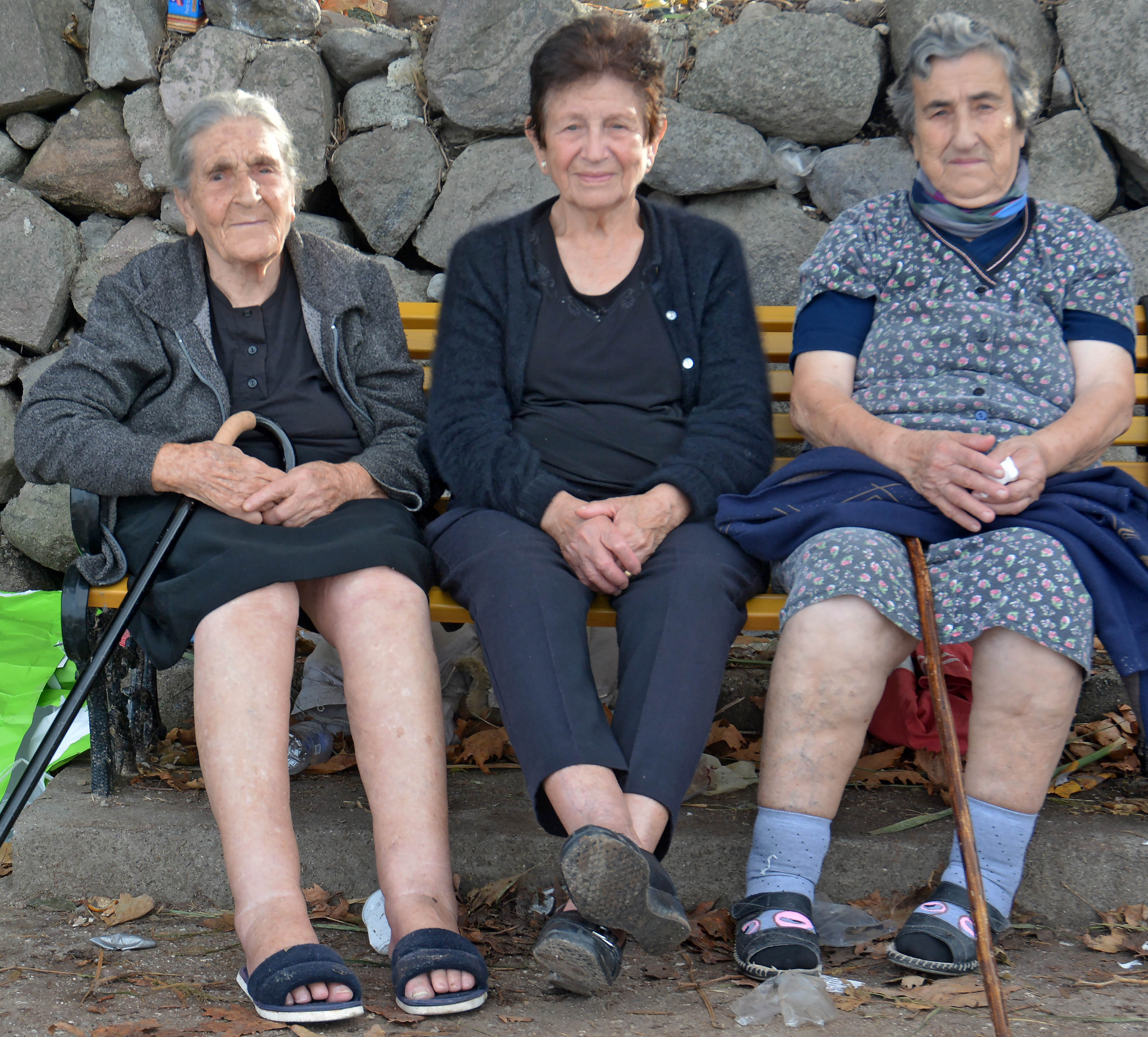 Constantina Mesisklis and her friends, women in their 80s and 90s, are a fixture on the bench in Skala Sykaminia, the tiny seaside village on the northern coast of Lesbos where thousands of refugees have been arriving from the nearby Turkish coast every day for months on end.
The population of Skala Sykaminia numbers about 150 and all of them are the children, grandchildren or great grandchildren of a another group of refugees — the Greeks who fled Turkey in 1922-23 after what is known in Greece as "The Asia Minor Catastrophe." Thousands escaped in boats as the Turks routed the Greek army and set fire to Smyrna, today's Izmir. Eventually a population of 1.5 million Greek Orthodox, Greek language speakers would be expelled from Turkey to Greece; likewise, 500,000 Muslims were forcibly resettled from Greece back to Turkey. Today more than half the population of Lesbos descends from the 1922 refugees.
"My mother came here alone when she was a girl in 1922," Constantina tells me in her soft voice. "Her parents were dead over there." She learned English in the United States, where she lived for many years before returning to Sykaminia to bury her husband two years ago. "They didn't have anything. It was very, very hard. There was no food to eat, no work, no clothes, no nothing when she came."
Constantina tells me about her own happy childhood in the 40s in the same small stone house where we are sitting, which was always filled with children and laughter. But when she and her siblings were a little older, her mother started telling them the stories of 1922. "God bless my mother. She would cry and say, 'I don't want you to have to go though this like we did.'"
Every day, Constantina and her friends sit on the wooden bench facing the sea. The overcrowded dinghies arrive one after another, met by a crew of local and international NGOs and volunteers who catch the boats, quickly get dry clothes for the babies and children, and offer a little food and water. Constantina watches with her smiling blue eyes and greets the people streaming by, "Hello, hello, honey. Are you fine? Are you alright?"
Sometimes it's very painful for her to see the people suffering. One day she saw a young Syrian woman with a young boy crying on the road by the beach. "What's the matter honey, why are are you crying?" The woman told her that she was waiting for her two sisters to come and she didn't know if they were alive or dead. Constantina said, "I will sit down with you a little bit and you can tell me what you have to say." She remains quiet for a bit, remembering the woman.
"I felt so bad," she tells me. "Because my mother did all of that."
I have spent a lot of time in Syknaminia and I am always stunned at the numbers of refugees passing through. Imagine a tiny hamlet on the Cape, or perhaps a town of just a few houses on a remote stretch of the Oregon Coast, with streams of refugees walking through who speak Arabic or Korean or whatever language that is not your own. They come from far away. Most are fleeing war and trauma. They carry children and a determination to survive. And they arrive in your village first. What would you do? I don't know what I would do.
But in Sykaminia, Constantina and her neighbors feel they must help in whatever way they can. "We don't have much over here. But we do something. Because we feel it like our parents."
RELATED ISSUES

Issue
Migration and Refugees
Migration and Refugees

Women