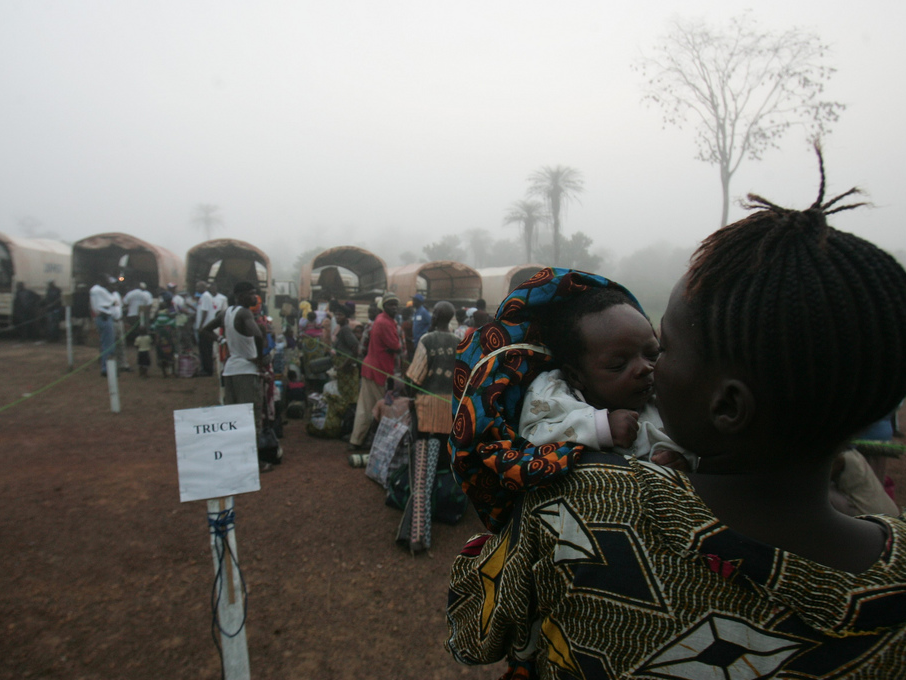 Naomi Hney breathed heavily into her cell phone as she found a corner of the makeshift detention center here where she thought she could talk safely.

Hney, 38, was moved to Kordiabe in early March by Ghanaian authorities after a five-week protest by about 630 Liberians, most of them women, who live in a large, longstanding United Nations camp for refugees from Liberia's long phase of civil war, which ended five years ago.

"Our life is at a critical stage," Hney told Women's eNews on March 24. "We want to be resettled because Liberia is no longer safe for us and Ghana is no longer safe for us."

The center from which Hney took the furtive phone call--an empty Ghanaian youth leadership training camp--resembles a woodsy summer camp, with a few small, single-story buildings and a handful of army-green tents.

Women, some with children, were visible throughout the grounds. Many tended laundry spread over the trees and around a courtyard. There is no fence or wall, but a visitor approaching by the driveway was stopped by police at the dirt courtyard and prevented from making contact with the women.

"They're being difficult," a man dressed in civilian clothes who identified himself as an officer, told Women's eNews.

Since the United Nations began a program for repatriating refugees in late 2004, a few thousand out of the roughly 40,000 have agreed to be repatriated to Liberia.

In June 2007, the U.N. began offering $100 for each adult, $50 for each child. But most Liberian refugees in Ghana consider the package too small an inducement to go back to a country where families and communities have been devastated by the two civil wars that spanned 1989 to 2003.

"It's not like $100 can sort out all their problems," acknowledged Cecile Pouilly, a spokesperson for U.N. High Commission for Refugees, the U.N.'s refugee agency in Geneva. "We simply don't have the money for $1,000 per person. We are trying to provide limited financial assistance."

Pressing for Resettlement

On Feb. 19, Hney's group--calling itself the Liberian Refugee Women with Refugee Concerns--started a protest in a soccer field at Buduburam, asking for either $1,000 stipends or resettlement in a Western country.

During the protests, the women sang songs and held signs by the side of a busy highway leading into Accra.

Ghana's Interior Minister Kwabena Bartels said on March 8 the protesters forced the closure of schools on the camp. Around the same time the U.N. High Commission on Refugees described the protesters as "increasingly threatening and disruptive."

Heavily armed police went to the stadium while it was still dark and surrounded the women while they slept on the football field at the camp, said Madison Wion, who lives in Buduburam and has contacts with members of the protest group.

Confirming previous accounts, he said there were seven buses, as well as armored tankers, trucks, tear gas and long-range weapons. "They were fully prepared for combat," he told Women's eNews in a phone interview.

Wion said that women and children took the lead in protesting because outspoken men had previously been branded as troublemakers and rebels. The idea, he said, was that women and children might attract more sympathy and attention.

Right to Return Prepared

Wion said the group believes it is their right to return to Liberia "prepared" after so many years away. He said $100 would do little to help refugees find housing, work and schools for their children. "We feel ignored," he said. "The U.N. High Commission on Refugees and the Ghanaian government have become lackadaisical and are not even taking into consideration our plight."

While Wion and others focus on the refugees' demands for a higher repatriation stipend, Hney said her main concern was not being sent back to Liberia, a country with a jobless rate of about 85 percent. "There are no jobs, no education. The poverty rate is just getting higher and higher."

The arrest and harassment of the protesters sparked international crisis meetings among Liberia, Ghana and the United Nations.

While human rights monitors raised concerns about Ghana's arrest of the protesters and their conditions--particularly for children separated from their parents--the government in Accra arrested 70 more refugees and deported 16 of them to Liberia, calling it the beginning of a mass and immediate deportation program.

The United Nations countered that Liberia was in no position to withstand a mass influx of the 40,000 Liberian refugees living in Ghana.

Liberia's Fragile Peace

On March 19, in an address to the U.N. Security Council, Secretary General Ban Ki-Moon said unemployed youth in Liberia--including former soldiers--threatened the country's stability. He also noted "the country's pervasive poverty, food insecurity, high unemployment, massive illiteracy, poor infrastructure and the inadequate delivery of basic services, including potable water, health services and education."

Lawrence Bropleh, Liberia's minister of information, said the government of Ellen Johnson Sirleaf--who assumed Liberia's presidency in 2006 and became Africa's first elected female president--is in no position to receive a major influx of refugees. "We have to put the mechanism in place. . . Give the government a chance," he recently told Voice of America. A major influx, has "regional peace and stability implications in West Africa."

By March 28 Ghana had cooled off and agreed to work with Liberia and the U.N. refugee agency to draw up a road map to repatriate the 40,000 Liberian refugees currently living in Ghana, the U.N. news wire reported. Ghanaian authorities would like to begin in six months, that report said.

Now Hney faces what she and the other women were doing their utmost to avoid: widespread grinding poverty and ongoing violence back in Liberia.

With large-scale refugee crises going on around the world, Pouilly, at the U.N. High Commission for Refugees, said only refugees in the most dire straits--such as suffering medical emergencies--are being resettled.

Seventeen countries--including Norway, the United States, Canada and Chile--act as hosts in U.N. resettlements.

The government in Monrovia is struggling to move people out of the capital and into the counties because of overcrowding and joblessness. And demobilization packages, which promise former fighters money and training to put down their guns, have only been trickling out. Last year hundreds of former soldiers rioted over the delays.

*Emily Bowers contributed to this article.
RELATED ISSUES