Project September 2, 2007
Scars and Stripes: Liberian Youth After the War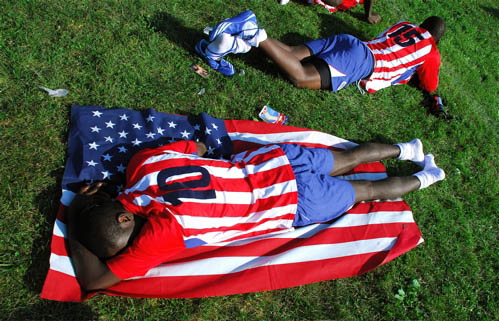 During the 14-year civil war that tore apart Liberia, children were taken from their homes and sent to fight in an adult war. When the fighting ended in 2003 the Liberian government began trying to demobilize the youth, offering cash and counseling programs aimed at rehabilitating the young people and preparing them to return to their communities. Sometimes they were sent back to their villages. Other times they stayed with their commanders and fellow fighters.
The "lucky ones" were sent to the U.S. to live with relatives, many of them ending up in the Clifton neighborhood in Staten Island — home to one of the largest Liberian populations in the country. Rehabilitation programs in Liberia not only provide skills training for the youth to try to help them earn a living, but also reunite them with their families.
Every day is a struggle as the wars in Guinea and the Ivory Coast rage on and the youth learn they can make more money by fighting as mercenaries in those wars than by turning in their guns to the government. In Staten Island, the situation is similar: The youth are given a cash stipend, short term counseling and schooling. But in the end they are left to make their own way adjusting to life in America and oftentimes getting caught up in a life of poverty and crime. Reporter Ruthie Ackerman and photographer Andre Lambertson will travel from Staten Island to Liberia over the course of several weeks to examine the process of reintegrating — and ultimately rehabilitating — the youth on both sides of the ocean.
RELATED ISSUES