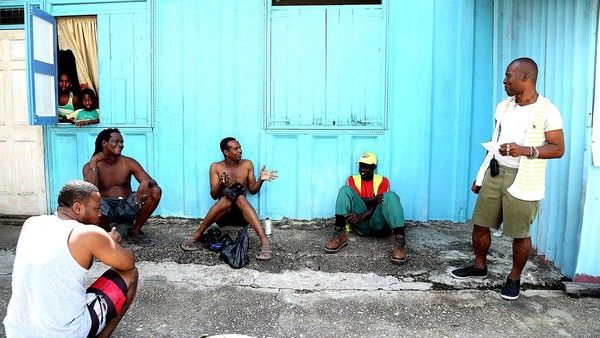 For 13 people in Trinidad and Tobago, a wealthy island federation in the Caribbean, the new year proved a tragically short one.
The country suffers little of the economic distress that besets much of the rest of the tropical archipelago, thanks to abundant oil and gas exports. But its crime rate is one of the worst in the world. Thirteen people have already been murdered this year, including an elderly couple chopped to death by assailants after a family get-together on New Year's day.
The country has suffered from a homicide rate that exceeds Mexico's for more than a decade, but the latest spate of killing has shaken many of the 1.3 million "Trinbagonians." Even the local manufacturers association issued a statement appealing for the government to tackle the murder spree. Others bemoan the socioeconomic conditions that allow crime to fester.
"We are too rich to be so poor," says Kirk Waithe, the head of Fixin' T&T, a local activist group. "We are where we are because we the people have accepted it. We have a self-esteem problem.  . . .  We should be the Dubai of the Caribbean."
Waithe has a point. His country is ostensibly one of the richer parts of the Western Hemisphere, with a per-capita gross domestic product of about $18,000 – second only to the Bahamas, which though located in the Atlantic, is viewed by organizations such as the International Monetary Fund to be part of the Caribbean. The UN's Human Development Index classifies Trinidad and Tobago as a highly developed country: Government debts are among the lowest in the Western Hemisphere, and energy exports – predominantly natural gas – nets the state roughly $4.5 billion a year. Trinidad and Tobago even has a small sovereign wealth fund to dip into.
The prosperity is apparent in downtown Port of Spain, the country's capital, which boasts gleaming towers, a bustling waterfront and chic restaurants. But it is hard to detect any signs of a well-to-do petrostate in neighborhoods such as Laventille, Sea Lots and Beetham Gardens, sprawling slums of wood shacks and corrugated iron sheets to the southeast of the capital.
"I sometimes wake up and just cry my eyes out. Things could be so much better for our country," says Helen Squires, a Beetham resident. She turned some modest earnings from selling marijuana into a ramshackle little shop and sells groceries to local families. A pretty pomerac fruit tree in her backyard provides shade from the sun and gifts to visitors.
But she still dreams of leaving Beetham and building a better life somewhere else. The neighborhood is so synonymous with crime that potential employers often usher applicants to the door when they see a Beetham home address. Locals joke that the concrete walls that surround the neighbourhood were erected to keep residents from leaving.
Business is slow, and to restock her shop, Squires recently had to pawn a gold necklace she inherited from her mother for TT$3,000 ($480). But she still hasn't been able to afford to fix a freezer damaged in a police raid several months ago.
She threw out her boyfriend after he repeatedly beat her, and now lives alone. "Sometimes I just can't take it, and I want to take my own life," she says, tears streaming down her cheeks.
Crime in neighborhoods such as Beetham and the country in general is exacerbated by the proximity to South America and its narco cartels, which form links with local gangs and use Trinidad as a transshipment hub for cocaine smuggled to Europe and the U.S. Unregulated casinos are also a great avenue for money laundering. But Renee Cummings, a local criminologist, insists that the country's challenges go far beyond drug dealers. "It's a society that is suffused by violence," she says.
Joblessness is, in theory, not the issue, as it is elsewhere in the Caribbean. Government work programs ensure that the official unemployment rate is relatively steady at about 5 percent. But the IMF notes that there is "evidence of significant underemployment." And the fiscal burden of work programs and various subsidies is substantial.
The IMF estimates that the cost of transfers and subsidies has more than doubled in the past decade to above 17 percent of GDP – outpacing revenues and ensuring that the government now runs a budget deficit, despite an economic recovery since the financial crisis and the collapse of CL Financial, a big local conglomerate. Local activists say waste and outright embezzlement are pervasive.
"There's quite a lot of corruption, and it's getting worse," says one foreign diplomat. "Maybe some of the money ends up doing some good, but it's actually feeding the criminal underground."
Many locals lay the blame for social woes at the feet of the political elite. Trinidad and Tobago may face few of the acute economic and financial challenges of the rest of the anglophone Caribbean, yet that has allowed a succession of governments to paper over deep-seated, festering problems in areas such as education, law enforcement and the judiciary, argues Waithe.
"All of our social issues are symptomatic of a failure of governance. We need to sell the populace on where we should be, not where we are," he says. "The current system hasn't worked for us."