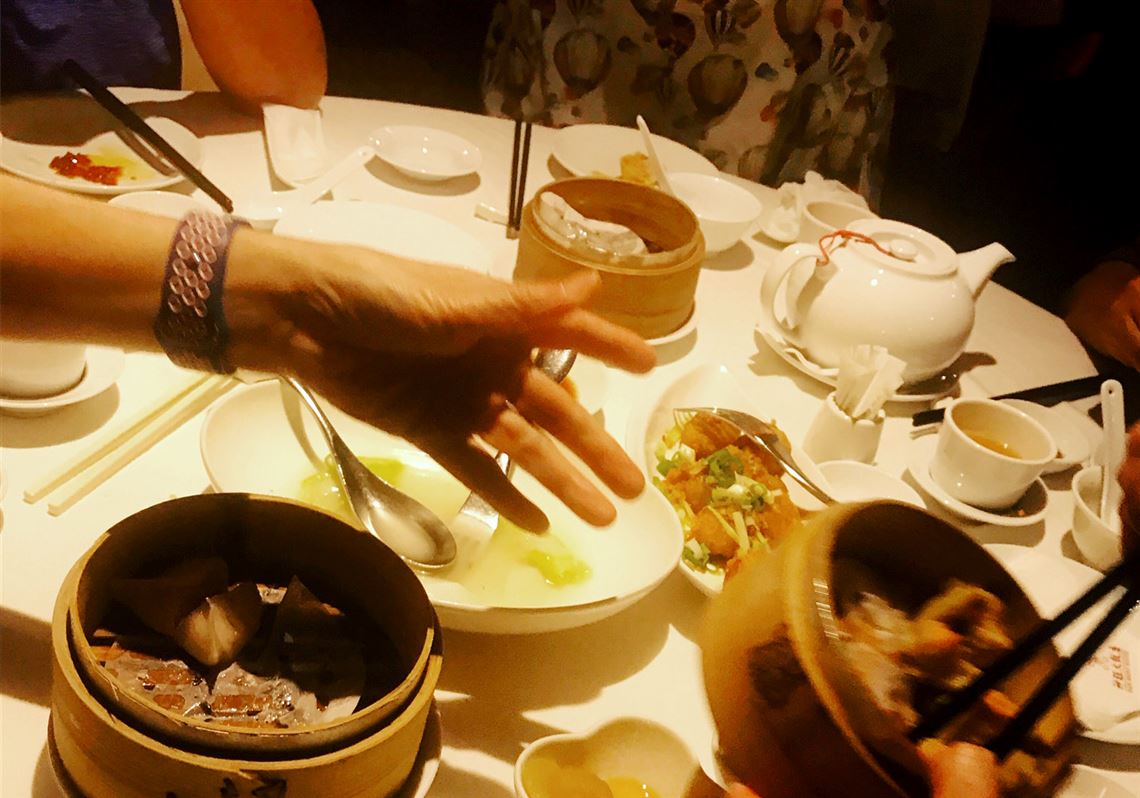 TAIPEI, Taiwan —Taiwan's capital city of Taipei is 105 square miles with 2.7 million people and has 20 Michelin-starred restaurants.
While visiting them gives an of-the-moment sense of what's happening in a city's food scene, Taipei's old-school restaurants that have been around for decades may be more revealing to a visitor about the character of the city. 
These longtime restaurants are one of many reasons to consider the island as an eating and drinking destination.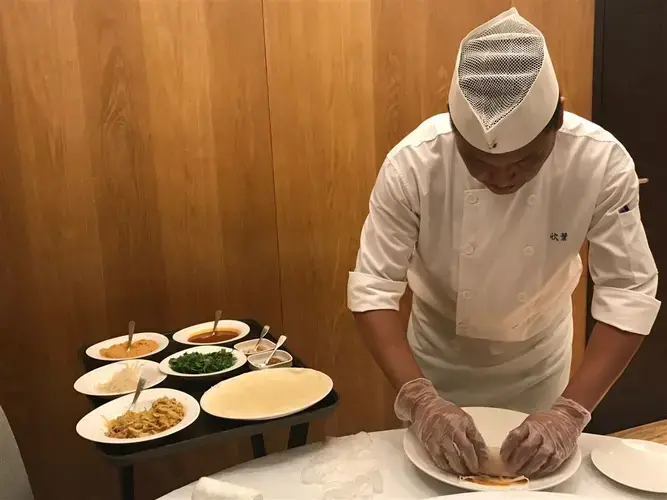 Among them, you'll find Fuhang Soy Milk in the Huashan Market (2nd floor, 108 Zhongxiao E. Road, Sec 1) draws a line starting at 6 a.m. as customers wait for fresh, hot soy milk and flaky flatbread sandwiches. Along the way, diners pass a glassed-in kitchen filled with cooks at work as they place their orders at this fast-casual spot. Open since 1948, an 80-year-old founding family member still sits on a folding chair outside the kitchen overseeing the operations.
Another destination, Shin Yeh (No. 34, Shuangcheng St.) has been open since 1977, where businesswoman and owner Lee Xiu Ying began with only 11 tables, and today brings in $700,000 a month, she said. The dishes range from cuttlefish balls and bamboo salads, and oyster omelets, as well as like run bing — think of a Taiwanese burrito — made tableside.
A 30-year-old spot, Nong Lai (No. 1. Alley 11, Lane 147, Section 2, Minsheng East Road) is Taiwan-famous for the family's son-turned -celebrity-chef Aaron Huang, who has applied modern cooking techniques to traditional Taiwanese dishes. (The mullet roe fried rice was worth the trip alone: It was so intensely savory.) I love the homey interior with its rose wallpaper, lucky cats, lanterns and awards on the walls.
And of course, there's the original Din Tai Fung,(No. 194, Section 2, Xinyi Road) the four-story walk-up noodle and soup dumpling house that garners hours-long waits. See the PG series Stretched Thin for more information on the place. 
The quality of the ingredients is next level.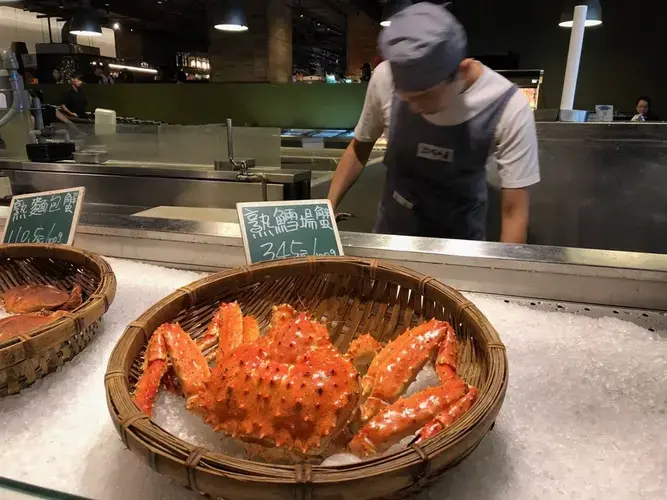 Consider a stop at Addiction Aquatic Development (No. 18, Alley 2, Lane 410, Minzu East Road), a fish market that's like a seafood lover's version of Eataly. Head toward the saltwater bins for a glimpse of giant crabs scuttling in tubs in the middle of the market, then decide among multiple restaurants where to eat: from an order of oysters and an uni sampler at the standing sushi bar on the ground level or the hot pot restaurant on the glass-enclosed second floor.
Across the way, there's a tremendous fruit wholesale market, with mangoes worthy of a feast, so fragrant and so ripe you can peel off the skin with one pull. It's one of the larger venues to buy fruits and vegetables, but you can find markets at every turn, from the Zhongzheng District subway stations to a short drive to Ludong Township where you'd find stalls of fresh and dried fruit, sausages, fish, sweets and more.
Taipei is getting into artisan baking.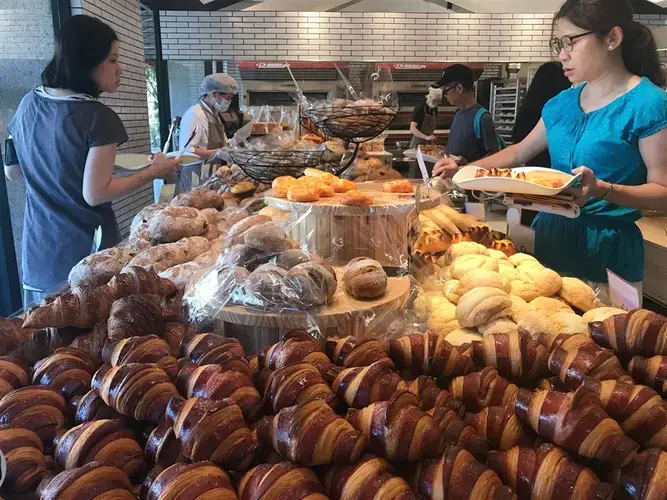 A few stops away near Taipei 101 in the Xinyi District, bread mecca Wu Pao Chun (Section 5, Xinyi Road 124) might surpass the ambition of any artisan bakery in the U.S. Sure it's cool that the founder and several of his 37 bakers beat the French in Les Masters de la Boulangerie, but not entirely surprising that, like those in Tokyo and Seoul, Taipei's bakers are caught in a moment of fetishizing pastries and breads. What's also remarkable is that his gleaming new bakery showcases not just Asian pastries, but French baguettes, American sourdough and Nordic rye. And it does no wholesale: The breads are so popular Wu Pao Chun thrives on to-go and dine-in sales, with no booze.
Another don't miss: Sunny Hills ( 1F No. 1, Alley 4, Lane 36, Sec. 5, Minsheng E. Road)  for a complimentary tea and pineapple cake, a shortbread square stuffed with heirloom pineapple paste that became my favorite dessert (and souvenir). 
Taipei is a place to go for high-quality teas. 
From the modern Sanxitang Teahouse (221 Zhishan Road, Sec. 2) on the top floor of National Palace Museum to the historic Wisteria Tea House (No. 1, Lane 16, Sec. 3, Xinsheng South Road) in the Da'an District, there is no shortage of places to drink beautiful teas. The latter has been around since the 1920s and had been a meeting spot for the intelligentsia. 
And of course, there are the night markets.
When the sun goes down, dozens of night markets come to life, with stall after stall of snacking and shopping options. Ask your hotels, hosts and locals as to which ones to visit when. Have cash on hand and prepare for a crowd, among stalls offering oyster omelets, tea gelatin, taro fritters, roasted chestnuts and more.
RELATED ISSUES