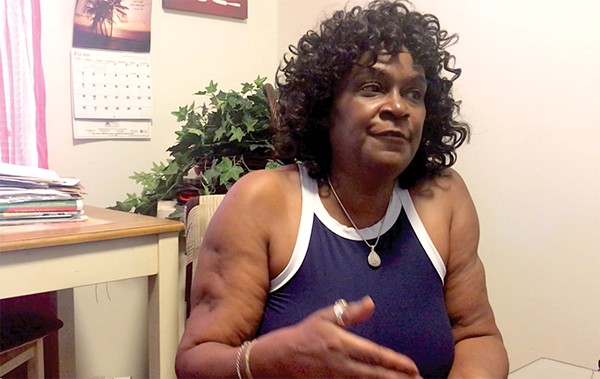 This story was produced in partnership with the Pulitzer Center as part of the 63106 Project, a St. Louis-based non-profit racial equity storytelling project.
Beverly Jones can hardly wait to get back to the neighborhood that she knows and loves.
It's a neighborhood that's hard to love and in the time of the pandemic even more difficult.
Jones had been a long-time resident of Preservation Square in St. Louis's 63106. The Zip code takes in a couple of square miles north and west of downtown and is home to 12,000 people. 63106 is iconic among social scientists, but not in a good way. It has been identified as having the worst social determinants of health in the region.
A study conducted earlier in this decade through a collaboration involving researchers at Washington University and St. Louis University showed the average life expectancy for a child born in 2010 was 67 years old. That's eighteen years less than the anticipated life span in 63105 — Clayton, the St. Louis County seat, which is made up largely of affluent white families. Of course, this research came before the pandemic and before a crime spike this year that has stricken many neighborhoods in 63106.
Aggravated assaults in 63106 were up 30 percent in the period since COVID-19 arrived, according to an analysis of St. Louis Police crime data.
Jones is 57 years old. She suffers from lupus, fibromyalgia, osteoarthritis, and perhaps most significantly COPD, a lung disease that makes it hard for Jones to breathe through a mask. So at times she has rolled the wellness dice and simply gone without one. She has other worries as well. Two of her children and a grandchild are in prison where they are vulnerable to COVID-19. And she now has had in her care a grandson, age twelve, and a granddaughter, sixteen, who are struggling with having their mom and older brother in prison. (In all, Jones is mom to four daughters, and grandma to seventeen, plus two great-grandkids.)
"I don't have time to be sick," Jones said when we visited last month, "because I am helping everybody else."
But now she has taken ill. Last week, Jones texted to say she had been feeling poorly and that a test that she took last week revealed that she has been infected with COVID-19. As of this writing she is quarantining. Her granddaughter is with her, and her grandson is living with a cousin for the time being.
The three of them had been living in a safer neighborhood while renovations were underway in Jones's subsidized housing community in Preservation Square, which is managed by McCormack Baron Salazar (MBS). The hiatus might have been a good time for Jones to apply to stay put at the North Sarah Apartments, another MBS complex near the city's trendy and posh Central West End and Grand Center Arts District. There she has a two-story, three-bedroom townhome with access to washers and dryers, a fitness center, computer stations and a community room.
Or she might have considered moving out of the city altogether.
But, no, Jones has been hell-bent on returning to 63106. It's the place where she raised her children, where she came to grips with her drug addiction, then got clean with help from a neighborhood agency, Grace Hill Settlement House. (She celebrated 28 years of sobriety in July.) Within 63106 she found work helping others in her community, first as a volunteer, but then slowly working her way into better paying positions at Grace Hill. A supervisor encouraged Jones, a Normandy High School graduate, class of '81, to continue her schooling. So at night she hit the books. She earned an associate's degree in human services and a certificate of proficiency in criminal justice at St. Louis Community College in 2003. She went on to a bachelor's degree at Fontbonne University in 2006, then three years later, earned a master's degree in business management at Fontbonne.
Jones got laid off at Grace Hill in 2012, and her illnesses have limited her, but she has found other ways to serve, working most recently at MERS Goodwill and with Job Corps, a training program for disadvantaged youths.
Jones served full-time for five years with Job Corps and now works there on a part-time basis helping clients with career development.
"She has such a broad background and experiences," says Revelyn Guthrie, residential living manager with Job Corps. Her ability "to get up every day and invest in people is phenomenal."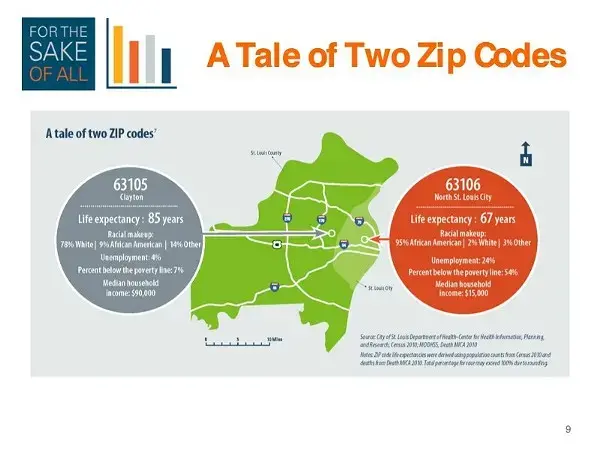 Jones observes that many social service workers come into her neighborhood with good intentions, but they live elsewhere. They cannot possibly have the insights she has to serve her community. So she feels it's especially important to return, even as many residents are looking for a way out. (Including a neighbor who is also portrayed in this 63106 storytelling project, Kim Daniel.)
Jones is realistic about the challenges in Preservation Square but believes there is a core of great people who will continue to have her back as she has had theirs.
"We take care of each other," Jones says of her neighbors. "If I left town, went on vacation, my neighbors looked out for my place. They made sure my doors were locked. If I had mail being dropped off by the post office or UPS or FedEx, I know my neighbors would take care of my package, and I knew that I would have it when I got home."
Jones started the tenant association at Preservation Square Place in 2016 so that she and other tenants would be kept informed of the changes that were being made at the apartment complex as part of the rehab project. Now she has something more to keep her eye on.
With the National Geospatial-Intelligence Agency breaking ground last fall on a $1.7 billion facility on 97 acres in 63106, there's hope the surrounding neighborhood will blossom along with it. But Jones is skeptical about the good intentions of the federal government, the city and redevelopers.
"I've heard so many things about the new NGA site coming and you know it's going to be a different neighborhood" when the facility opens in 2025, Jones says. "But then on the flip side of that coin I've also heard that what they want to do is get rid of a lot of the people who are currently there, and then bring new people in with new development, new housing, new opportunities. But why not for the people who already live there?"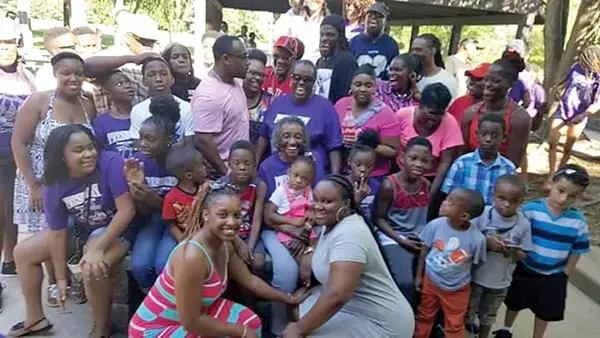 Never Perfect, but Ever Savvy
Jones has devoted all of her professional life to focusing on families and young people. Her admirers say she has put countless youths back on the right track or kept them heading in the right direction.
And yet, as noted, two of her own children are in prison, along with a grandson. That would be Danielle Jones Mack, 35, who has served over a decade in prison for murder. Jones' eldest, Linda Bradley, 41, is at the St. Louis City Justice Center, where she awaits a sentencing hearing on a gun violation. Grandson Michael Whitney, 24, is serving time at the Pacific Correctional Center for vehicle theft and assault against a law enforcement officer. Jones's two other daughters are solid citizens. Patricia Ballard, 37, is a homemaker and raising four children with her husband in a home not far from Jones. Her youngest, Anita, 29, lives in Dellwood with her child and attends nursing school aiming to be a licensed practical nurse.
Jones acknowledges she could have been a much better mom to her kids, though she adds that her children should also be accountable and own up to their own mistakes. Everybody needs to be accountable for what they have done, she believes. She would never blame her parents.
Jones's father, Lawrence Jones, worked most of his life as a skycap and while now fragile remains a doting grandfather, great-grandfather and great-great grandfather. Her mother, Berniece, who died in 2013, raised their eight children, setting an example for them. "My mother was beautiful. She dressed nice. When she put herself together, it was like, 'Wow, I want to do that, too.'"
In the 1970s, the couple moved from the city to a nice home in the county and gave young Beverly and her siblings every opportunity to fit in at what were then reasonably good public schools in the Normandy School District.
But young Beverly was ever curious, restless and entrepreneurial. Unfortunately, in the early going she took those attributes in the wrong direction.
"I guess my mom would say that I've been an adult my entire life. It was always: Why this? Why that? with me. I always tried to figure out what fit me. Not just doing what you're supposed to do — playing jacks and jump rope, cheerleading, majorettes, drum major. That never worked for me. My mother was a homemaker. But that's not what I wanted for my life."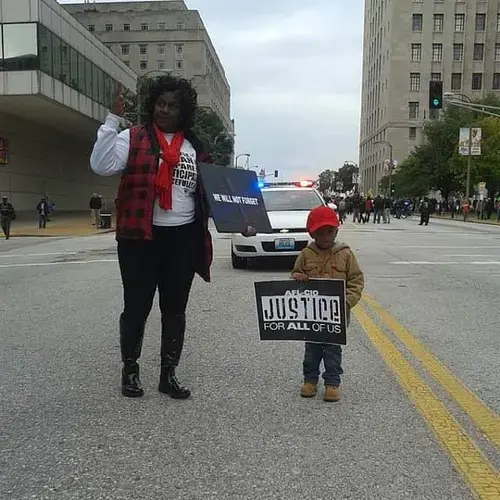 Jones started dating and smoking marijuana at thirteen, became a mom at fifteen and started selling joints at school at sixteen.
Later, she would both sell and use more potent narcotics, including PCP, which she called "an elephant tranquilizer."
Jones never married, and at the age of eighteen, she began living with her boyfriend. She had her second daughter at age twenty, in 1983, third daughter in 1985 and her fourth daughter in 1991. She would live off and on with her common-law husband for 20 to 25 years. They are no longer together. During the time she used, Jones says, her home became a drug house where her clients would buy and use their drugs. She would drop her children off with her mother, and say, "I'll be back."
"Did I ever get in trouble?" Jones says. "Yes, I did. I was never perfect, but I learned how to be savvy very early. Was it always legal? Of course it wasn't, but am I ashamed of it? No, I'm not, because that makes me who I am right now. I think that's why I like working with young people, because we put so much on them and we don't even realize it as adults that their minds are somewhere else. And we want them to do this. Well that doesn't fit everybody."
"I look at myself now and say I have the best of both worlds and put it together. I go to work. I make money. I do stuff in my community. I know what I want to present to the world."
In the meantime, she has been struggling to hold her family together. Jones says her grandchildren have not enjoyed living with her. They are unhappy with the rules Jones has in her home, such as keeping their rooms clean, doing chores and abiding by curfews she sets when they go out.
"They don't like me because I make them responsible for what they do," she says. "They are making choices on their own, but they are not going to get their way. That's not the way it is done."
Jones says they are unsettled by the fact that both their mother and brother are locked up.
"They don't like it at all," she says softly. "They don't talk about it."
Her granddaughter is a student at Soldan and has been schooling at home, and her grandson is back in the classroom at Carr Lane Middle.
He has been struggling with behavioral issues that Jones says are difficult to handle. When his mother encountered her own struggles, her son was placed in foster care. "I got him out of the foster care system when he was two or three," Jones says. He may soon have to go back to foster care if the behavioral issues continue.
"I think they need counseling to get their frustrations off because it doesn't work well on me," she says. "They have built up anger, and they are acting out in every way imaginable, and I'm supposed to accept it. Life is not made up like that. There's consequences for everybody."
At times, she feels the weight of other people's expectations — real or imagined. It makes her bristle.
"This is the time I'm supposed to have for myself, but I'm focused on what I have to do for them. I am supposed to be past this stuff."
Jones says not being able to visit her incarcerated children and grandchild has been difficult.
"That drives me crazy," she says. "I can only wait for a phone call. Heaven knows that I want to know what they are up to."
Her anxiety ratchets up when she thinks about her grandson, Michael, who has been battling a form of leukemia, though he is now in remission. If he gets COVID, she fears it might finish him.
The Unifier
Pamela Meanes, an attorney with Thompson Coburn, one of St. Louis's silk stocking law firms, met Jones in 2014 at one of the protests over the police shooting of Michael Brown. Meanes appreciated her assertive manner and saw that so many people were looking to her for guidance or her assent.
"I found her to be a unifier," Meanes says. "I saw leaders seek her out."
As did Meanes when she became president of the National Bar Association, a nearly century-old organization of predominately African-American attorneys and judges. Meanes was seeking connections with protesters to help the cause while keeping a low profile.
"Beverly to me was a conduit because of her commitment and her continued desire to see change in the region," Meanes says.
The National Bar Association took a stand and questioned how the grand jury weighed the evidence that concluded that Darren Wilson should not be indicted in the shooting death of Michael Brown.
Meanes says you would never know that Jones had her own troubles haunting her during that time.
"Beverly never placed her burdens on anyone else," Meanes says. "Most people didn't know."
"I think she used it as fuel to make her go stronger," she says.
In the meantime, Jones is in a holding pattern dealing with COVID-19, and waiting and waiting on McCormack Baron Salazar to finish renovations so she can move back to Preservation Square to advocate for her friends and neighbors.
"That neighborhood is important to me," she says. "I want to be a part of the reason why it comes back."
Before Ferguson Beyond Ferguson, a nonprofit racial equity project, is telling the story of families in 63106 one by one over the course of the pandemic. This is the first chapter in Beverly Jones' life. Reporter Denise Hollinshed will be following the challenges she faces until the pandemic abates. The Riverfront Times has published other stories as part of the project and so have other St. Louis media. You can find an archive of the stories at https://beforefergusonbeyondferguson.org/63106-project/
---
COVID-19 Update: The connection between local and global issues–the Pulitzer Center's long standing mantra–has, sadly, never been more evident. We are uniquely positioned to serve the journalists, news media organizations, schools, and universities we partner with by continuing to advance our core mission: enabling great journalism and education about underreported and systemic issues that resonate now–and continue to have relevance in times ahead. We believe that this is a moment for decisive action. Learn more about the steps we are taking.
RELATED INITIATIVES