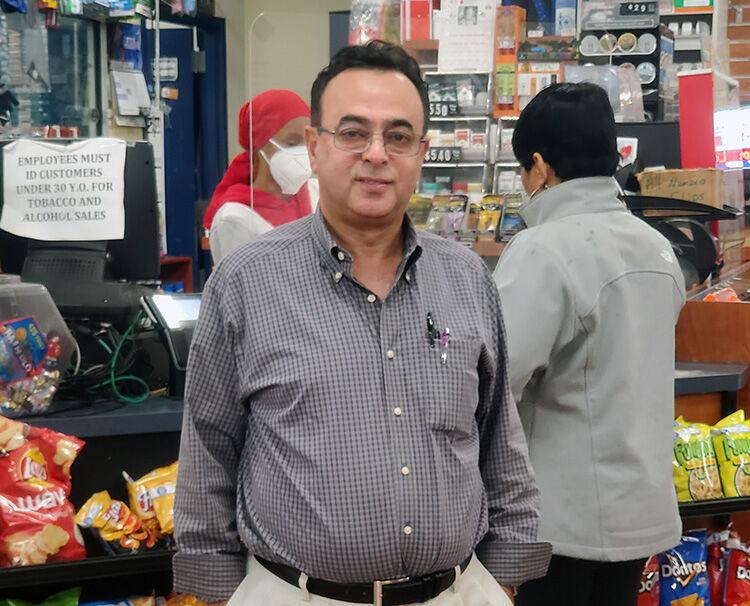 The past few months have been challenging for Nabali Khaled Salameh and his business, Mike Salameh Crown Plaza. He had built the business from the ground up about 11 years ago on the corners of Cass Avenue and 13th Street. The plaza's biggest draw is an ExxonMobil Franchise. Khaled promotes other services in red block letters: CAR WASH, FOOD MART, PKG LIQUOR, SALAMA BEAUTY and CELL PHONES. The only corporate logo affixed to the tan and white building is a "Metro PCS" sign.
Business was good until early March when COVID-19 was declared a pandemic in the United States. Back then, Khaled feared he'd have to shutter the plaza. He even ordered 50 sheets of plywood. This was around the time Gov. Mike Parson issued a statewide stay-at-home order to slow the spread of the virus. Missouri's order was going last to at least April 24, Parsons said.
Khaled grappled with the decision to close but instead decided to tough it out. Now, four months later, he's telling his customers that only a limited amount of them are allowed in the stores at one time and all must wear face masks. 
Although no one in Khaled's immediate family had contracted the virus, he takes the threat seriously. The plywood was not only for the businesses in the plaza but also for his other enterprise on St. Louis Avenue and North Kingshighway. Khaled has more than 10 employees at the 13th Street plaza alone. Closing would dramatically affect their livelihoods. But he had to also consider the well-being of his many customers who, he says, "know me more than I know them."
In the pre-corona days, the plaza, with its all-day, all-night gas and food mart was always popping. The food mart is a place where people without bank accounts can pay utility bills, buy money orders or cash paychecks. The parking lot still serves as a gathering place of sorts for customers of the various businesses. On the weekends, a vendor serves cooked-on-the-spot hot dogs, hamburgers and smoked turkey legs from a smoker. As a frequent customer, I became extra careful – wearing a mask, sanitizing my hands and keeping space between myself and other customers – when the virus started to spread.  It seemed that not everyone visiting the plaza shared my fear of contracting the virus.
Mike Salameh Plaza is in my neighborhood, Old North, located in the 63106 ZIP code. I'm one of the storytellers for Before Ferguson Beyond Ferguson's "63106 Project." According to Washington University and Saint Louis University's "For the Sake of All report," 63106 ranks at the bottom of all ZIP codes in the region in terms of social and economic factors and health disparities. Of its almost 12,000 residents, 50% live below the poverty line, with 70% of the residents renting property. The area, which also includes the Carr Square, Columbus Square, JeffVanderLou and St. Louis Place neighborhoods is almost entirely (94.8%) Black. The mission for the "63106 Project" is to tell stories of this vulnerable population as they struggle through this pandemic.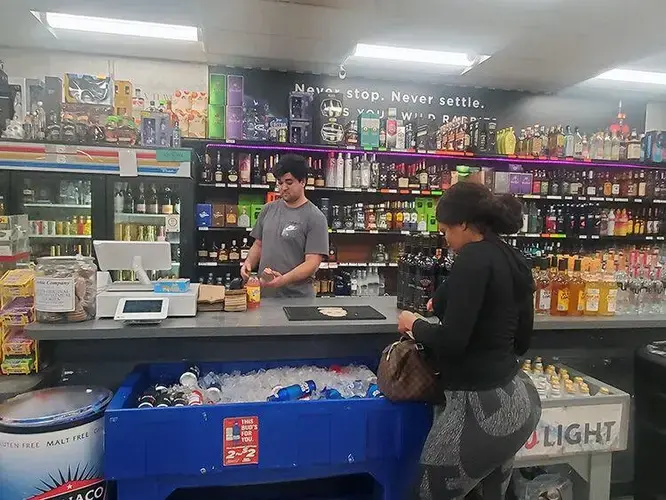 For me, the plaza serves as a case study of upended social and business norms in a crippled economy. It also represents the challenges that the pandemic has on a business that is indeed essential to a fragile community.
Before Greenleaf Market opened on North 13th Street last year, the area had not had a major grocery store since Schnuck Markets closed its 1030 Cass Ave. store 20 years ago. For many, the plaza, with its array of fast food, grocery items, off-the-shelf medicines, lottery tickets, and alcoholic beverages, fills a void.
Knowing your customers is key to success, Khaled said, especially in the competitive gas and convenience store market. 
"You have to know what people need or they'll go someplace else," he said. "If customer service is bad, they'll go to another place. It's that's simple."
Khaled, 56, lives in Wildwood but has operated or owned businesses in 63106 for 30 years. He said he can relate with the circumstances of many of his low-income customers. He said he was born and raised in a refugee camp in Palestine. Some of his family still live there. Poverty, the lack of job opportunities, health disparities, and life in cramped, bland settlement houses are all familiar terrain.
"As a Palestinian, we had a lot of the same problems," Khaled said. "I share a lot of the values and experiences with the people of this neighborhood."
Khaled's uncle on his father's side, Sam Salameh, migrated to America in the 1970s. Salameh regaled the family back home with tales of unlimited opportunity in this country.  It had a profound impact on Khaled.
"I was about five years old when my uncle came to America, so I grew up hearing about him, how he was living and what he was doing," he said. "So, after I graduated from high school, I was determined to come to America."
Khaled and his wife arrived in 1990 and started a family. He immediately went to work with his uncle at his convenience store on 13th Street less than a mile from the old Pruitt-Igoe housing project site. The building is now Salama Motors, a used car place. Under Salameh's tutelage, he learned how to manage and operate businesses in underserved neighborhoods. It took him about 20 years but, "lots of hard work" and five kids (three boys and two girls) later, Khaled started his own venture. His sons work at the plaza. His eldest daughter is married, and his youngest daughter is a junior at Saint Louis University.
Khaled's decision to ride out the contagion storm was aided by brochures and other material that ExxonMobil provided franchise owners about operating during a pandemic. He's relied heavily on corporate support and his faith:
"Muslims believe that if you are thankful for the bounties and good health that God has blessed you with, you will receive more," Khaled said. "When hardships happen, be patient and thankful and Allah will bless you, too."
With gas prices at near-record lows, business has been steady. Although the cell phone and beauty supply stores were closed for a while, the gas station, food mart and liquor store enjoyed continuous foot traffic. It was a challenge keeping the shelves stocked with Lysol and other disinfectants, Khaled told me. At one point he sold a rare commodity – toilet paper – behind the counter for a $1.69 a roll.
During the pandemic, his business could even be described as robust. Muhammad Khalid Salameh, at 26 years old Khalid's youngest son, said that they do their best to protect the health of customers and employees by limiting how many people can come inside the store at one time.
In May, Gov. Parson announced that the statewide restrictions on social gatherings were lifted and all businesses could reopen. Khaled wishes the ban on bars and nightclubs would remain for another month or so. "That way, their customers will come shop with me," he said.
Just when he thought the worst was over, the coronavirus resurged. Because of the resurgence, St. Louis City and County issued new orders requiring people to wear face masks in public. 
His son Muhammad said he plans to remain cautious.
"I'm one of those people that's going to stay inside when they say everybody can go into restaurants or whatever," he said. "There's definitely going to be another wave. And we still haven't really peaked yet."
Khaled said he surrendered to the notion of taking things "day by day, hour by hour."
This story is part of "The 63106 Project," which is sharing the stories of people coping with the pandemic in St. Louis' most vulnerable neighborhoods. An archive of stories in the series is available at beforefergusonbeyondferguson.com. 
---
COVID-19 Update: The connection between local and global issues–the Pulitzer Center's long standing mantra–has, sadly, never been more evident. We are uniquely positioned to serve the journalists, news media organizations, schools, and universities we partner with by continuing to advance our core mission: enabling great journalism and education about underreported and systemic issues that resonate now–and continue to have relevance in times ahead. We believe that this is a moment for decisive action. Learn more about the steps we are taking.
RELATED INITIATIVES