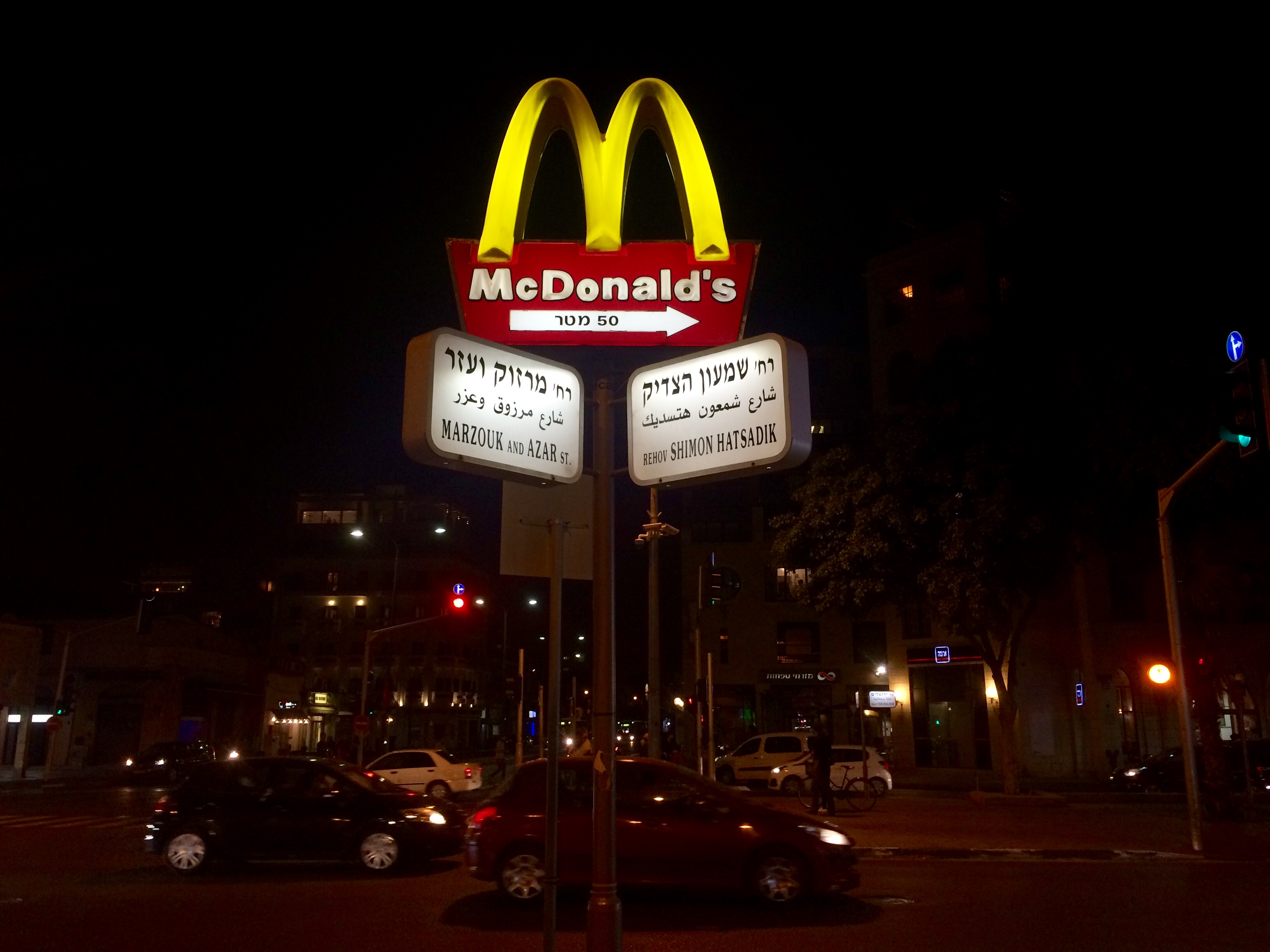 JERUSALEM—Malac Ammar, 21, was happy when she started work at the McDonald's near her home in Akko, northern Israel, four years ago. She had responsibilities and money, and she soon rose to become shift manager at the branch, where her sister and friends also worked.
McDonald's is Israel's biggest fast-food chain, with over 180 branches, and the country's largest employer of those under 25. About half of its workers are, like Ammar, Palestinian citizens of Israel, who make up about 20 percent of Israel's 8 million citizens. The McDonald's Israel franchise is owned by businessman Omri Padan, one of the founders of the venerable liberal group Peace Now. Padan has refused to open McDonald's branches in illegal Israeli settlements in the occupied Palestinian territories, and his shops are praised as a place where Arab Israelis, who face significant institutional discrimination, can find employment and better their Hebrew.
But, as often is the case in Israel, politics and economics here are two different stories.
When McDonald's Israel workers started to unionize in 2013, demanding better wages, hours, and other workplace protections, management actively tried to stop it. A year later, Padan called off plans to sign a collective-bargaining agreement at the last hour. Workers around the country, Ammar included, then organized strikes. She and her co-workers closed their McDonald's for just one hour—they didn't want to be too disruptive, she said. That was until police, without evidence, accused her of terrorism and of intentionally trying to burn the branch down… because she had left the restaurant's grill on during the strike.
Around Israel, unionizing has been on the rise since the passage of new pro-labor laws in 2009 and 2013, and especially since the massive 2011 social-justice protests, in which hundreds of thousands of Israelis demonstrated against growing inequality and the high cost of living. But at McDonald's, unionizing efforts remain deferred. Meanwhile, its local Israeli rival, Burger Ranch, welcomed in 2013 a collective-bargaining agreement—and promised to open branches in West Bank settlements after McDonald's refused.
The McDonald's case exemplifies the complicated space the labor movement navigates in Israel, where elections are usually won based on who is viewed as the most pro-security—an argument the extreme right is increasingly dominating—while all major Israeli parties are largely aligned on the same pro-capitalist and neoliberal lines. It's also a reminder of the political roles that fast-food franchises play around the world—and the challenges this presents in the fight for workers' rights.
Padan declined requests to speak to The Nation for this story. But organizers claimed that his fight wasn't simply about preserving profits; he has since instituted many improvements in pay, benefits, and working conditions. Rather, it was with the labor federation his workers were unionizing under: the polarizing Histadrut, Israel's largest and state-aligned trade union, founded by Labor Zionists in 1920. For much of Israel's history, the Histadrut and Labor have been synonymous.
Today many in Israel view the Histadrut as a conservative and self-interested body that's quick to strike and a handicap on the tech-dominated economy. The quasi-state actor has garnered enemies among many workers and business sectors for its allegedly cozy deals with management and politicians and its reputation for only caring about the biggest (and most profitable) labor sectors. It's a deep fall for the once-untouchable empire: Four decades ago, the Histadrut included over 80 percent of Israeli workers and had a hand in much of the economy, including the transportation, electricity, and health-care industries. The umbrella union was a key element in early Zionist efforts in British Mandate Palestine to build up Jewish institutions and undermine existing Arab political and economic structures. The Histadrut leader, chosen through internal elections by factions aligned with Israel's larger political parties, has historically had an inside hand in pushing particular government policies and coalitions.
But by the 1990s, the Histadrut had lost two-thirds of its mainly Jewish members after a series of neoliberal economic reforms in 1985 and 1994—supported by politicians from both the left and right—gutted the labor movement. After three decades of Labor in power, the right-wing Likud party had beaten the Labor Party's coalition in 1977 for the first time. The rise of neoliberal principles of governance and pro-privatization policies after that defeat also heralded the reorienting of Labor, who's precursor, the Mapai Party, grew out of the Histadrut. Labor's Yitzhak Rabin, known internationally for his role in the 1994 Oslo Accords, at home gained the title "the great privatizer." And as the welfare state was dismantled, economic divides in Israel rose: One in five Israelis now live in poverty, the highest among all countries in the Organization for Economic Corporation and Development (OECD).
The divorce between liberal politics and economics in Israel has led to some seemingly contradictory marriages of convenience, which has made it difficult for Ammar and others like her to figure out how to navigate the new terrain.
After enduring four hours of interrogation alone because of "Grill-gate," she received a 30-day restraining order from the mall where the McDonald's was located (after Histadrut's appeal it was reduced to 15 days). She also lost her job without the required compensations.
There were three Arabs and one Jewish worker at the McDonald's that day—and Ammar felt targeted because of her ethnicity. "I personally think it was because I am Arab," she told The Nation. Had the shift manager been Jewish, she asked, would authorities have accused them of trying to burn down the store? No one she worked with in the Histadrut could recall a similar case.
Around the country, McDonald's workers attempting to unionize—both Jewish and Palestinian—have faced threats from management. Another employee, Yaron Sher, told the daily Ha'aretz that, after a stellar employment record, his manager pushed him out after he participated in a strike. Another worker, Eden, told The Nation she was pushed out after asking for a month to study for the bagrut, the Israeli equivalent of the SAT. "At first I was afraid because the managers used to say, 'Don't speak to them [Histadrut] or you will be fired,' and stuff like that," Ammar said.
The Histadrut's 92-year-old youth union and movement, known by the acronym NOAL, has been helping McDonald's and other fast-food workers unionize. Under Israeli labor laws, there are specific restrictions for workers between the ages of 14 and 18, explained NOAL organizer Uri Metuki. "This is a jungle," he said. "All kinds of rights are being taken from these kids."
For workers seeking to form a union, Israeli law mandates the support of one-third of employees to form a worker's committee, which then needs to be recognized by an outside trade federation, like the Histadrut. The pro-labor laws of 2009 and 2013 have made it harder for employers to prevent workers from unionizing—and the Histadrut successfully sued McDonald's for doing just that.
Ammar and her co-workers' relationship with the Histadrut defied the old-school, back-door-deal narrative that the union is trying to change. In recent years the Histadrut has been organizing contract workers, having for decades neglected this growing class while it focused on protecting the pensions and salaries of historically large unions, like the seaport and airport workers. "I know that Histadrut doesn't have the best reputation, but they were the only one in the playground," Ammar explained. "I really believe they can help."
And the irony of Omri Padan in the role of capitalist peacenik was also not lost on her. "I think that someone that claims to be a political social activist shouldn't be leading the biggest capitalist company in Israel," Ammar said.
Ammar is now an engineering student at Tel Aviv University. She's teamed up with Koach La Ovidim—a leftist-leaning labor federation that's the Histadrut's main but much smaller rival—and is helping to organize janitorial workers. Koach La Ovidim started in 2007 by focusing on the workers the Histadrut had long marginalized, such as contract workers and other lower-profile sectors.
She's no longer focused on improving working conditions at McDonald's, though NOAL's legal cases and advocacy are still ongoing. But she's still keen on the far-reaching implications.
"McDonald's have restaurants all over the country, even in the Arab villages and cities," Ammar said. "It's an opportunity for a lot of Arab teenagers to work, as they don't have other places. So they think that McDonald's is also a great job compared to other jobs. But they don't know anything about workers' rights.… It could be a great job, a great opportunity to explore the working world. But I believe that McDonald's can improve their working conditions."
RELATED ISSUES