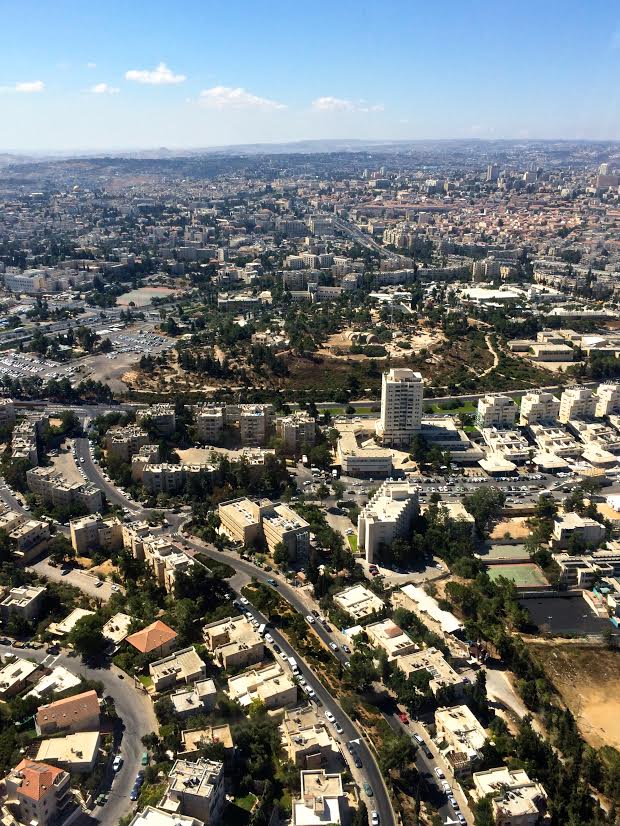 Dudi Zamir believes Israel is facing a housing crisis, but it's not the one you might expect.
The 36-year-old factory worker in Ashdod, the southern Israeli port city, supports the expansion of Jewish settlements into the Israeli-occupied Palestinian Territories, which international law considers illegal and peace deals slate for a Palestinian state. Israel's parliament recently passed a controversial law legalizing Jewish settlements built on private Palestinian land. Critics called it theft; Zamir claimed it was Israel's.
His concerns are that six years ago he bought a house – but like many Israelis he can't afford a newer, better one as housing prices, along with much of daily life, keep rising.
As Israeli Prime Benjamin Netanyahu arrives in Washington on Wednesday for talks with U.S. President Donald Trump, much attention will focus on the settlements, which have regularly drawn international condemnation. The most recent rebuke came in late January from the United Nations and European Union, when Netanyahu's government announced plans to accelerate construction in the West Bank – which former President Obama objected to while Trump's administration has so far been more permissive.
But another crisis largely unreported by international media confronts Israelis: the soaring price of housing. Institutions such as the Bank of Israel call the country's housing market among the greatest threats to its financial stability.
Working-class Israelis like Zamir form a core of right-wing Netanyahu's supporters. But he doesn't blame the prime minister's policies, among which prioritize privatization and subsidies to settlements. He also doesn't want to leave Ashdod for a Jewish settlement in the West Bank, where housing is cheaper and the government spends annually about $425 million more on settlers than other citizens, the watchdog group Peace Now reported.
It's one of modern Israel's many enigmas: During the past three decades, waves of privatization – championed by politicians from left and right – have eroded modern Israel's founding welfare state and made basics, like affordable housing, increasingly unattainable for the poor and middle-class.
At the polls, Israel's Jewish majority votes mainly on security considerations: the military, service of which is mandatory for Jewish Israelis, maintains wide public support, while the major political parties support similar free-market economics. Meanwhile, Israeli politics have been shifting right toward reactionary politicians that are considered tough on security, the Palestinian conflict, and Israel's borders. Socio-economics issues remain secondary.
Housing pressures did rise to unprecedented prominence in 2011 when hundreds of thousands of Israelis took to the streets in unparalleled demonstrations. Like most Israelis, Zamir supported the movement.
More than five years later, however, Israelis are still struggling to fix economic crises like the housing shortage – which, activists like Shir Nosatzki argue, have far reaching impacts on Israel's future, despite receiving less attention.
"[Housing] is something I think that symbolizes the core conflicts of Israeli politics," says Nosatzki, who became an initial organizer of the 2011 protests after she was priced out of her Tel Aviv apartment.
Nosatzki says many young Israelis are leaving the country because the high cost of housing. "There is no scenario in Israel where you don't have money from your parents and just work and can buy a good apartment."
Between 2007 and 2015, housing prices rose by 114 percent and rents by 49 percent, reports the Shoresh Institution for Economic Research. Low interest rates have pushed people to invest in real estate, which comprises about 40 percent of the economy. In such a small country surrounded by hostile neighbors, demand is concentrated in economic centers like Tel Aviv, while border areas are less developed.
Though home ownership rates are high, new homes are nearly unattainable for the average worker: Today it takes the equivalent of 148 monthly salaries to buy a home, compared to 66 in the United States (and 80 Israeli salaries in 2008), the Housing and Construction Ministry reports. While Israel's economy remains robust, inequality and poverty rates are among the highest in Organization for Economic Cooperation and Development member countries.
The state, however, was once actively involved in the planning, management, and construction of housing for Jews inside Israel. After Israel's founding in 1948, the government subsidized homes for waves of Jewish immigrants through the 1990s.
In 1997, the Construction and Housing Ministry's budget constituted 5.1 percent of the total state budget; today it's about 0.5 percent, the Adva Center for Information on Equality and Social Justice in Israel reported.
"Housing policy for the last decade has been a continuous process of the government putting off interventions," says Sebastian Wallerstein, 36, executive director of the Affordable Housing Center at Tel Aviv University. "We didn't create an affordable alternative for middle-to low-income housing."
Israel needs about 50,000 new housing units annually, but only produces 40,000-45,000, says Ziv Lazar of the Israeli Association of Builders and Constructors. Cumbersome bureaucracies inhibit new housing units: it takes around 13 years to build, reports the Israeli Taub Center for Social Policy Studies. The government owns 93 percent of land, which it now sells to the highest bidder for development. Other sectors, like banks, businesses and government bodies profit from high prices.
In the past year, the government has responded with new interventions. Finance Minister and Netanyahu rival Moshe Kahlon recently launched initiatives to lower prices, like subsidizing construction for first-time buyers of any economic background. In Israel's coalition-style parliament, finance minister often goes to an opposition leader. This also raises the pressure on Kahlon to significantly lessen the crisis – a tall task given Israel's short political cycles.
For Knesset member and economist Manuel Trajtenberg the solution is clear: government-funded affordable housing. At the height of the 2011 protests, Netanyahu tapped Trajtenberg (not then in the Knesset) to draft government recommendations, which, Trajtenberg laments, ultimately went largely ignored.
"It's a mistake to think there's a contradiction between an open market and an affordable housing policy."
Danny Gigi of the Forum for Public Housing at the Shatil Center is working with a coalition of parliamentarians to strengthen and broaden existing public housing laws. To do so requires considerable government funding – but he doesn't see it being politically prioritized.
What clearly is a priority, Gigi says, is that Netanyahu, like previous governments, subsidizes Israeli settlements on land Israel captured in the 1967 war. West Bank settlements have no measured impact on the housing market. Several Israeli housing experts interviewed reject connecting the two. With Israel facing such an acute housing shortage, settlements, where less than 5 percent of Israeli citizens live, do not provide a simple outlet or solution.
Still, one-third of residents are "economic settlers," meaning they moved for affordable housing and other benefits that's accessible to commercial centers, says Lior Amichai of the Israeli group Peace Now. Housing prices in settlements are cheaper in part because the state allocates land to settler bodies for free, along with other incentives, Amichai says. Key politicians in Netanyahu's coalition are now calling for Israel to annex major settlement blocs in the West Bank, which for many Israelis have now become seemingly like any other part of Israel.
The 2011 protests specifically avoided politics like settlements and the occupation to include Israelis from opposite spectrums, such as Zamir and Nosatzki. Six year later, Nosatzki acknowledges she was initially naive to think issues like housing could so simply be solved on their own. But, she argues, a shift in the housing situation could still pave the way for new socioeconomic alliances.
RELATED ISSUES