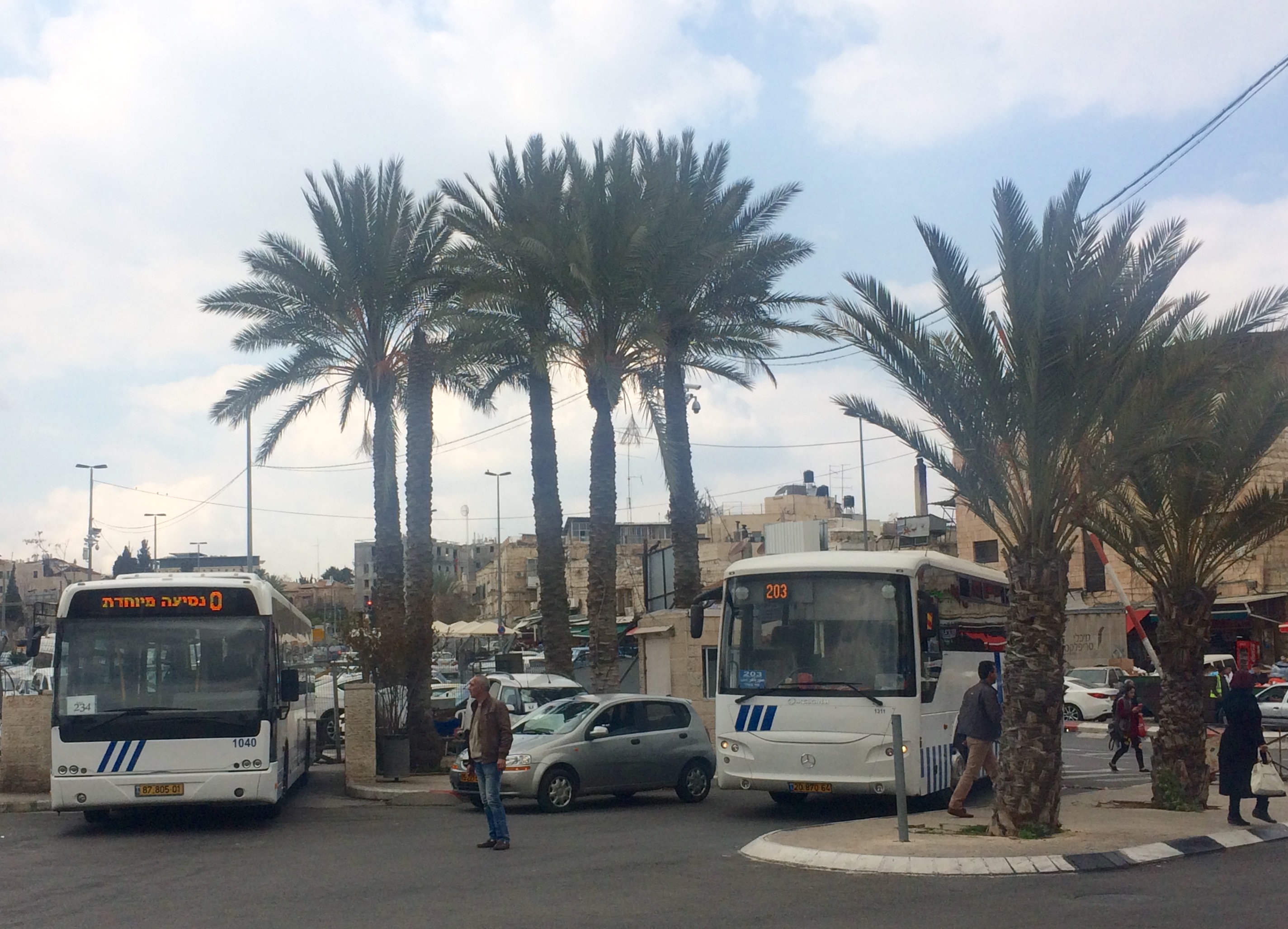 When someone needs to know which bus to take in West Jerusalem, the Israeli transportation app, Moovit, is likely their best source. It maps out how to navigate Israeli bus and light rail lines, and connects users to GetTaxi, Israel's homegrown Uber equivalent. Even Google Maps easily maps out the bus lines.
But cross Route 1 that runs along the green line—which until 1967 formally separated the disputed city—and your best bet for bus directions is to just ask around. Though some Israeli buses pass through East Jerusalem, including lines to contentious Jewish settlements in Palestinian communities, an entirely different network of private Palestinian buses regulated by the Israeli Ministry of Transportation serves Arab communities in the east. West Jerusalem has a central bus station replete with shops and guards; in East Jerusalem, three bare open-air bus depots comprise a central bus station of sorts. Google Maps doesn't recognize this.
Today, busing is one of the many facets of divided Jerusalem life that residents generally don't think twice about—but it's indicative of the politics and experiences shaping urban space in this much-disputed place.
The Israeli-occupied east, which Palestinians claim as the capital of a future state, is plagued by infrastructural neglect and institutional underdevelopment, as documented by yearly reports from Israeli watchdogs like the Association for Civil Rights in Israel and Ir Amim. While the bus network in the east is clearly inferior to the west, less obvious is how it's been privatized—like many East Jerusalem institutions—as a way to bypass the absence of an autonomous government to provide this public good.
"Privatization is a general trend in how Israel provides East Jerusalem with infrastructure and services," Dr. Oren Shlomo, an Israeli at Harvard University and expert in Jerusalem's urban issues, tells CityLab. "Informal public transportation was seen as a threat over Israeli sovereignty in East Jerusalem."
Between 1948 and 1967, Jordan controlled east Jerusalem and a fledgling Israel ruled over the west. Informal bus lines served the east, and the then-quasi-socialist Israel developed a separate public transportation network across the dividing green line. After the June 1967 War, Israel captured and annexed the east and declared Jerusalem Israel's divided capital, a move international law (and bus lines) do not recognize. Throughout the 1970s and 1980s, the decentralized busing in East Jerusalem continued largely as it had under the Jordanians, with different private businessmen and families controlling car fleets and routes in various Palestinian communities, according to Shlomo.
By the 1990s, the east Jerusalem busing system had descended into chaos, with traffic clogging the unregulated streets and gangs fighting over busing turfs and making problems for residents and the pre-'67 companies. In the backdrop, the first Palestinian intifada—or uprising against Israeli occupation—rumbled. The upheaval subsided with the signing of the 1994 Oslo Peace Accords, which created the Palestinian Authority with semi-autonomous control over the Palestinian West Bank and Gaza Strip—and left the status of East Jerusalem deferred until further, still stalled, negotiations. With Jerusalem Palestinians still contesting Israeli control, Israeli authorities came to view the transportation situation as a security threat and source of unrest: They worried, for example, about connections between some businessmen running the buses and the Palestinian Liberation Organization, which Israel was trying to oust from the east, Shlomo says.
The Israeli Ministry of Transport consequently decided to upgrade and formalize the transportation networks by bringing the existing private Palestinian bus companies under the ministry's control. Israel was undergoing waves of privatization, particularly in Jerusalem, where private companies have come to dominate everything from healthcare to schools. This privatization arrangement is in keeping with Israel and the international community's approach to development of the Palestinian West Bank. Critics, however, argue that such efforts have undermined the prospects of an independent and thriving Palestinian state by weakening governing structures.
Comparably, however, East Jerusalem's buses are also now among the best of the services offered. "[The formalization] was quite successful, which is not something you can say about most of the Israeli service operations in East Jerusalem," Shlomo says. He cites the willingness of authorities and local actors to cooperate with each other, the latter encouraged by the offer of public funding, as a key factor. Such is not the norm in East Jerusalem, where Palestinians are reluctant to cooperate with Israelis because of "anti-normalization" stances, while Israeli authorities often decide what Palestinians need or want without consultation.
"I think part of the success of the reorganization plan was due to the involvement of high-up officials in the Ministry of Transport," Shlom says. "I also think that the success of this program was due to the fact that Israeli officials and planners cooperated with the local actors coming from the industry."
By 2004, the Israeli Ministry had incorporated Palestinian busing companies and lines into one overall body. Pre-existing companies who did not want to work with the Israelis were pushed out. As of 2015 there were eight public transportation companies operating 30 lines in East Jerusalem, compared to 12 companies and 15 lines in 1998, according to a yearly report by the Jerusalem Institute. The Israeli Ministry of Transportation monitors and regulates the setup, including setting the price of the thumb-length paper tickets. Riders in the west can currently buy a bus pass, or Rav Kav, that makes it easier to switch between buses; plans are ongoing for introducing one for the East Jerusalem network, Shlomo says.
Still, major gaps in services and experiences remain. Riders like Raida Salhout, 36, are largely dependent on the Palestinian buses, as she can't afford taxis or a private car. Salhout lives in Jabel Mukaber, a tough and poor neighborhood in the hills of East Jerusalem, and remembers how back when she was young one car would circle in the area to ferry people around. Now there are two buses she can take from her home to the center bus stations of East Jerusalem, where she goes to look for work. Salhout is an independent woman and dresses conservatively in dark clothes and a veil. When she takes public transportation on the West Jerusalem side, like when she goes to the hospital, she feels that she stands out because of her religion, class, and language. She says that passengers and security will sometimes treat her and other Palestinians, particularly young males, in harassing and threatening ways. Despite the Israeli buses having better service, she feels more comfortable on the Palestinian ones she knows.
On the other hand, while there are no laws barring Israelis from using Palestinian buses, few (usually activists) do. Jewish Israelis, nearly all of whom serve in the military, are fearful of entering Palestinian areas because of histories of violence; today they also rarely have reasons to go, like knowing shops or friends to visit. Busing also remains a deep point of tension since the second intifada in the 2000s, during which deadly Palestinian bombings terrorized riders on Israeli buses. West Jerusalem has other busing divides to grapple with as well: the ultra-orthodox Haredi community have lobbied for buses with women formally segregated in the back, which already occurs informally in their areas. And Jerusalem's busing tensions follow people out, such as through the large public buses and semi-private mini buses, which shuttle people back and forth to Tel Aviv. Palestinians prefer the latter, which are often driven by other Palestinians and includes a stop close to east Jerusalem, rather than the slightly cheaper former, which leave from the west's central bus stop and are usually filled with young Israelis, including soldiers traveling.
It's doubtful that any of the top Israeli, Palestinian, and international officials involved in repeated rounds of decades-old negotiations use East Jerusalem's (or West Jerusalem's) buses. Perhaps they should.
RELATED ISSUES