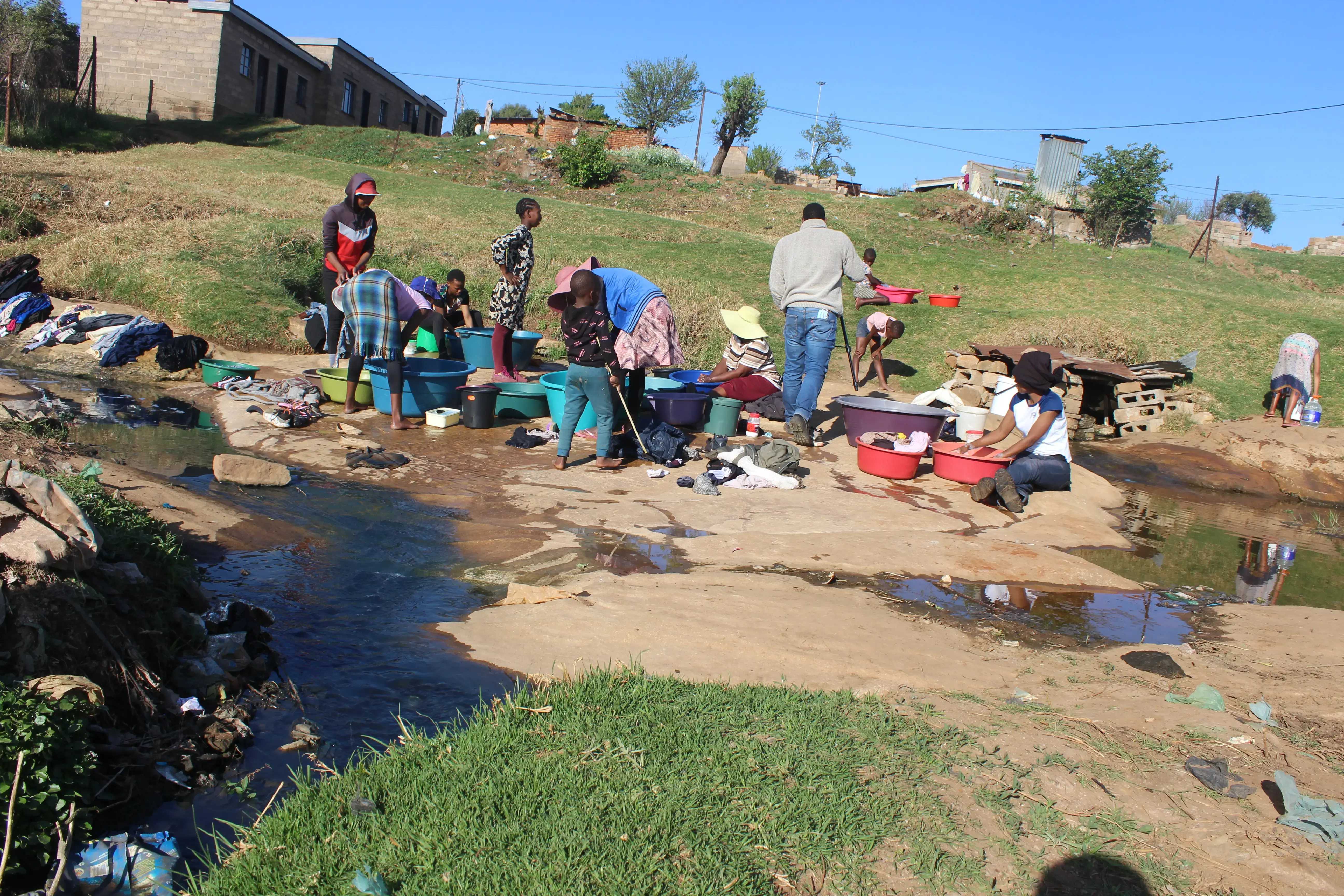 This is the third part of a five-part investigation by MNN into how Lesotho's textile factories operate with a disregard for labour laws and with apparent impunity as tests confirm that factories release toxic wastewater into water courses, including the Mohokare/Caledon River.
---
Factories in Lesotho making denim jeans to export to the world are essential job creators and income generators for the Mountain Kingdom's economy. However, an investigation by MNN has found a dark underbelly to what is supposed to be Lesotho's good news job-creating, jean-making story.  
While Lesotho battles to supply sufficient drinkable water to towns and villages, these factories guzzle millions of litres of potable water to make the jeans. The wastewater emerges from the production lines blue and toxic and finds its way into natural streams and open spaces in nearby villages mixed in with human waste.  
The law requires factories to pre-treat wastewater and pump it into the sewage system. But this attracts a fee. Evidence suggests that some factories are cutting operating costs by directly pumping wastewater into the sewage systems, which then overflow, with effluent and chemicals running into natural streams.
---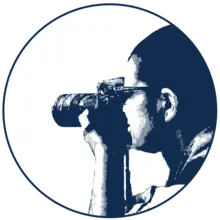 As a nonprofit journalism organization, we depend on your support to fund more than 170 reporting projects every year on critical global and local issues. Donate any amount today to become a Pulitzer Center Champion and receive exclusive benefits!
---
Contaminated water not only makes its way into natural wells and streams that poor communities and their livestock rely on to live, but it also ends up flowing into the vital Orange-Senqu River basin. This basin is a source of water for 15 million people in Lesotho, Botswana, Namibia and South Africa.  
A 2021 Orange-Senqu River basin (ORASCOM) baseline study names Lesotho's Water and Sewage Company (WASCO) as one of the main polluters of the Mohokare River, a major tributary of the basin.
In an emailed response on 20 January, WASCO public relations manager Lineo Moqasa said the water utility company identified wet industries in Maputsoe causing the pollution and advised factories to "construct wastewater pre-treatment plants so as to adopt the industrial waste treatment strategy employed in Maseru." 
She added: "There are some factories which dispose wastewater with a high chemical oxygen demand (COD) load, more than what the WASCO wastewater treatment facility can handle. Such factories are approached and if there is non-compliance, penalties are imposed." 
Moqasa, however, did not respond to questions MNN asked concerning evidence gathered during the investigation showing chemicals and raw sewerage pouring out of the sewerage system and into wells providing drinking water and, eventually, into the Mohokare River (called the Caledon River in South Africa). 
Mahasele Matekane is a factory worker in Maputsoe. When Matekane finishes his workday, he goes back to his rented apartment near factories that export textiles to the US market under the Africa Growth and Opportunity Act (AGOA).
AGOA is a US Trade Act enacted on 18 May 2000 and is set to expire in 2025. The legislation significantly enhances market access to the US for qualifying sub-Saharan African (SSA) countries. 
Lesotho benefits from AGOA, with export factories predominately operating in Maputsoe, the Leribe district and Maseru, the capital. The US has attempted to force labour and health and safety legal reforms in Lesotho to protect factory workers and the environment.
There are several factories that manufacture denim jeans, workwear and other textiles in Maputsoe: Vishan Clothing Industries, Jonsson Manufacturing, Humin Jeans, Nininta Fashions and Twilight Clothing.
During our investigation, several sources including highly placed government officials speaking anonymously accused Vishan of being responsible for the blue-toxic water spilling out of a manhole into their yards.
Vishan denied polluting water in a 11 January interview with the MNN. "There is no water in Maputsoe, so there cannot be water pollution," a company director, who only identified himself as Vishan, said in a telephone interview. 
While Vishan admitted that the manhole is dysfunctional and needs to be repaired by the Lesotho National Development Cooperation (LNDC), he claimed that the blue water gushing out of the manhole must be from another Maputsoe factory. He said that MNN should talk to this factory. Several attempts to obtain a comment from the management of that firm were unsuccessful.
On 2nd March, in a letter from Vishan's legal representation, MD Chambers, Advocate Dominic Metlae reiterated Vishan's initial claim that the latter's operations are not polluting the Mohokare River. However, new evidence points that Vishan has a Maseru subsidiary that carries out its laundry business in Hoohlo Industrial area.
In its Maseru-based laundry, Vishan carries out washing for itself and various textile factories. MNN has evidence that this Maseru-based laundry dumps its waste directly into the Mohokare River through a hidden underground opening. Look out for our next exposé on Vishan Maseru laundry.
Meanwhile, Matekane said he first noticed human faeces in a pool of blue water in his yard two years ago. This has continued ever since.
Just metres from Matekane's home, a stream of blue-coloured water containing visible faeces gushes out of a manhole on a sewage pipeline from the factories. 
"When I got home, it was like the whole yard had been turned into a dam filled with the disgusting sewage that you see here right now (22 September 2022)," Matekane said, adding that the flow of effluent used to stop when the factory was closed on weekends and on weekdays between 5pm and 7am. However, he said that it now flows almost constantly.
Factories pollute with impunity
(To watch the video "Factories Pollute With Impunity," click here. Warning: This video isn't for sensitive viewers.)
MNN is in possession of scientific evidence that the blue water gushing out of the leaking manhole is contaminated with chemicals used to dye jeans destined for the US market under AGOA. 
Although the clothing manufacturing industry is the second-biggest employer after the Lesotho government, its operations continue to poison the environment despite public calls that date from as far back as 2004 to address the resulting pollution.
There was a public outcry in 2021 after Water Witness International published a damning report on factories' hazardous impact on potable water in Lesotho. 
Polluted well
The blue water leaking from a manhole in front of Matekane's rented house is destined for Mohokare River. It is first channelled via a paved furrow next to Katleho Tlou's house in Ha Maputsoe. 
Although the initial purpose of the furrow was to control the flow of water in Ha Maputsoe village, it has now become the route for contaminants from the manhole along a sewer line from factories like Vishan, Jonsson Manufacturing, Humin Jeans, Nininta Fashions and Twilight Clothing. 
Unlike sewage pipes that run underground, the trench next to Tlou's house is on the surface and has become a health hazard for Ha Maputsoe residents.  
"The trench constructed by a Chinese contractor near my house adversely affects me," Tlou said during a 27 September 2022 interview. 
Lesotho experienced torrential rains from November 2021 up until March 2022. Tlou said her house was flooded with water on 28 January 2022 and blames the paved trench for directing water into her house. 
"This textile sewage comes with very foul-smelling wastewater that has visible pieces of faeces. The foul smell never ends," Tlou said. "We suspect that the blueish colour is ... a result of the blue jeans being made in the factories."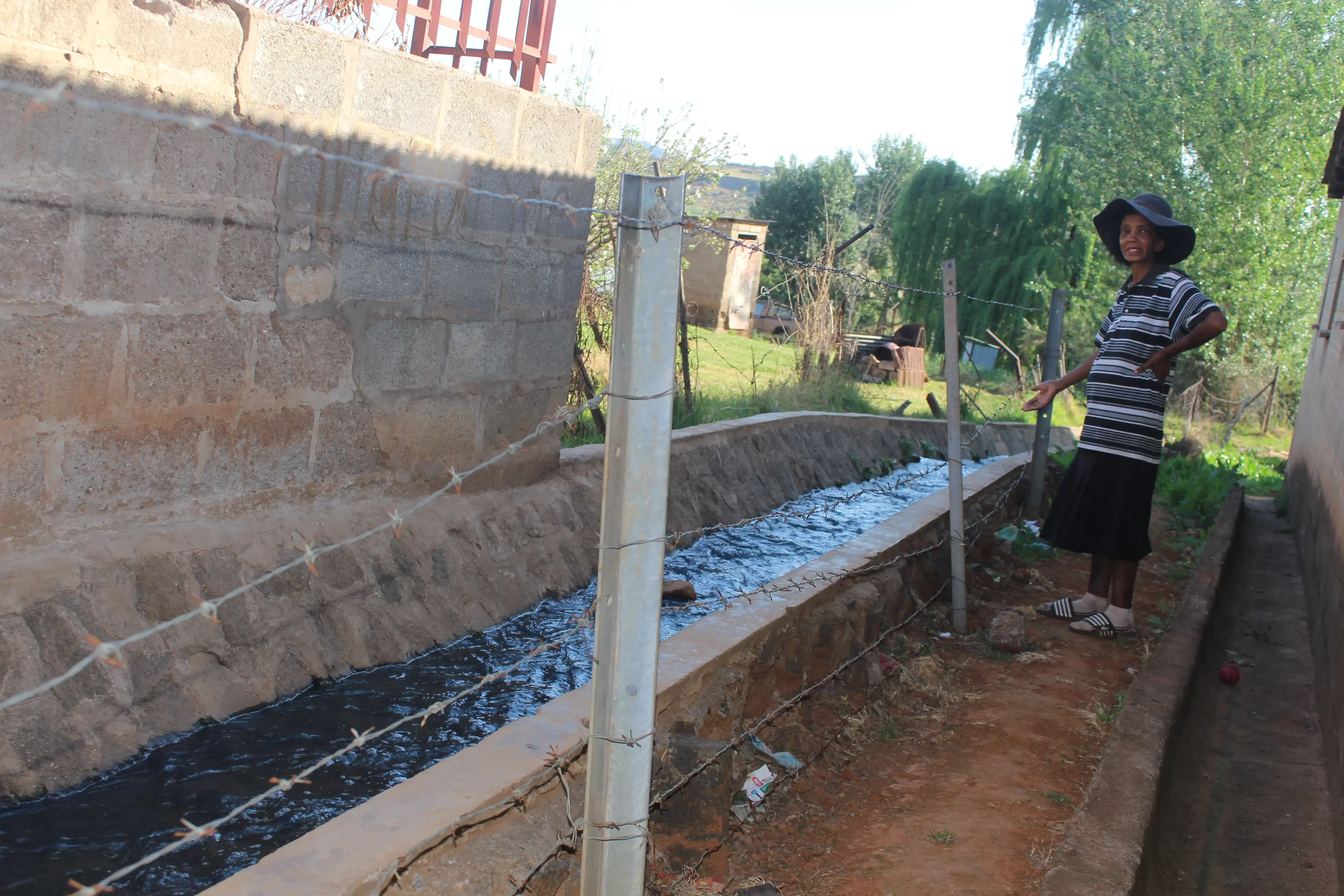 Sometimes, the blue water in the furrow also flows past Tlou's house at night. She said the flow is sometimes so strong that "you can hear the sound  (of running wastewater)."
In February 2021, the Maputsoe area was the second-largest community consuming water after Maseru. According to WASCO, the daily demands for potable water in Maputsoe is around eight-million litres, far less than the water utility's provision of around three-million litres. 
"Water production capacity is insufficient to satisfy the growing demand as a result of industrialisation and an influx of people into the urban centre. The unreliable water supply for domestic uses impacts negatively on the health and convenience of the communities relying on the said supply," read a WASCO statement dated 25 February 2021.  
Some Ha Maputsoe villagers collect drinking water from an unprotected well downstream from Tlou's house. "When this blue, polluted water filled with faeces comes at night, it ends up overflowing into the clean water well. We clean it up and wait for clean water for collection," Tlou said. 
She took the MNN crew to the well, where approximately 20 people gathered. A blue, sticky water runs past the well into the Mohokare River as some people collected drinking water in buckets, while others did their laundry. Pulane Tseka was there to fetch water. 
"We do not have a water tap at our home. Even the nearest tap to us does not have water. The sewage really affects us as it flows into our well with faeces and jeans' dye and chemicals," Tseka said. The well is the only source of "clean drinking water" in that area. It takes approximately an hour to fill after cleaning. 
Children with runny noses 
It is scorching hot and Tlou has no option but to open windows for ventilation. Inside the house is a nine-month-old baby breastfeeding. Thick, yellow mucus runs from her nose, which her mother quickly removes with a handkerchief. Three children under five playing outside also have thick, yellow mucus on their faces. 
"We suspect that our children are always coughing and have never-ending mucus as a result of the foul smell in the air," Tlou said. 
"We never had a problem of so many of the children at such young ages having mucus all the time. But since this blue sewage started flowing here, we see children constantly having mucus. We believe it is an effect of this blue water," Tlou said. 
She brushes off the possibility that the children might have Covid-19, saying "we have all been tested for Covid-19."
Down at the well, Tseka suggested that pollution caused by the blue water in the stream has negative health implications for children. Drinking water from this unprotected well exposes villagers to serious water-related ailments, such as diarrhoea and vomiting.
According to the most recent World Health Organisation's data on Lesotho, in 2017, almost eight in 1,000 children under the age of five in Lesotho died from severe diarrhoea, a dehydrating ailment often caused by drinking dirty water.
The Lesotho Health Statistics report paints a gloomy picture of how diarrhoea and gastroenteritis are wreaking havoc among Lesotho's youngest children. In 2018, water-borne diseases were the second leading cause of hospital admissions for children under five, comprising approximately 25% of the 3,154 cases.
WASCO gives up on leaking manhole, pollutes Mohokare River 
As contaminated water continues to overflow into Matekane's yard, residents are forced to abandon domestic farming on small plots, especially those closest to the leaking manhole. 
Makhotso Moletsane also rents a flat next to the leaking manhole. She says that faeces covered in blue water is the order of the day in their yard. 
"Sometimes the overflow skips the trenches we have dug to guide the water away from the houses. The contaminated water comes right to our doorsteps. I am now unable to plant pumpkin because it stretches and ends up in this sewage stream," Moletsane said.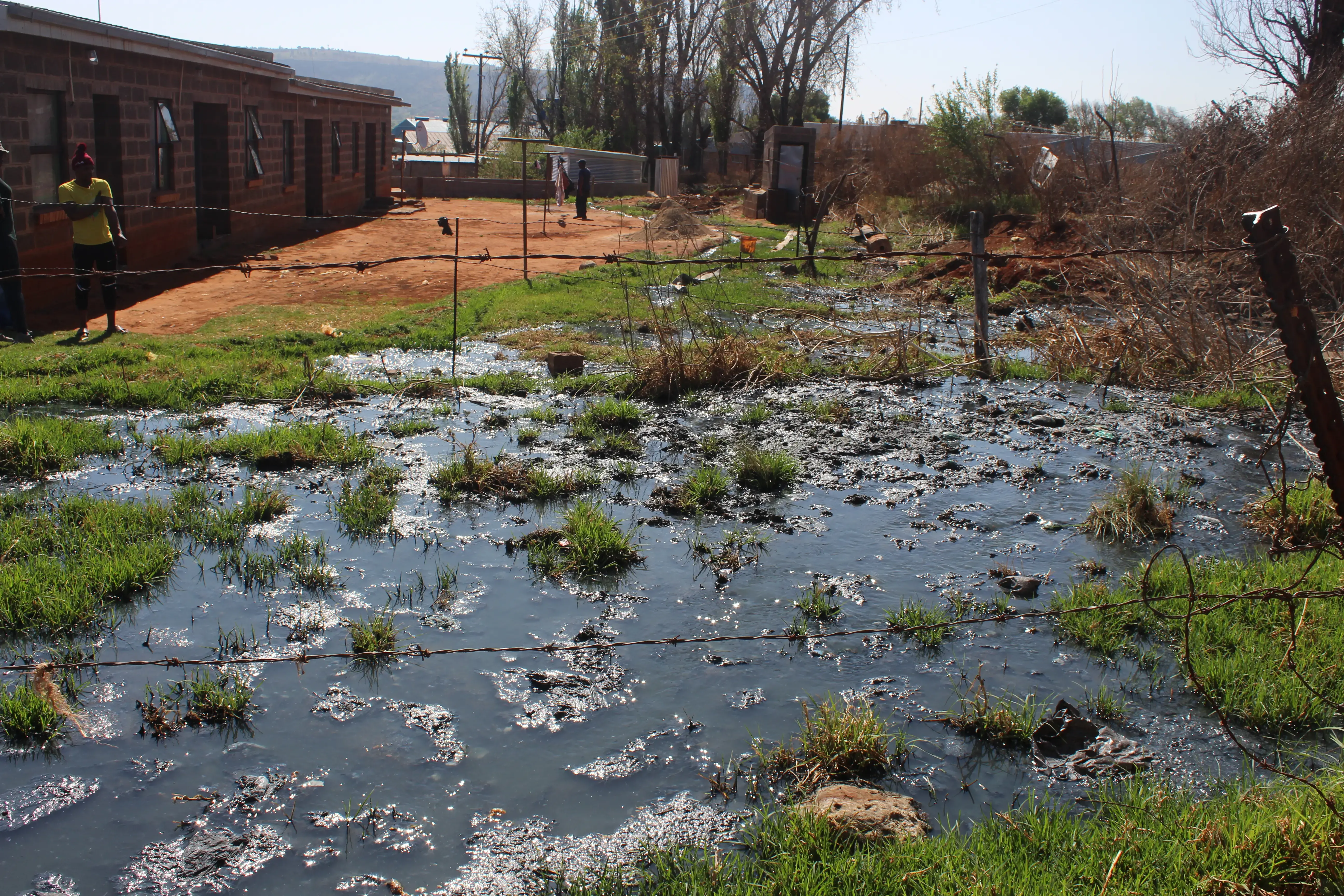 Moletsane and other villagers said that WASCO employees stationed in Maputsoe repeatedly admitted their failure to put a lid on the overflowing manhole over almost two years. 
"We have seen, on countless occasions, the WASCO people repairing there where the overflow happens but without any lasting solution to this blue sewage overflow you see. Just after they leave where the overflow takes place, it starts again," Moletsane said. 
She added: "This pollution badly affects us all. It has changed the way we used to live. We breath foul-smelling air as a result of the sewage. Maybe there are diseases that we have now contracted as a result of the overflowing sewage."
Maputsoe home-owner Mxeso Gerald Lekarapa says the constantly overflowing manhole has adversely affected his woodwork business.  "We have told WASCO (about this problem). It has been overflowing for around two years. There was a time when I had funeral and had a lot of guests. This sewage was flowing right into my yard.
"I went to WASCO to seek intervention. They told me that they have tried all they can to try to stop the overflowing sewage, and they have failed. If it cannot be resolved by WASCO people, I wonder what we can do as mere community members without knowledge about these systems," Lekarapa said. 
Growing up, Lekarapa said that the pollution was not as bad as it is today, adding that as more factories started operating in the area, the pollution increased. 
"The pollution is worse than what we used to see when we were growing up. Now we have sewage running in the streets. Visitors are even disgusted just to park their vehicles in my yard due to sewage flowing into my yard. You can smell sewage, even in my house.
"The sewage flows through our streets until it gets to the culverts near the Standard Lesotho Bank building (Maputsoe), from there flows through the village once again from the culverts until it reaches the Mohokare River," Lekarapa said. 
WASCO's response did not include any references to MNN's questions regarding this specific overflowing manhole.
The 2021 Orange-Senqu basin study, which was financed by UN Development Programme (UNDP) and Global Environment Facility (GEF), states there are several discharge outlets flowing directly into the Mohokare River. 
"From the above map (Figure 2), point sources of pollution. There are discharge outlets that can be linked directly linked to their source and or activity. These have been referred to as point sources directly linked to processes. These were mostly municipal wastewater treatment plants. 
"Their discharge outlets were constructed to discharge directly into Mohokare. These are Nyenye, Maputsoe wastewater treatment plant outlet (Point 1) as shown in map above (Figure 2), has discharge outlet is located along the Mohokare river. And Ratjomose wastewater treatment plant outlet (Point 8) in Figure 2 above," read ORASCOM baseline study.
Thetsane's livelihoods also under threat 
The Mohokare River extends from the districts of Botha-Bothe, Leribe, Berea and Maseru to Mafeteng. It passes through villages and towns, such as Maputsoe and Teyateyaneng. In Maseru, the Mohokare River flows downstream from factories manufacturing jeans in the Thetsane industrial area.
The Thetsane community also battles with similar pollution by nearby jean-manufacturing factories. Livestock farmers in the area accuse Nien Hsing Textile's factories of polluting water in the stream their animals drink from. According to the Nien Hsing Textile's website, the company owns two factories in Lesotho, a factory in Vietnam as well as a mill in Taiwan and Mexico 
In Lesotho, Formosa Textile mills, which is owned by Nien Hsing, spins yarn used to make jean materials while Nien Hsing International manufactures jeans for first-world markets. The factories are located upstream from Mabolou, a Mohokare River tributary. 
Ha Thetsane villager and livestock farmer Keketso Mosala said the stream water is very dirty and "may be contaminated with chemicals that could be very dangerous."
"There is also some weird smell coming from this river. My family and I plant some organic vegetables, and there is a huge difference between these vegetables and the ones not growing around here," Mosala said. 
The MNN approached Nien Hsing Textile of Taiwan and its Lesotho-based subsidiary, Nien Hsing International Lesotho, to comment on water pollution linked to their factories at Ha Thetsane on 3 January. 
On 19 January, Nien Hsing requested the MNN to avail its scientific report to "enable the relevant authorities to learn the report so that they provide proper guidance," which MNN did. The factory has to date given no interview or response to MNN's questions.
On 5 January, LNDC, which is a parastatal responsible for attracting investors, invited MNN for a meeting with the Lesotho subsidiary, saying Nien Hsing had asked the corporation for assistance in responding to MNN's emailed questions. Nien Hsing declined to have any interview recorded because it did not have permission from Taiwan, and went quiet until 17 January, when MNN sent a follow-up email. 
On 18 January, LNDC interim chief executive officer Molise Ramaili, General Manager Investments Puseletso Makhakhe, Manager Investments Aftercare Manager Moeketsi Khoele and Industrial Officer Mamphaphathi Molapo called the MNN team for a meeting, that turned into an attempt to stop this five-part exposé.
The LNDC claimed that publishing this five-part investigation would destroy the textile industry and tarnish Lesotho's name and that it needed until 23 January to liaise with the departments of water, environment, and health for verification of MNN's findings.  
On January 25, shortly after MNN published its first story in this series, LNDC invited journalists to another meeting with a technical committee that the parastatal said had been set up to "urgently deal with this environmental issue."
MNN requested the LNDC to provide important information such as a legal document convening the technical committee, its terms of reference and to whom the committee is going to report to ahead of the 26 January meeting between MNN and the technical committee. The LNDC is yet to communicate the decision of the technical committee on this request. 
*This story was edited because MNN had erroneously reported that Vishan is polluting Mohokare River from its factory in Maputsoe while in fact, the firm is polluting Mohokare from its subsidiary, Vishan Laundry at Ha Hoohlo Industrial area in Maseru.
RELATED ISSUES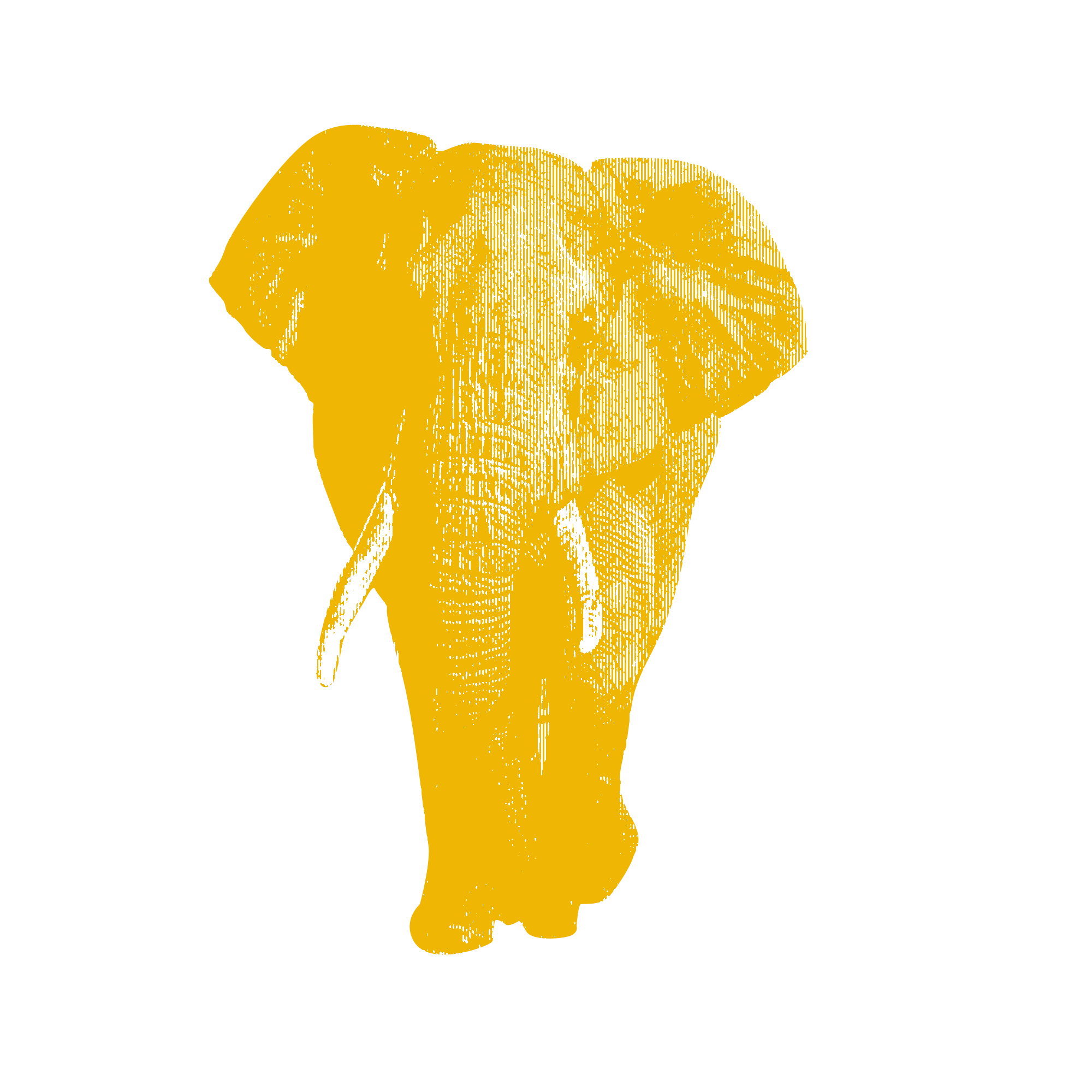 Issue
Environment and Climate Change
Environment and Climate Change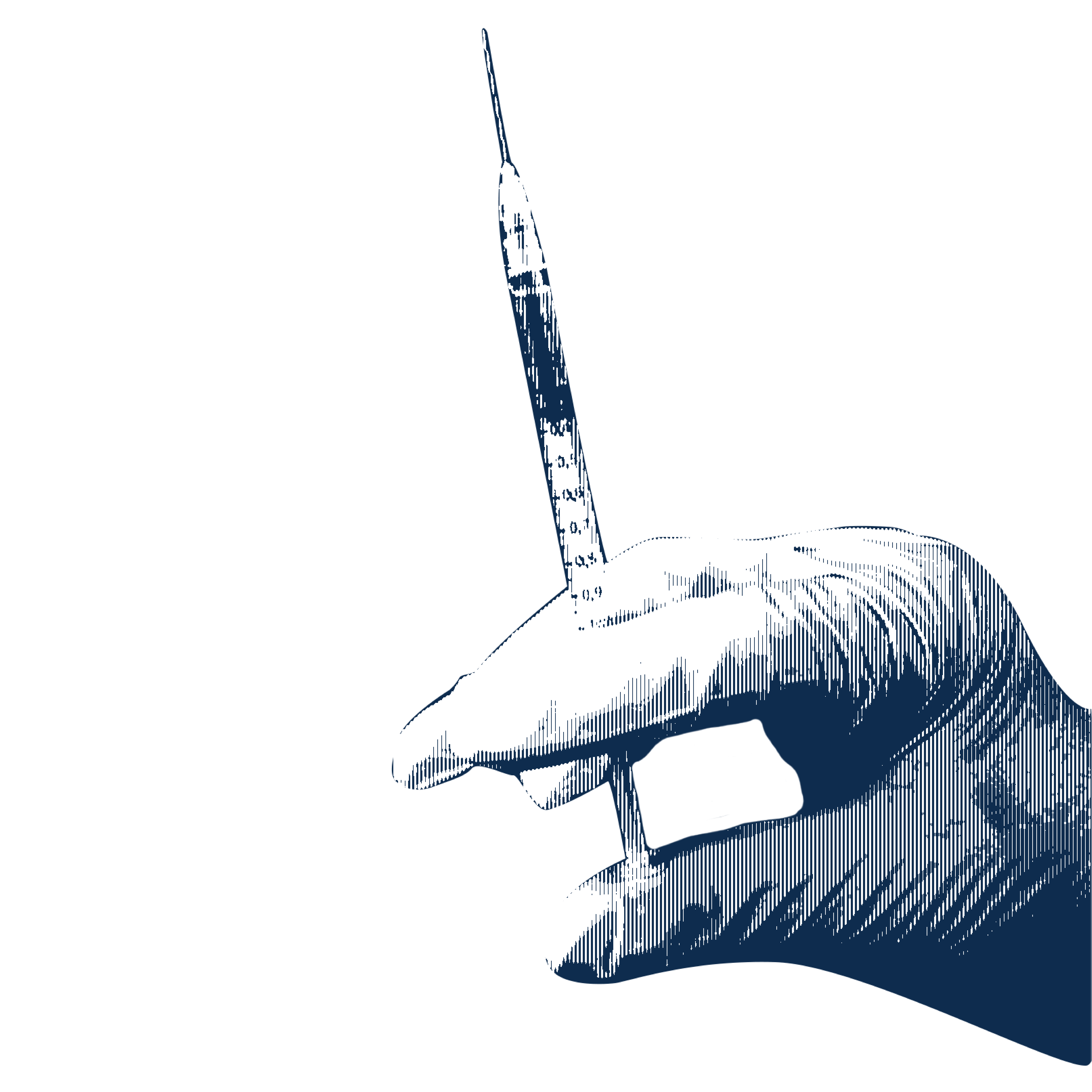 Health