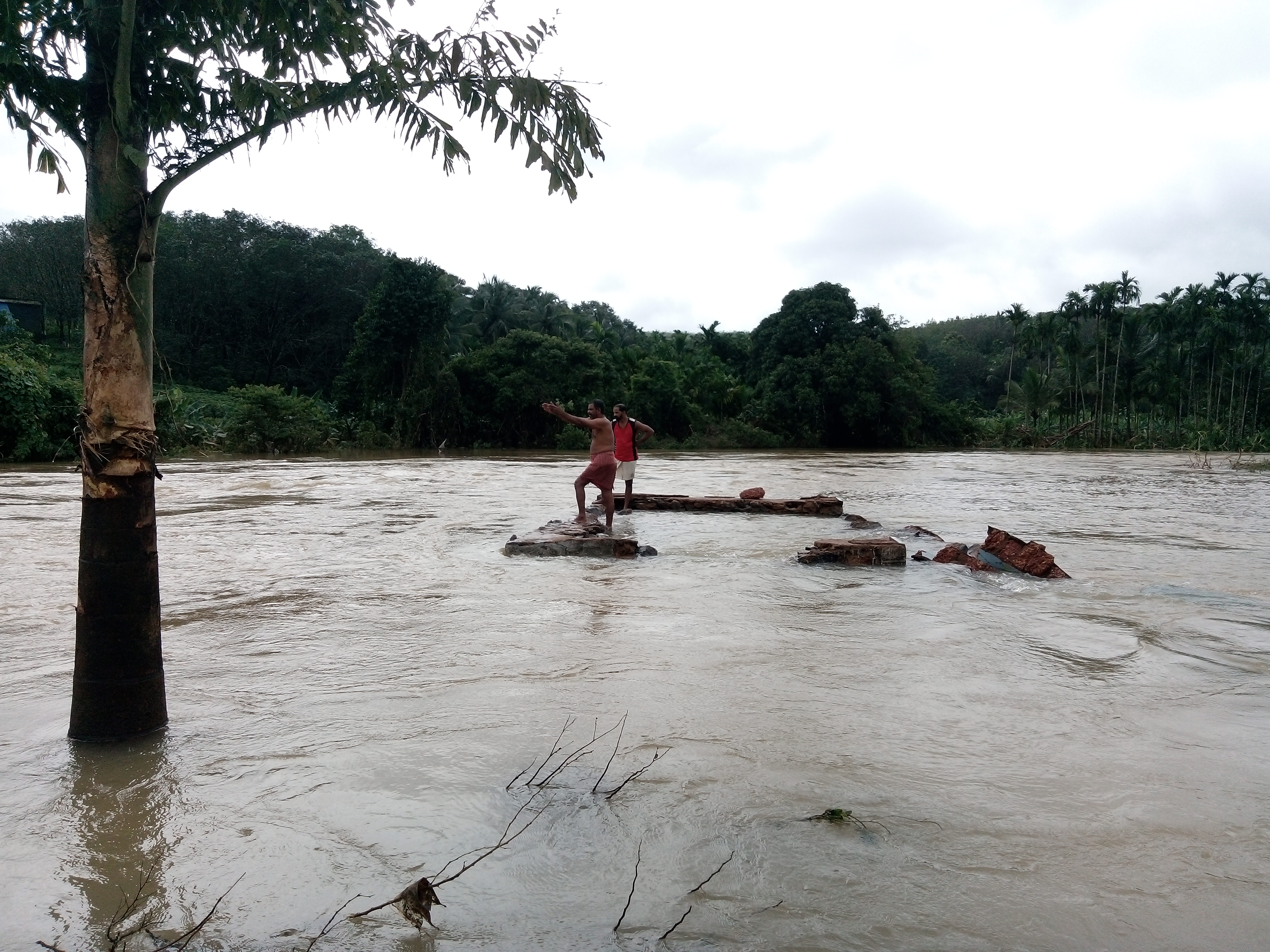 Kerala was drowning. For over a week, rains had inundated the state, located in southwest India, causing widespread flooding and leading to the deaths of hundreds. Disturbingly, agents of disinformation saw the disaster as the perfect time to strike. Taking to Facebook and to WhatsApp, the Facebook-owned encrypted messaging platform, they disseminated false news of a dam on the verge of bursting, circulated a fake phone number for a navy rescue helicopter, and spread an erroneous claim that the Portuguese soccer star Cristiano Ronaldo had donated $11 million dollars to relief efforts. The sheer volume of disinformation that spread during the floods and the subsequent rescue operations was so great that the Indian army asked the public to help identify people sharing disinformation. Kerala's chief minister issued a warning that "strict measures" would be taken against "cyber offenders."
Meanwhile, some 800 miles away in Mumbai, a TV in the newsroom at BOOM flashed with images of people in Kerala stranded on rooftops, surrounded by brown, murky water, awaiting rescue. BOOM is one of a handful of websites in India dedicated to the seemingly quixotic task of debunking junk science, doctored photos, and false rumors that spread on social media and messaging platforms. Creators of this content—politicians, nationalists, and pranksters among them—have found a captive audience in India's voracious tech consumers. While some hoaxes are fairly harmless, others have had far more serious consequences, including a recent string of killings that have been fueled in part by rumors that spread through WhatsApp. "What you are seeing is a phenomenon that is unlike anywhere else in the world," Govindraj Ethiraj, BOOM's founder and editor, told me.
On the day I visited BOOM's offices, Karen Rebelo, the site's deputy editor, sat at her desk and coordinated efforts with reporters to create a list of verified videos of the flood. (She had just set aside a project to debunk a journalist's claim about an extravagant art purchase by a politician's wife.) BOOM's methods, she admitted, aren't exactly sophisticated: running reverse image searches to identify the origins of photos taken out of context, or digging up the archived versions of web pages that have been taken down. The other methods include basic reporting—calling police or government officials to confirm information.
BOOM's ambitious efforts face considerable challenges. In 2017, India became the second-largest market in the world for smartphones. It now has around 300 to 400 million smartphone users, a number that is expected to grow to more than 800 million by 2021. In addition, the recent rise of cheap data and faster internet speeds has kicked off a boom in the app economy, as Deloitte noted in a recent report.
As smartphone use spread in India, so did WhatsApp: It has over 200 million users in the country, according to a company spokesman. Soon, it became more than just a simple peer-to-peer communications tool. Indians now use it to disseminate political campaign platforms, distribute news and public announcements, and promote businesses, turning it into something resembling a broadcasting and publishing platform. According to WhatsApp, users in India forward more messages, photos, and videos than in any other country in the world—making it the perfect breeding ground for disinformation.
Rohit Chopra, an expert in Hindu nationalism and new media at Santa Clara University, said Hindu nationalists and members of the ruling Bharatiya Janata Party have quickly adapted to platforms like WhatsApp to push their own inflammatory propaganda. "The nature of the internet is that it is not subject to the same constraints as TV or print news. The Hindu right has recognized that and been proactive in using this space," he told me. "This technology has unleashed and exposed some of the darker elements of Indian society."
When Ethiraj, a veteran business journalist, founded BOOM in 2014, he conceived of it as an investigative website. As the site struggled to find an audience, Ethiraj grew alarmed at the sheer volume of dubious information appearing on Facebook that would eventually migrate to WhatsApp. Such content emerged from what he referred to as the "subterranean," where the creators or first posters were unknown. "You could see the first early signs of ... the fake-news phenomenon. Obviously the elections in the United States in mid-2016 were a big trigger to our understanding of what was happening," Ethiraj said. (He clarified that he used the term "fake news" to describe things that are actually fake.) "As 2017 progressed, you could see this was beginning to have impact … on people's perceptions, opinions, feelings. All of that."
To find stories to investigate, BOOM's reporters spot posts and messages that are quickly picking up likes and shares. Some hoaxes—like a WhatsApp message claiming it could scan a phone user's thumbprint and steal their biometric data—are easy to debunk. Others weave in true or partially true information, like a viral photo that claimed to show flood victims lining up to buy liquor. The photo itself was real, but the people pictured were waiting for fuel.
BOOM also relies heavily on a WhatsApp-based tip line to hunt down false news stories going viral. Through the tip line, people can submit content they've received or found online. It provides users a chance to ask if something they've read is true, and gives BOOM's reporters another medium to distribute fact-checked, accurate content back to the public. Indians living overseas have even gotten involved, pinging the line with tips from as far off as Hong Kong and Germany. It has been such a success. "We take turns [manning the line] because it will drive you nuts," Rebelo said.
Amid the overwhelming stream of potentially false stories, BOOM decides which ones to fact-check by asking, "What will happen if we don't tackle it?" Rebelo said. Questionable content that could provoke actual physical harm takes precedence. In 2017, footage that circulated widely on WhatsApp claimed to show a small child being snatched by men on a motorbike. Searching on YouTube, Rebelo found its origin: a kidnapping-awareness campaign video created by a Pakistani charity, edited to remove a message warning parents to keep an eye on their children. It was a simple but effective means of distortion. Officials have linked this video to several instances of violence, including a spate of killings in Assam in early June. Police officers in Dhule also told me they believe this video played a role in the killings of five men there in July. The investigation is ongoing.
In May 2017, Rebelo published a piece debunking the video. Her story showed how the video that went viral was doctored. Yet as is often the case, her work did little to stop the video's circulation online. In the spring, false reports spread through WhatsApp of child kidnappings, mainly in rural areas. Some of them used the exact video Rebelo fact-checked last year. The rumors often warned of outsiders traveling from town to town, searching for children to pluck off the streets. Images, including photos of children killed in the war in Syria, have circulated as well, providing a gruesome and false illustration of what supposedly happens to the abducted children. These reports have been linked to numerous incidents of mob violence and lynchings.
The Indian government does not track the number of deaths or acts of violence linked to false rumors that circulate on WhatsApp. But Brijesh Singh, the inspector general of Maharashtra's state cyber-police division, estimated that around two dozen people have been killed nationwide since May. IndiaSpend, a sister site of BOOM, puts the figure at 33 deaths arising from 69 such incidents between January 2017 and July of this year.
In April, BOOM signed a deal with Facebook to serve as the company's first-ever third-party fact-checking service. Through its deal with Facebook, BOOM reporters review articles and assign them accuracy ratings. Those found to be false should, in theory, show up less frequently in Facebook's newsfeed. Rebelo and Ethiraj said that the fact-checking has appeared to slow the spread of false information on Facebook. But Rebelo admitted that "a lot of it is just feeling our way through." (Facebook does not yet have data on the effectiveness of BOOM's efforts.)
WhatsApp, which has worked with fact-checking sites in Mexico and Brazil, appears to be interested in pursuing a similar model in India before the country's elections next year. It has also had initial conversations with BOOM about its work in India. But because WhatsApp is not a public platform and is encrypted, gauging the spread of false information and the effectiveness of fact-checking efforts is nearly impossible.
Rebelo said she would like to see tech companies take greater responsibility. "It's their ecosystem at the end of the day," she said. WhatsApp, for its part, has introduced a number of changes designed to limit forwarding and a tag that marks messages as "forwarded." The thinking here: to get users to question the veracity of messages, rather than blindly forwarding them along. Greater digital literacy in parts of India where users are new to the internet and WhatsApp would help too, Rebelo said. But "sliced and diced" video clips and images can convince even the most seasoned internet user, Ethiraj said. "How do you make people aware that you should not believe what you see?" he asked.
As India's 2019 elections approach, BOOM expects its already heavy workload to increase. Politicians and political parties are some of the worst "habitual disseminators of false information," Ethiraj said. Parties have begun building teams for the specific purpose of pushing out a huge volume of propaganda and disinformation, Chopra said. These efforts ramp up in the months before elections. And with more people connected to WhatsApp than in previous elections, Ethiraj and his staff are bracing for an unprecedented amount of false news. He seemed stunned by how quickly and thoroughly misinformation has infiltrated the news ecosystem. "I don't think in 2017 I could have seen how big it would become, at all," he said.
While the problem is a global one, "the amount of noise we are creating on WhatsApp in India is absurd," Chopra said. The daily deluge of false messages on the platform amounted to what he called a "colossal, Herculean level of bullshit."
RELATED ISSUES