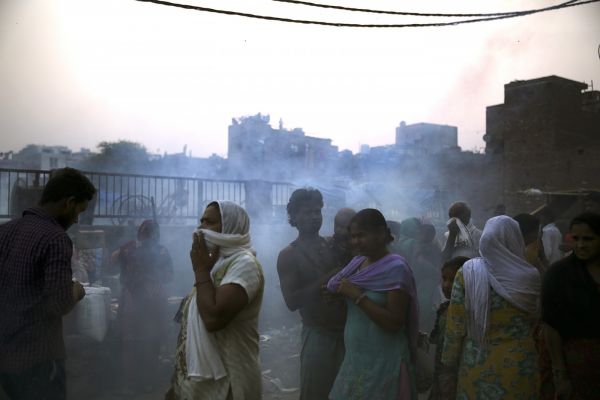 Prisha Berry is busy cultivating a few pots of seedlings on her Delhi balcony.

"Nothing grows in Delhi but the public," the nine-year-old tells me with a cheeky smile.

The soil is rocky, cluttered with waste from construction sites. The leaves are covered in dust. But she is hopeful that her pots of tulsi, cilantro and neem will make it.

She's right though. The Indian city's population is catapulting forward, exceeding 20 million people. Some estimates put it at 25 million. The UN projects that by 2030, the population could be 36 million, making it the second most populous city in the world behind Tokyo.

Delhi's biggest problem is not population. It's pollution. As new apartment complexes, malls and office spaces rise on what open land remains in the crowded city, Delhi loses its natural supply of oxygen: plants. Coupled with the increase of cars, waste and construction, the Delhi air is becoming deadly.

This year, the World Health Organization (WHO) labeled Delhi as the most polluted city in the world, surpassing longtime competitor Beijing. The particulate matter that is most lethal for humans to breathe in large quantities — PM 2.5 — is found in higher concentrations in Delhi than the Chinese capital, according to Greenpeace. During the winter months, it gets worse, as smog insulates the city and traps the pollution within. Greenpeace found Delhi's PM 2.5 levels to be 10 times higher than the WHO safe threshold.

Delhi native Kamal Meattle is an environmental activist and entrepreneur.

In the early '90s, his doctors told him that he had to make a choice: Stay in Delhi and continue to weaken his lungs or leave. Meattle served on the board of the Indian Institute of Technology Delhi, and leaving wasn't so easy with work and family rooted in the city. At a board meeting for IIT Delhi, he shared the news with his colleagues, hoping for a solution.

His counterparts asked him, "What's the budget?"

Meattle retorted, "What's the budget to live or die?"

That is a question entrepreneurs and venture capitalists across India are asking. As cities from Delhi to Bangalore rapidly grow and urbanize, becoming even more densely populated, a growing number of startups are focusing on clean air and alternative energy resources to feed the massive energy demands.

Ernst and Young publishes an annual index on renewable energy markets. This year, India came in as the fifth most attractive market globally, ahead of Canada, France and the U.K.

"Cleantech is going to grow rapidly in India because it solves the very painful problems of grid deficit and environmental pollution," says Sandhya Hegde, a partner at Khosla Impact Fund, which invested in Bangalore-based Simpa Networks, a solar device company for the poor. "It's not an easy space to start up in — the technology and execution chops required for entrepreneurs to succeed in cleantech are very significant, but that also gives them a strong competitive advantage to build on."

Few entrepreneurs, however, are focused on clean air specifically. That is where Meattle and his company BreatheEasy come in.

Growing Oxygen

Meattle decided to focus on fixing the air quality in his office where he spent nearly 10 hours a day. After consulting studies from NASA and others, he came up with a list of houseplants that could help filter Delhi's polluted air.

Meattle proposed that Delhiites install three varieties of plants in their homes and offices: areca palm, money plant and mother-in-law's tongue. All are indigenous to north India, relatively inexpensive, easy to maintain and able to thrive indoors. This trio became the secret to Meattle's recovery.

So Meattle began filling the Paharpur Business Center, his office in Nehru Place, a busy commercial center in South Delhi, with plants. While he started with only a few pots in 1990, it's grown to 1,200 plants for a staff of 300.

The building is nondescript: a white exterior tinted with soot. Walking in, one is greeted by lines of areca palms and money plants. The air is alpine fresh, even on a sweltering Delhi day. A cafe in the lobby, cheekily named Royal Palm, serves up the latest oxygen levels: A device in the cafe monitors the air quality, providing a live breakdown. On average, the PM 2.5 levels inside are 75 percent less than outside the building; similarly, there's 55 percent less carbon dioxide inside than outside, according to the center's data.

The 50,000-square-foot building works on a membership model, or as their brochure reads, "plug and play." Businesses that choose to use the space get more than just clean air. There's catering, WiFi, telephone lines — a full host of services. They can also feel good about being in India's first retrofitted building that is LEED certified by the U.S. Green Building Council.

Paharpur Business Center grows oxygen — literally. A greenhouse of 400 plants on top of the building produces oxygen to circulate throughout the building, in addition to the 800 waist-high plants that already line each corridor and conference room. Coupled with a filter, the clean air makes its way through the building, and is chilled by air conditioners.

Barun Aggarwal, Meattle's son-in-law and the director of BreatheEasy, a subsidiary business of the Paharpur Business Center, is taking this model to homes in Delhi. Since their launch in 2013, Aggarwal and his team have advised over 800 residential clients on how to improve their air quality. The open market for clean air has kept growth steady.

"Who are my competitors? Have you found any?" Aggarwal asks, half-jokingly.

Business, he says, is growing quickly. Schools at the American embassy, French embassy and German embassy have also signed onto the plant-based filtration system.

"They're all embassy schools by foreigners," he says. "But that's because it takes three steps: recognition, will and means."

Aggarwal himself is concerned about his own children. A Duke graduate who lived in Atlanta for over a decade, he's become accustomed to clean air. It's only when he returned to India in 2012 to build BreatheEasy that he noticed his children were falling ill.

"Schools really need to do this. Your kids are there for at least eight hours, much like I'm here at work all day," he says.

He points to a stat in their demo video: "A five-year-old in Delhi has smoked 20,000 cigarettes." Aggarwal also cites a two-year-old study that concludes that Indian lungs are 30 percent weaker than those of Europeans. Children are impacted from early on by living in these conditions.

"I really think that's why we [Indians] don't do well in sports because at that high level of competition, you need every edge."

When Aggarwal runs at Lodhi Gardens, Delhi's poshest park, he wears a mask. He says people look at him as if he's ill. "Actually, we all should be wearing masks."

Unlike in Beijing, where masks now come in an array of colors and patterns to match an outfit, in Delhi, they're a rare sight. Rather, locals wrap a handkerchief, or piece of cloth, around their face as they weave through traffic on motorbikes and scooters. While that may block some of the soot from entering their nasal passages, it doesn't stop the PM 2.5 particles.

Delhi's outside air is hard to regulate. But indoor air, Aggarwal says, can be managed.

BreatheEasy offers a tiered pricing model for its services. For a 150- to 200-square-foot room, the average size of a bedroom, they charge anywhere from 30,000 to 90,000 Rs, or $470 to $1,400 U.S. This includes the necessary plants, which are all organic, and the appropriate filters.

Aggarwal says the cheaper filter is just as effective as the $1,400 version. To prove this, one of his clients, William Bissell, the owner of Fabindia, one of India's largest retail chains, set up an experiment at his own Delhi residence. The results confirmed Aggarwal's claim: The cheapest filter was as effective, if not slightly more, than the top-of-the line options.

Even so, nearly $500 is a hefty price to clean just one room's air. The reason, Aggarwal says, is that the only effective air filters on the Indian market are imported. When he first launched BreatheEasy, he conducted a study, testing all the filters available. Surprisingly, he says, most of them do more harm than good. They're adding to the ozone, not clearing it.

He lays out a typical scenario: A Delhi family goes to Khan Market, one of the cities most expensive markets, where they pick up a filter because the salesman made a good pitch. "But he doesn't know the difference between that and the thousands of other products he's selling," Aggarwal says. "It's like the blind leading the blind."

Building a filter requires three parts: a fan, a HEPA filter and a carbon filter.

"It's not rocket science, but it needs to be done correctly," Aggarwal notes.

He's hoping that BreatheEasy can lower costs by manufacturing filters in India soon, and he says plans are in place.

In addition to the filters, plants are required. BreatheEasy recommends six to eight plants per person, but that's problematic.

"I can't fit that many plants in my own bedroom. There would be no space left for me," Aggarwal jokes.

So the company caters to each client's space. It's a "fit as many as you can" approach, Aggarwal says. But there's one plant that's a must: the mother-in-law's tongue, which converts carbon dioxide to oxygen at night.

Once they've installed everything, BreatheEasy reps return to test the filters periodically. Depending on the client's preference, they'll test the space once a year, every six months or even more frequently.

"Air is where water was 25 years ago in Delhi," Aggarwal says. Two decades ago, middle- and upper-income families boiled water to remove dangerous toxins. The method was imperfect but an improvement over drinking dirty water. Today, these same families have fitted their apartments with elaborate reverse-osmosis filters. "With time, air filters will get there too."

One factor stymieing widespread adoption of air filters is a constant debate about the causes of Delhi's choking air: Is it the large bouts of construction, the seemingly endless traffic, the burning of trash or all of the above?

Aggarwal says a source apportionment study, priced anywhere between $100,000 and $200,000, would give us the answer. "But the government hasn't done it yet."

An End to "Landfills in the Sky"

It's easy to see some of Delhi's biggest pollutants with the naked eye. The city adds 1,400 cars each year to its already clogged streets. Hybrids and electrics are almost nonexistent. While the city converted many of its autos and buses to CNG, or clean natural gas, the assault of newly added diesel-burning cars has almost erased any signs of progress.

Neighborhood trash fires don't help either. "Open burning of waste and fires are among the largest sources of air pollution in Indian cities," according to a study by the Waste-to-Energy Research and Technology Council released in 2013.

Without a citywide trash collection system, neighborhoods rely on local trash pickers who come pick their trash and burn it, either in the neighborhood itself or at a landfill site.

In 2012, Delhi installed industrial-size incinerators, which promised to produce electricity from dry waste including plastic and glass. However, Indians produce more wet waste — food and compost matter — than dry waste and worse still, the trash is not separated before going into the incinerators. The incinerators just weren't a fit for Delhi and the idea backfired, Ravi Agarwal, director of Toxic Links, said on "Satyamev Jayate," a popular Indian TV show hosted by movie-star-cum-activist Aamir Khan, which digs into the country's social and environmental problems. Agarwal refers to the incinerators as "landfills in the sky," generating dangerous levels of dioxin gas.

It's a problem that both the public and private sector are paying more attention to now.

In 2013, the Delhi High Court banned burning leaves, and just last month, the National Green Tribunal put a fine in the works that outlaws all manner of trash burning. Anyone seen burning any form of waste will have to pay 5,000 Rs ($80 U.S.).

Solving the waste problem will help eliminate Delhi's smoky skies, says Jo Hill, executive director of Waste Impact, a new incubator for trash companies.

"But the High Court is not going to come collect your trash," Hill says.

The solutions, Hill argues, will be city-specific, smaller-scale operations that are easier to facilitate. A nationwide program is unlikely. Instead, decentralized models can be cheaper to run.

"Many waste technologies are built for massive cities leading to large-scale, highly technical machinery. Not only is the machinery expensive but it is typically inappropriate for the Indian context."

She points to the incinerators as an example. The $30 million waste-to-energy plants in Delhi are likely to close after two years of operation because they're only adding to the pollution.

"In contrast," Hill says, "decentralized systems can segregate, process and recycle 85 percent of waste locally using low-cost, safe technology, reducing the need to transport, incinerate or landfill waste."

A Global Problem

It's not all dismal news, however. Other alternative, clean energy sectors, like solar, have been growing, thanks to government support. Prime Minister Narendra Modi administered India's first Renewable Energy Investors conference in Delhi this year. There, industrialists and policymakers looked at how public-private partnerships could make biodiesels and solar more competitive options. Modi has his eye on solar: He announced at the conference that India will build a massive solar farm in the central state of Madhya Pradesh. Destined to produce 750 megawatts, it will become the largest solar farm in the world, outdoing California's 550-megawatt solar farm in the desert.

That's a massive government-led project. But to reach household and business consumers, Hegde at Khosla Impact Fund says, "The solar industry needs more access to long-term financing to make it a viable option to coal-based electricity."

Yet, everyone seems to agree that solar cannot clean Delhi's air. The toxic fumes coming from industry have less to do with electrification and more to do with what's being burned at the factories, coupled with traffic congestion and trash burning.

"The leading causes of urban pollution and specifically that in Delhi is road dust, industry wastes and vehicle emissions. Solar doesn't directly help control any of these," Hegde says.

Aggarwal of BreatheEasy agrees. "The amount of pollution from our coal-fired power plants is not as high as the amount of pollution from our poor fuel quality and number of automobiles on the roads," he explains. "In the winter time, the burning of coal and trash and leaves to keep warm is another significant contributor to air pollution."

Sanjoy Sanyal, the director of New Ventures, a consulting firm that helps cleantech entrepreneurs get access to funding, says, "Rooftop [solar] generation can reduce pollution caused by diesel generators." However, it cannot fix air quality alone. "The main cause of pollution in metros is not likely caused by power generation. But, it is one of the things that can help."

New Ventures, originally an offshoot of D.C.-based think tank World Resources Institute, got its start in 1999 helping entrepreneurs working on environmental issues. It claims to have helped 18 cleantech entrepreneurs raise $39 million in India.

Can the same be done for the trash sector?

Hill works with WasteVentures, an India-based social enterprise that's been looking for business-oriented solutions to the waste problem for the last five years. Recently, they launched a new initiative, Waste Impact, which focuses on scaling existing models in the waste sector and helping them find financing.

"If tech companies can do it, so can we with trash," says Hill.

Burning trash isn't just a Delhi problem, it's a global problem. "It's quite common throughout South Asia," Hill notes.

That's why she's looking at solutions across India given that most of India's megacities are struggling with pollution and teeming landfills. Funded by Peery Family Foundation in Palo Alto and Grand Challenges Canada, the incubator is currently working with three companies.

The process is relatively straightforward and flexible, depending on the needs of each enterprise, Hill says. Waste Impact identifies "high-impact, low-cost" models in the waste sector, provides them with initial funding to test and strengthen their models, supports them along the journey (giving them advice on how to improve the business model), and lastly, helps them raise additional money to scale. Its own for-profit venture, Waste Ventures India has raised $650,000 to deliver composting services in municipalities in Telangana in central India.

Hill wants other companies to have similar success. She is particularly impressed with Bangalore-based Hasiru Dala. With a network of 6,000 waste pickers, it has created a franchise model, catering to 12,000 households. The organization claims to divert 83 percent of waste away from the dump. Aptly its name translates to "green force" in Kannada, the local language.

One of India's biggest problems in waste is that much of it is not separated, Hill says. "We have to get the public to understand the difference and be willing to do it."

Bangalore recently mandated the segregation of waste. It's the first municipality in India to do so. The High Court announced that apartment blocks would be responsible for their own trash disposal.

"This is significant," Hill says. This means waste picker franchises can now get contracts directly with landlords, giving them much more leverage.

Hasiru Dala, for instance, has been working with Bangalore-based IT company Mindtree, which is digitizing the process of hiring a waste picker. Mindtree built IGotGarbage.com, a website that lets households, companies, and even restaurants or hotels hire a rag picker. These rag pickers come with three containers: compost, recycle and reject. Households are responsible for separating the waste, which is then whisked away to its suitable destination.

IGotGarbage also offers "WasteScores," a report card on trash disposal. A waste auditor will determine if you qualify for the "gold standard," which earns you an "I Got Garbage" certificate that can be placed on a house or office.

"It's all about changing people's mindsets," Hill says.

Rag pickers have historically come from the lowest strata of society, tagged as too dirty to touch or befriend. They would take the mixed waste to a landfill and separate it, scavenging for any recyclables that can fetch them a few dollars.

By making it a more professional operation, Hasiru Dala has been trying to give them importance and respect in society. Their waste collectors come in uniform, adorned in a standard white coat. More than 7,000 of the waste collectors in Bangalore now even have registered ID cards, which are worn while on duty.

It's a modernization of an antiquated system, says Hill.

Those using the IGotGarbage.com platform have seen their incomes nearly double. Mindtree estimates that the average monthly earnings of a waste picker jump from 4800 Rs ($75 U.S.) to 8800 Rs ($138 U.S.).

Aside from just collecting garbage, IGotGarbage pickers have been able to turn the wet waste into compost programs, selling nutrient rich soil to the same customers.

Something Prisha Berry could use on her balcony, as her pots struggle amid intense Delhi heat, unexpected downpours and smoggy air.

"See, I told you. Nothing grows in Delhi but the public," she says again.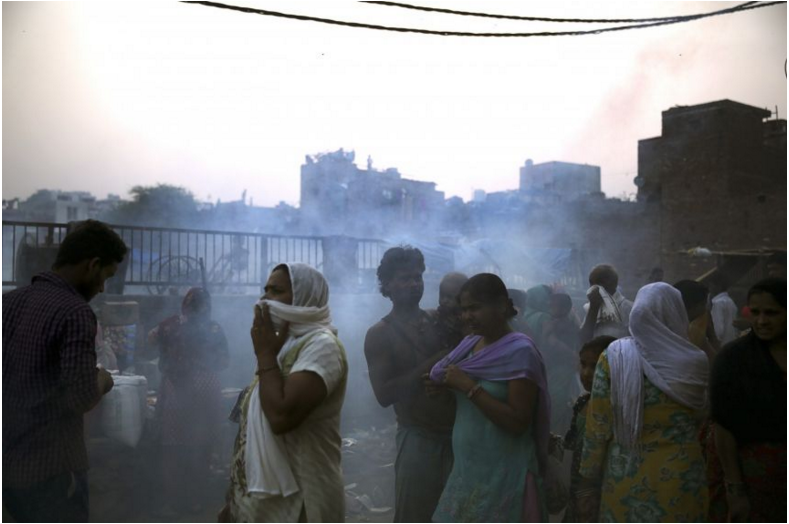 Esha Chhabra traveled to India to capture stories of entrepreneurs who seek solutions to India's...
RELATED ISSUES