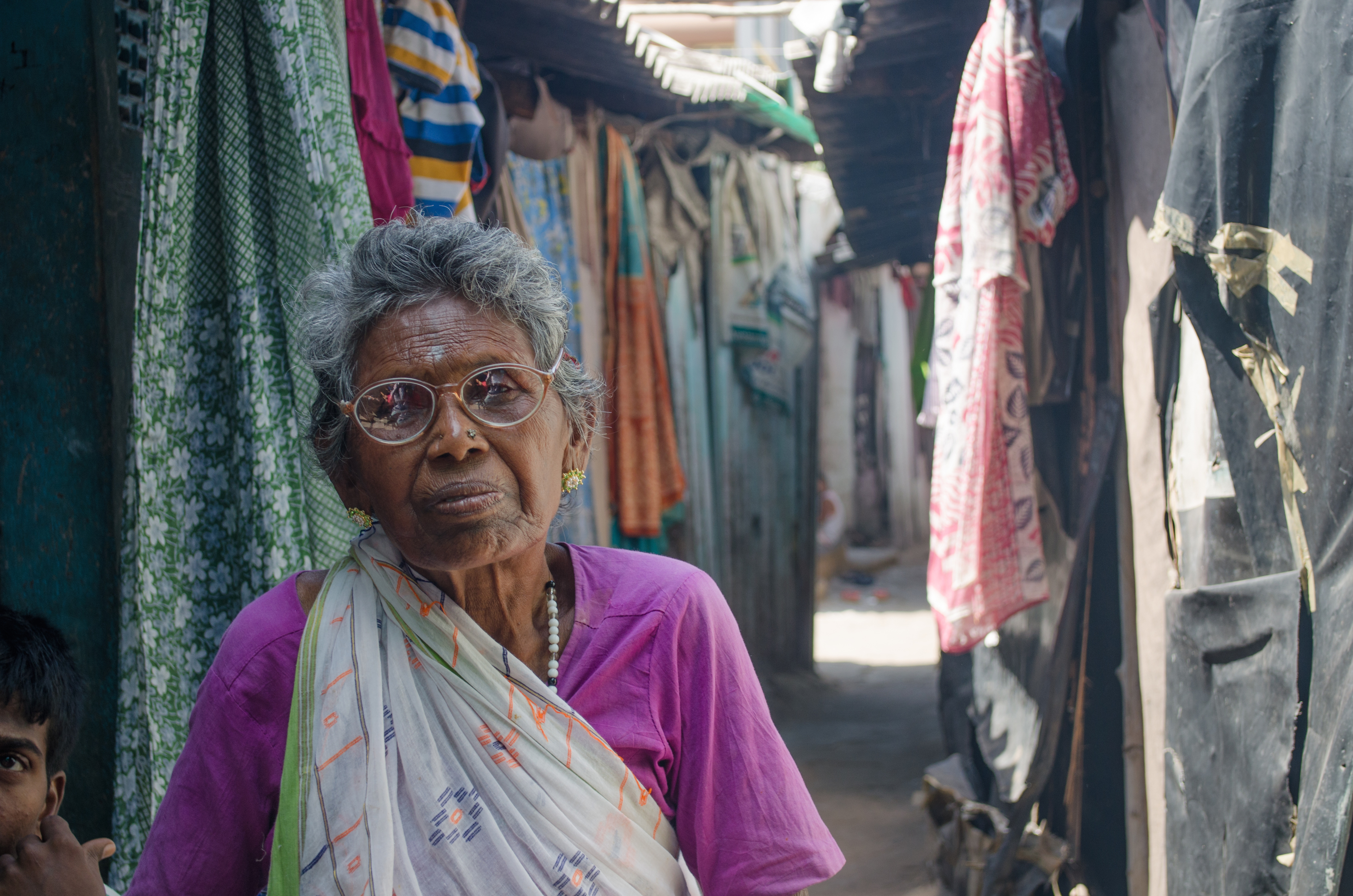 About seven months ago, the Surama Eesar's slum community was thrashed by a cyclone, which crossed the southeast Indian coastal city of Visakhapatnam with wind speeds of 135 miles per hour. Though the buildings around the slum, known as Indira Gandhi Colony, withstood the storm, the slum itself suffered severe damage. While the slum's homes have cement foundations that remained intact, almost all of the scrap metal roofs were ripped apart. Surama and her neighbors ran for shelter in a nearby building.

"When we went back after the storm, almost all our belongings were gone. We had no food," Surama said. Government and NGO relief efforts soon brought food rations to help those most vulnerable. But the event left Surama traumatized and pensive, thinking more than ever about the security that would come with a life outside poverty.

"Everybody wants the same thing in the world," she said. "A sturdy home, electricity, food and water. That to me is the meaning of life."

For much of the day, Surama stands outside her home and watches the world pass by. Indira Gandhi Colony is located in the heart of Visakhapatnam, a bustling industrial city of about 1.7 million. She works as a day laborer cleaning the homes of those more economically privileged. But she is often idle, waiting for someone to request her services.

Leaning against a pole on the curb, she looks out at the street and its monotonous chaos. Motorcycles, yellow auto rickshaws, and cars skid past in a blur; men shout prices at one another at auto dealerships; rats dart in and out of the dark stream of waste water running along the sides of the road. In addition to dealerships pawning motorcycles and rickshaws, Railway New Colony Road is home to middle class apartment buildings that tower over the slum like impenetrable fortresses.

Indira Gandhi Colony wasn't always this frantic. "When I arrived about 60 years ago, this was the edge of the city," she says. "Over the years, as more and more development came, the city grew and our slum became its center."

Surama says she doesn't know her exact age—her birth was not formally recorded. But she thinks she's somewhere between 70 and 80, as her family moved to Visakhapatnam from a nearby village when she was a girl.

"My family came to Vizag by train," she says, referring to the other name Visakhapatnam often goes by. "The fare was 1.2 Rupees ($.02). But even this my family did not have. So the train attendant allowed us to board for free."

Like many of the slum's 18 families, Surama's migrated in a bid to escape poverty in the countryside. What they found was an equally destitute life in the city. "We had nothing then. And we had nothing after we moved," Surama said.

Shortly after they arrived, her family married her to a boy named Narayna. They were both 10 years old. "Today women understand marriage and family planning. Back then parents made the decisions," Surama said." I was not angry at my parents for marrying me young. I was small. I didn't understand what marriage was."

As Surama and Narayna grew older, neither made it far in school, and both took up cleaning full time. Narayna began drinking as an adult. The habit regularly depleted his income and led to domestic violence. "He would come home every night drunk. In fits of rage, he would beat Surama," says Susila Mulaga, a neighbor of Surama's.

Narayna died about 15 years ago. Surama rarely talks about him.

Barely five feet tall and often hunched in old age, Surama is nonetheless agile for a woman in her 70s or 80s. Her bare feet are weathered to the ground, and her hands bear the coarse firmness of someone who's long worked as a cleaner. Thick silver hair leads into large brown eyes, rough lips, and a mouthful of teeth more healthy and white than most others in Indira Gandhi Colony. She wears a purple t-shirt and an orange sari.

As the years passed, Surama says she and her community remained locked in a world of dismal education opportunities, transient employment, little food, and no clean water or electricity.

"I remember people used lanterns and horse drawn carriages in the early days of this slum," said Dus Pollama, a neighbor and friend of Surama's who arrived around the same time she did some sixty years ago. "Today, although everything around us has changed, our slum still has no electricity."

As India drifted from the peaceful non-cooperation of Gandhi under British colonialism, to the socialism of Nehru after independence, to Indira Gandhi's authoritarianism, and through Rao's capitalism of the 1990s, life in the slum seemed economically frozen.

Even so, life did progress. Surama had two sons and they had their own children. She describes her happiest moment as when her first grandchild was born, a girl to her elder son.

Her saddest moment came about five months ago, when her younger son died of tuberculosis, a common illness in slums in India, with their cramped living spaces and poor hygiene. "I cry whenever someone mentions his name," she says.

In addition to family, community ranks as one of Surama's highest priorities. Some slums in India, especially those in big cities like Mumbai, are known to be places of fierce competition and a subsequent dog-eat-dog mindset of hostility toward neighbors. But Indira Gandhi colony is a small community of only 18 families.

"We all support each other whenever someone needs anything," she said. "And whenever we have celebrations like weddings, everyone is invited, because we don't want anyone to feel left out."

Aayush Gheoday and Avni Pherwani contributed research from Visakhapatnam.
RELATED ISSUES