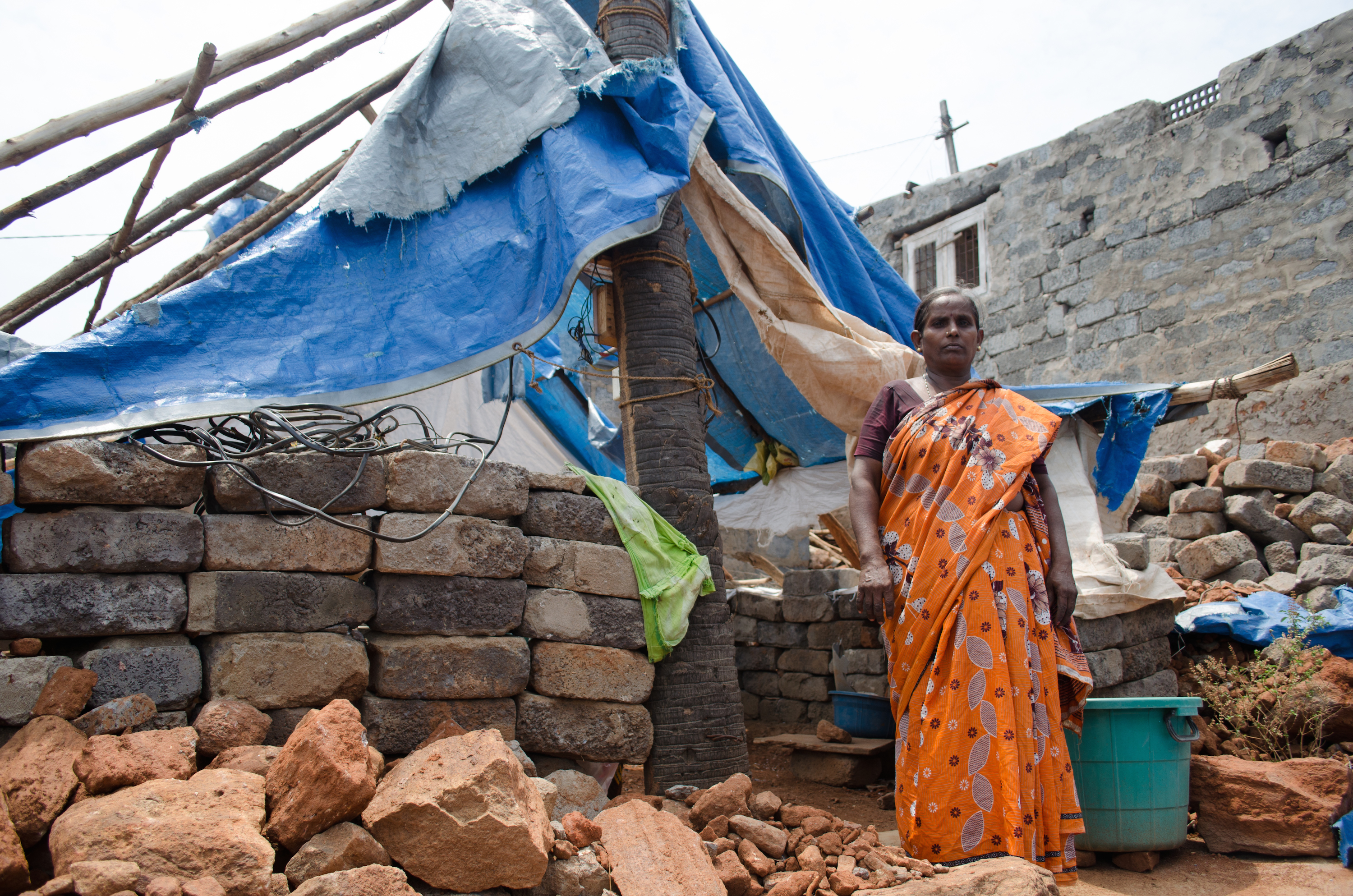 Months after a cyclone chewed apart his roof and hurled scrap metal slicing into his leg, Tirupathirao Mittireddi can't get much sleep. But it's not the natural elements he's afraid of. It's the financial burden he acquired to cope with the cyclone's aftermath.

"They come to me in my dreams," he said. "The people I owe money to. They knock on the door and scream for me to repay. But I cry and say I don't have anything."

Mittireddi, like many residents in the 741 slums scattered around the southeast Indian city of Visakhapatnam, resorted to private moneylenders in the aftermath of Cyclone Hudhud, which struck on October 12.

For Mittireddi, immediate funds were needed to feed his family, repair his home, seek medical treatment for his wounded leg, and fix his auto rickshaw, his source of income that was damaged in the storm.

He took out a loan of about $780 and accepted a high interest rate of 80 percent per year. After taking three months off to heal from the injury, he has since been unable to keep up with monthly payments. With each default, his interest piles higher.

Climate scientists in India attribute Cyclone Hudhud's ferocity to climate change. The plight of Mittireddi and others who spiraled into debt after the storm reflects the disproportionate burden climate change poses for the world's poor, those least responsible for global carbon emissions.

"Our houses were destroyed, our belongings gone. The food donations from government and NGO relief efforts were rotten," said Venkata Lakshmi, a 37-year-old resident of another slum. "We needed to eat. We needed to rebuild our homes."



Slums in Visakhapatnam consist of both thatched housing made of sticks and dry leaves, and one-story pucca homes made of concrete foundations and scrap metal roofs. During the October storm, thatched houses were completely destroyed, while the cement houses lost their roofs and often crumbled. The city's middle and upper class residents, who mostly live in sturdy apartment buildings, suffered minimal damage like broken windows.

"Climate change is now one of the major factors affecting social mobility around the world," said Vinoj Velu, a climate scientist at the Indian Institute of Technology, Bhubaneswar. In the case of slum residents in Visakhapatnam, "Getting out of debt will take a long time. And before they're done repaying, another catastrophe may come. So these people cannot climb the social ladder."

India has one of the longest coastlines in the world, more than 4,660 miles dotted by major cities and districts that comprise about 171 million people, according to India's Centre for Coastal Zone Management and Coastal Shelter Belt. Climate scientists in India warn that this population, especially those on the east coast along the Bay of Bengal, is increasingly at risk for severe storm surges in years to come.

"According to our data, cyclone intensity has increased by three to four times since 1960 in the Bay of Bengal," said Bhanu Kumar, an oceanographer at Andhra University in Visakhapatnam. While the frequency of cyclones has actually decreased, according to scientists who monitor the Bay of Bengal, the cyclones that do form have faster wind speeds, higher waves, more rain to throw, and a better chance at hitting land. "This is the first time on record a cyclone has crossed the city, leading us to think climate change cyclone intensification is responsible," Kumar said.

Though this is the first time Visakhapatnam experienced a cyclone, experts agree it's entirely possible that another will strike in the near future. In fact, Odisha, the state just north of Andhra Pradesh where Visakhapatnam is located, suffered a cyclone one year and a day before Hudhud struck.

"On an average, three to five cyclones form in the Bay of Bengal every year," said Ramachandra Rao Karanam, director of the Visakhapatnam Cyclone Warning Centre, the government body tasked with monitoring ocean weather and warning the city's residence of incoming storms. "Our state of Andhra Pradesh will continue to face the possibility of cyclones every year."

Another cyclone would be catastrophic for Mittireddi, whose efforts at rising from poverty have already been severely derailed by Hudhud.

Already in debt before the storm, Mittireddi owed approximately $6,300 to various lenders he approached to finance his home. The interest was high, about 43 percent per year. But he was making payments without a problem. After the storm, Mittireddi borrowed $780 in emergency funds. His lender increased the interest rate to 80 percent per year.

With the additional loans, Mittireddi's monthly payment went up. He subsequently missed payments, and the lender increased the interest rate even further. Mittireddi said he doesn't know when it will end.

"I think about suicide often," he said. "But I always stop myself because I remember how much I love my family. I remember their faces and realize I could never leave them. " Mittireddi has three young daughters. His wife Padmavati said their family is extremely close. A life without Mittireddi would not be worth living, she said.

"He is so loving and kind to me as a wife, and he's a great father," Padmavati said. "He's handled the situation so well. He just tells us not to worry about money, that he will earn enough in the end. But sometimes I see him crying. I don't know if he really believes himself when he tells us everything will be okay."

The government has established programs for people in poverty to use bank accounts, so they have access to financial services such as loans without having to resort to private moneylenders. Mittireddi has an account, and in fact he went to a bank after the storm. But he was told there were no funds available. In addition, if a person wants to apply for a loan to rebuild a home, banks in India require that the borrower produce documents to prove ownership of the property. Mittireddi could not qualify because the government owns the land he lives on.

Left to the mercy of private moneylenders, Mittireddi and others without access to formal funds are often subject to exorbitant levels of interest, especially in times of need.

"When people are desperate, the private moneylenders take advantage of them and demand higher rates of interest," said Venkateswarlu Manam, an advisor for the Slum Dwellers Welfare Association, an organization in Visakhapatnam that brings aid to slum residents. "The aftermath of Cyclone Hudhud was a frenzy of financial exploitation."

One lender, though, said his services were nevertheless a necessity. "The government has a long list of protocols to follow and questions to ask," said Viswanath Kulluri, a private moneylender, referring to banks, as most are nationalized in India. "No paperwork is needed with a private lender. I judge for myself whether someone is trustworthy to pay back a loan."

For Mittireddi and his family, interactions with lenders are often traumatic. His nightmares, those where collectors come banging on the door, are based on reality.

Their slum is located on the eastern edge of the city. It sits on the side of a hill overlooking Visakhapatnam's sprawl of low-rise apartments and commercial buildings, cupped by a bowl of lush green mountains beyond. Pandorti colony, as it is called, is home to 240 families, inhabiting both thatched and pucca housing. In the summer months, those at home tend to stay inside to avoid the sun's heat. But roosters and dogs roam about, sometimes splashing through the stream of human waste that dribbles down the hill through the slum's center.

Several weeks after the cyclone, a woman who loaned them money pounded the door at and demanded a payment. Mittireddi, still confined to his bed while his leg healed, had nothing.

"I tried to apologize. But she would not take no for an answer. She began screaming," Mittireddi said. Padmavati begged her to stop before she woke the neighbors, but she kept yelling, and soon the neighbors were out, telling the woman to leave them alone.

"It was so humiliating." Mittireddi said. "We have a small community, and everyone tends to know way too much about everyone."

Aayush Gheoday and Avni Pherwani contributed research from Visakhapatnam.
RELATED ISSUES