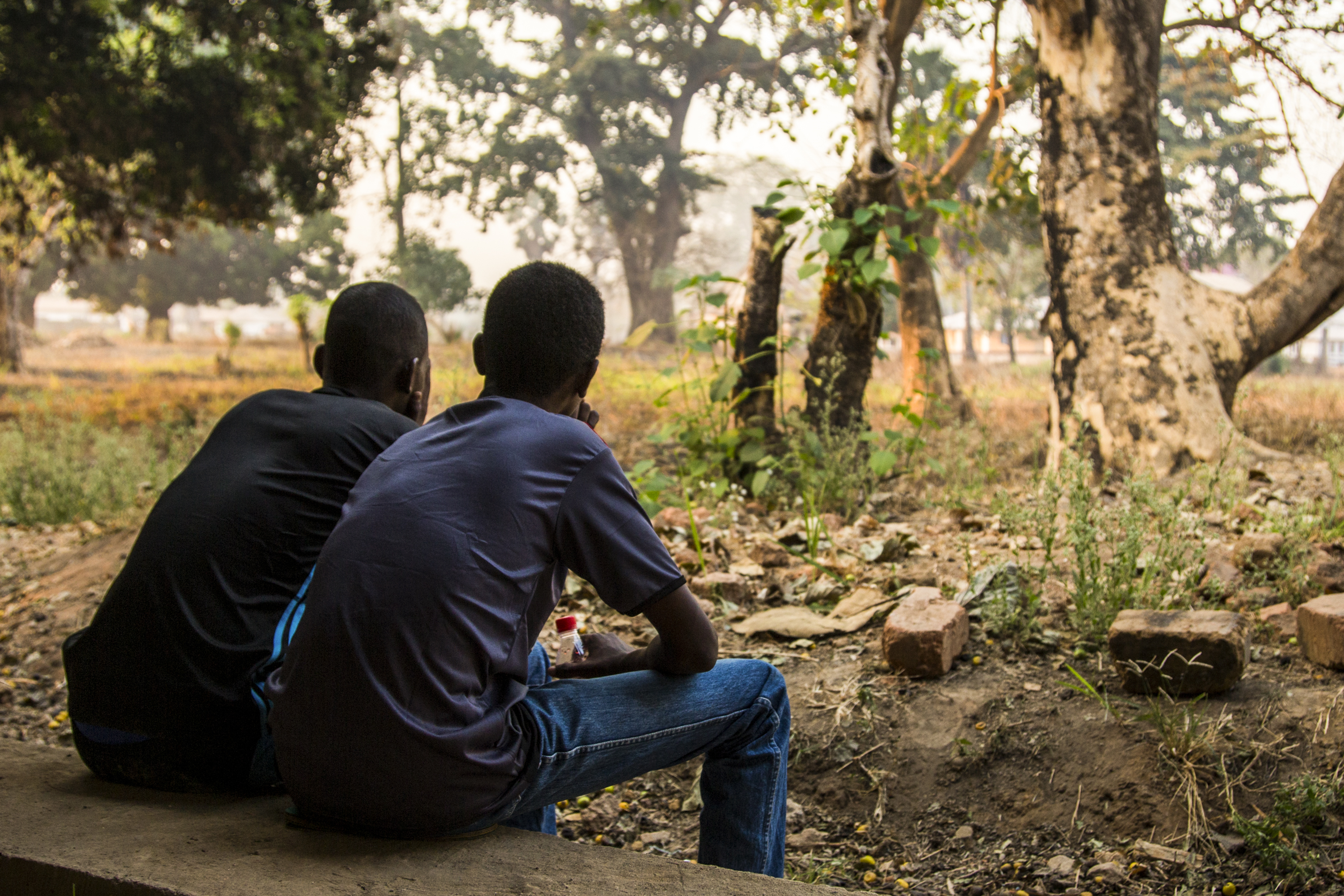 Five years ago, when Hassan was 11, militiamen killed his father not far from his home in Kaga Bandoro, a small, cattle-trading town in the Central African Republic, he says. Full of sadness and anger, the boy, a member of the country's disenfranchised Muslim minority, didn't believe the courts would deliver justice. The only thing he trusted, he says, was a Kalashnikov.
So, not long after his father's death, Hassan (identified with a pseudonym for security concerns) joined the Séléka alliance of rebels, a coalition of local and foreign fighters in the civil war, he says. The largely Muslim group seized large swaths of the country in 2013, triggering reprisals from mostly Christian militias called the anti-balaka.
His first job: working as a bodyguard for a commander whose armed group was terrorizing towns across this Texas-sized country, sandwiched between Chad and the Democratic Republic of Congo. Three months later, Hassan says, he was promoted to lieutenant and put in charge of about 50 people, including 10 other children. "At the beginning, I was scared," he says. "But later, I lost this fear. I got used to holding a gun."
The rebels also tasked him with recruiting more children, offering him sporadic and meager rewards. "I liked my work," he says. "On special holidays, I would be given cigarettes and money."
But as the war raged on, supplies dwindled, and the death toll mounted on both sides. Most nights, he and his platoon slept in the bush. While on guard duty, he says, he shot civilians if they didn't listen to his commands and stop. "I saw a lot of blood," he says. "I would be happy after attacking a town. But this feeling went away, and I became scared when I realized that my enemy would come back."
Today, that bloodshed continues. After a tentative lull in early 2016, the civil war began raging again later that year. The rebel alliance has fragmented into rival factions that fight over mineral resources and trade routes across the Central African Republic. Militias are bolstering their ranks with more kids, as a United Nations–led task force struggles to help thousands of former child soldiers reintegrate into society. In March, the U.N. deputy chief of humanitarian affairs, Ursula Mueller, said that "the recruitment and use of children by armed groups increased by 50 percent between 2016 and 2017," and the conflict continues to escalate. Several thousand boys and girls are now being used as combatants, cooks, messengers and porters, according to the U.N. Children's Emergency Fund. They are often abused by older militants, ordered to commit atrocities and used as human shields. Most have experienced deep trauma. "Children," says Marie-Pierre Poirier, UNICEF's regional director, "are paying the highest price for this new surge of violence."
Since 2004, Western nations and international institutions like the European Commission, the U.N. and the World Bank have funded several disarmament programs in the Central African Republic in a bid to quell a string of rebellions, encourage armed groups to disband and help militants return to civilian society. These programs usually offer incentives—such as educational support, vocational training and paid work—to fighters, including child soldiers, to give up their weapons.
Yet out of the approximately 12,500 children released from armed groups since 2014, U.N. figures show more than a third of them—about 4,500—are still waiting for assistance. Key reasons include a lack of money—UNICEF's operations in this area, for example, are almost 90 percent underfunded—and an inability for aid workers to operate in some areas controlled by armed groups. "If we don't do the job properly, children go back," says a senior aid worker who spoke on condition of anonymity because of the sensitivity of the matter. Mediators try to convince commanders that releasing child soldiers will benefit their militias, freeing up crucial resources such as food and water for other fighters. "Afterwards," the aid worker says, "both parties sign an agreement. We will look after them, and you don't recruit them again."
Disarmament programs have become a key component of the U.N.'s peace-building efforts, but these initiatives are problematic. Aid workers tell Newsweek that, during negotiations, militia commanders attempt to wrest handouts for themselves from international nonprofits and list fake children or relatives as combatants in exchange for benefits.
Louisa Lombard, a Central African Republic expert and Yale University assistant professor of anthropology, has described some disarmament initiatives as "pits of corruption," in which officials have sold slots on programs and failed to track aid. For some critics, even successful disarmament campaigns end up, inadvertently, promoting the use of violence. According to Lombard, many in the country "consider rebellion to be more fruitful than ever," as the resulting programs may appear to militants as "their best avenue to a salary and other entitlements."
Some officials have also seen militants turn in homemade guns used for hunting bushmeat, keeping more sophisticated weapons at home. When 7,500 combatants participated in one of the country's biggest disarmament programs, between 2004 and 2007, researchers found that the fighters handed in only 417 guns, which proved impossible to store and trace properly due to shoddy databases. This program also defined the term weapon so loosely that officials tasked with disarming militants accepted innocuous pieces of uniforms—such as military caps—in the place of guns.
In an interview with Newsweek, Kenneth Gluck, the deputy head of the country's U.N. peacekeeping mission, acknowledged there had been "a lot of problematic practices in the past" and insisted that future disarmament deals would not repeat these failures.
Either way, reintegrating child soldiers isn't any easier than disarming them. All are traumatized, and many resist the offer of a fresh start. Substance abuse is common and can compound the problem. "When I meet with children in armed groups, they don't want to look at me," says Marciel Mongbu, a child-protection worker in Kaga Bandoro, which lies in the country's northern, rebel-held regions. "They see a lot in the bush; their behavior becomes brutal and aggressive. But by working with these children, they see that what's happened to them is wrong."
The next hurdle: returning home. When armed groups release child soldiers, local leaders and aid workers try to ease their transition to civilian life, both for them and their communities. "The message is: Take them back," says Mongbu. But the stigma attached to their violent past means the community may reject them.
As for Hassan, his future is uncertain. He was among 74 child soldiers released from armed factions last September. Five months later, on a dusty afternoon, dozens of them gathered on the outskirts of Kaga Bandoro to speak with a UNICEF worker about coping with the trauma each had experienced during the war. The children removed their shoes and sat cross-legged on blankets in the shade of a mango tree. Hassan was near the front, wearing a black tracksuit, his face impassive. He is broke and living off UNICEF ration kits—mostly cassava and tinned sardines. He's also far from his remaining family members, some of whom live in refugee camps. Yet he is determined to rise above the conflict. He hopes to learn new skills, to become a tailor or a mechanic. As he puts it, "I am ready to start a new life."
RELATED ISSUES

Governance

Women