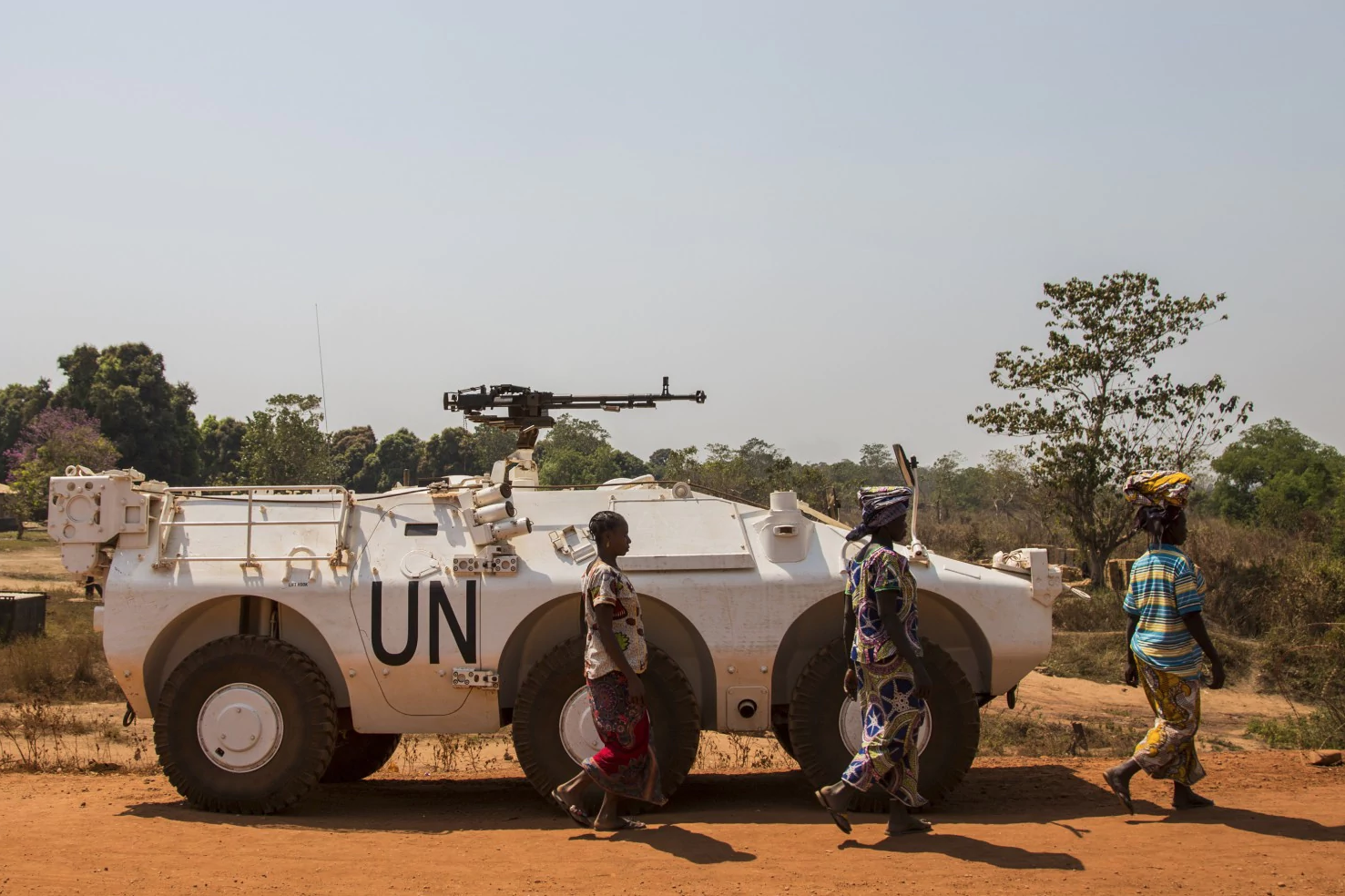 KAGA-BANDORO, Central African Republic—On a dirt track beneath a fierce sun, three U.N. peacekeepers guard the dividing line. 
On one side of a small bridge lies the rebel stronghold, where gunmen freely roam. On the other is a designated "arms-free zone" on Kaga-Bandoro's outskirts—a sliver of territory where the "blue helmets" keep the peace and thousands of displaced people shelter around a desolate airstrip.
Years of rebellion, mismanagement and sectarian violence have divided this dusty cattle-trading town and roiled the rest of the Central African Republic, leaving the country's Western-backed government toothless and unable to exert much authority beyond the capital, Bangui. In the absence of an effective government, more than a dozen armed groups and a multitude of local militias have usurped control of about 80 percent of the impoverished former French colony. Hundreds of thousands have been uprooted from their homes, and more than half of the population is in need of humanitarian aid.
Kaga-Bandoro has, for years, shunned central authority. But even in this anarchic space, rebels here and elsewhere throughout the country are providing some show of statehood. The ruling militants run customs, charge taxes, give out fines and operate their own gendarmes.
"The region has government ministries, but all the staff are in Bangui," said an aid worker in Kaga-Bandoro who spoke on the condition of anonymity out of fear for his safety. "They get their salary still but can't do anything here."
These are central Africa's ministates—overlapping and unrecognized fiefdoms in a Texas-size country riven by disorder, situated in one of the world's worst neighborhoods. These lawless territories are extremely volatile and controlled by violent groups prone to infighting. With the country surrounded by Islamist insurgencies and other conflicts in Chad, South Sudan and Congo, the spillover from these badlands can fuel—and be fueled by—the region's chronic instability.
Representatives from the Central African Republic's Defense, Justice and Humanitarian Action ministries did not respond to requests for comment.
Today's vicious turf wars stem from the nationwide outbreak of armed conflict in 2013, when the predominantly Muslim Seleka rebels seized power and primarily Christian militias known as anti-Balaka fought back. The violence ebbed with the deployment of international troops, but the crisis has intensified since the Seleka alliance, which lacks a unified hierarchy, disintegrated into competing factions.
"The situation is worsening, and armed groups are fighting among themselves," said Joseph Inganji, who leads the United Nations' Office for the Coordination of Humanitarian Affairs, OCHA, in the country. "The conflict is moving into areas that were previously deemed safe."
Kaga-Bandoro, in the country's north, is held by a group called the Central African Patriotic Movement, or MPC, a former Seleka faction that Human Rights Watch says has razed villages and killed scores of civilians.
Militias are drawn to the country's mineral wealth and the opportunity to levy taxes on huge cattle migrations each dry season. "It is a scramble for riches," Inganji said.
These herds are a literal cash cow for Kaga-Bandoro's local warlord, Mahamat Alkatim. His forces charge a customs tariff on each head of cattle that enters his domain from Chad. Other fees are taken at unofficial checkpoints. The lucrative trade in bush meat—a vital source of subsistence protein in central Africa—is another profitable target for taxation to prop up a rebel statelet.
Exploitation and chaotic rule are nothing new here.
France's imperial authorities resorted to slavery and other brutal measures during the early 20th century to turn a profit in this remote backwater. Long after the Central African Republic gained independence in 1960, French advisers remained in its ministries, overseeing decadent presidents whose repressive rule promised short-term stability but alienated Muslim areas.
Porous frontiers allow a free flow of arms and mercenaries. Corruption permeates government institutions. Sex-abuse scandals have marred peacekeeping operations. And ham-handed efforts to demobilize militants have exacerbated the very grievances they sought to resolve.
This climate of mistrust and instability continues to segregate the country's diverse population along ethnic and religious lines. The collapse of institutions has led International Crisis Group analysts to brand the country not just a failed state but a "phantom state."
Within this unwieldy land, rebel groups may well possess tools for military enforcement and economic extraction, but their ministates remain combustible and profoundly limited, lacking reliable public utilities and transparent justice systems.
The task of looking after the population's most basic needs—food, water, sanitation, health care, schooling—is passed to nonprofit groups. For rebels, this is purely an expedient form of outsourcing.
"We help the population, but we are only providing security," said Mahouloud Moussa, an official with another rebel group called the Popular Front for the Renaissance of the Central African Republic, or FPRC, which controls large swaths of the country's northeast and has an outpost in Kaga-Bandoro. "Everything else is done by humanitarian organizations, so there's no need for us to do it."
His comments disregard the deadly attacks and financial shortfalls that impede crucial aid operations. Last month, six education workers were killed near the northwestern border with Chad—an impoverished area where about 90,000 civilians have fled a surge in fighting in recent months. Overshadowed by wars in the Middle East, this is a humanitarian crisis in which 1 in 4 people is displaced, with tens of thousands of children severely malnourished.
Despite his rebel affiliations, Moussa wears conventional civilian clothes — white polo shirt, black suit trousers, socks with sandals. FPRC fighters are accused of war crimes, but he says they are a force for good. "We are teaching the population about social cohesion and encourage people not to discriminate against others," he said.
People such as Olive Kpadomona would disagree. A mother of five in her early 30s, she lives in a cramped tent with her family, alongside thousands of other internally displaced people on ­Kaga-Bandoro's edge.
Inside her spartan shelter, grubby mattresses are laid on the bare earth. Above, the sky is hazy and gray with dust. Peacekeepers patrol the squalid camp, but fighting still flares between the Muslim rebels outside and the Christian militias within.
"I was eight months pregnant when soldiers attacked my village," Kpadomona said. "They destroyed all the houses. I ran into the forest and came here. This was two years ago. We get some food, but it's not enough for my children. We live in fear."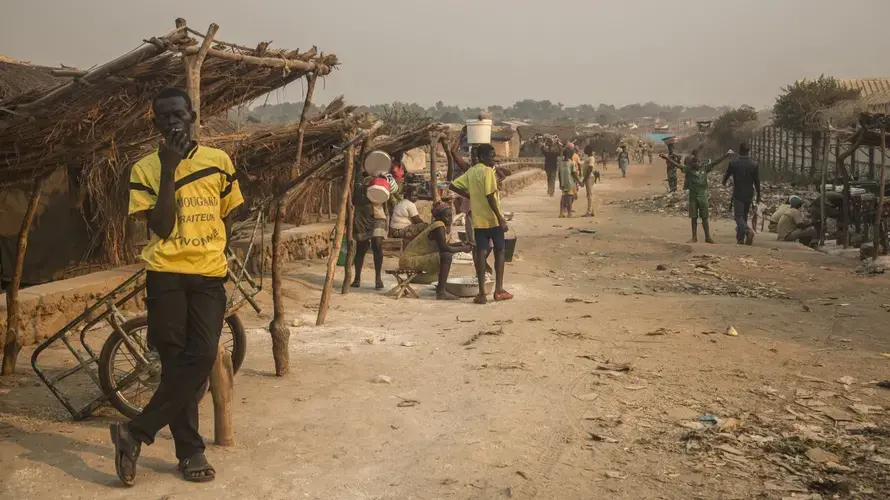 Besides the armed authority of rebel groups, there are other, more promising forms of governance in the Central African Republic.
The Chinko wildlife reserve—funded by a public-private partnership that includes the Central African Republic's Environment Ministry, USAID, the African Parks network and the Walton Family Foundation—has managed to bring some stability and development to the unruly southeast. Spanning more than 6,800 square miles, Chinko not only protects an extraordinary mix of wildlife but also offers the trappings of a working state, providing education, health care, law enforcement and an economy.
The park funds the salaries of dozens of local teachers and trains its own employees in hygiene, money management and sexual health. Its nurses make visits to nearby communities. Weekly markets supply Chinko's 450-strong workforce—a boon to this destitute region. A dedicated ranger corps patrols the reserve to combat poaching.
"A strong kernel of law enforcement can have a big impact on a larger region of anarchy," said David Simpson, Chinko's park manager. "It's not as if we set out to do all these activities—we're here for conservation—but when no one else is around, everyone looks to you for help."
RELATED ISSUES

Governance

Women