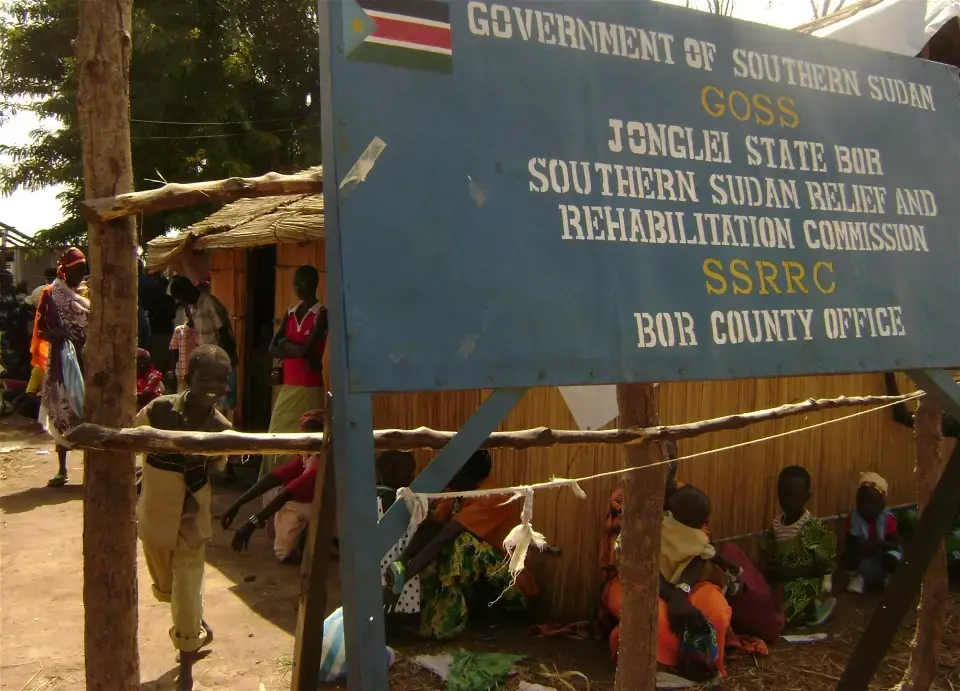 Sudanese returnees pass through a government verification center in Bor, Southern Sudan. Image by Heba Aly. Sudan, 2008.



Forced by civil war to flee her village in Southern Sudan, Rebeka James Galwak found her way to the northern capital of Khartoum and lived there until the conflict formally ended.

With a peace agreement signed in Nairobi in January 2005, Galwak thought her Nuer village in Jonglei state would be safe enough for her to return. But within a year of returning, she said, fighters from the Murle community attacked her home.

"They abducted six children, killed six men in my family and stole cattle," Galwak told IRIN. "We haven't seen those children since. It was a very sad day."

She still lives in the same village, near Yuai town, and works as a nurse. "[But] I am too afraid to bring back my children until we make peace with the Murle."

The children live with their grandmother in neighbouring Upper Nile state, and she sees them twice a year.

Three years after the Comprehensive Peace Agreement (CPA) was signed, complete stability still eludes the southeastern state of Jonglei, where child abductions, cattle raiding, village burning and fatal clashes are still common.

Millions of Southern Sudanese who had fled during the war were encouraged to return home following the signing of the CPA. But, according to the deputy governor of Jonglei state, inter-communal conflicts have forced tens of thousands to flee once more.

"Most of the villages are deserted ... simply because they are afraid of the raids," Hussein Mar Nyuot told IRIN in the state capital, Bor. "They move to where the government is, where they can be rescued quickly."

This has also been a concern for those who have yet to return from Kenya, Uganda or Khartoum, where they sought refuge during the war.
"When they hear that they are being returned to Jonglei, they say, 'What happened with the militias and the raids? Are we going to lose our children to others? Is there proper security in place so that we are not harmed?'" the deputy governor said.



Premature return?

The returns to the south were also boosted by the desire to participate in the April national census, a key step in the peace agreement which leads towards elections in 2009 and a referendum on independence in 2011.

Critics, however, say the government encouraged people to return despite an unstable environment.

"The government does not care," an aid worker said. "They have a political reason to bring all the people back home."

IRIN spoke to Jacob Anyuon Achol as he passed through a returnee verification centre in Bor on his way back to his home village of Jengle, after years living as a displaced person on the border with Uganda.

"Up to now, I am still worried," he said. "The situation is still not that good."

Cattle-raiding is one of the causes of continuing violence. Men are traditionally obliged to give cattle to their wife's family but many cannot afford the bride price.


Malick Ceesay, head of the UN Mission in Sudan (UNMIS) office in Bor, said the cultural and traditional roots of cattle-raiding made it hard to eradicate.

After 21 years of war, guns are commonplace among civilians and minor disputes can easily become serious.

"You can call it a conventional war on themselves," deputy governor Mar said. "You get one family with five rifles ... they can make their own platoon."

Government and UN officials say the situation has improved since 2007, when 128 children were abducted in the last half of the year.

Disarmament

"It has started, but it is very slow," Mar said. "In Jonglei, it has not started to the best of our expectations."

When residents heard the army was coming to disarm them, Mar added, they fled to other areas, fearing they would lose their only defence.
In the past, conflict has broken out between soldiers and armed civilians during disarmament. In 2006, more than 1,500 people died during the forced disarmament of the Lou Nuer community. Mar said the government had learned its lessons and was doing proper sensitisation this time.

Disarmament, he added, should be complete within one year and "the issue of arms will be over".

UNMIS is also training Sudanese police officers to help build capacity to protect civilians.

For the moment, according to Ceesay, the officers lack the capacity and strength to provide adequate security across the state. "The reality of the matter is that there is still a lot of insecurity in most parts of the south," he added.
RELATED ISSUES