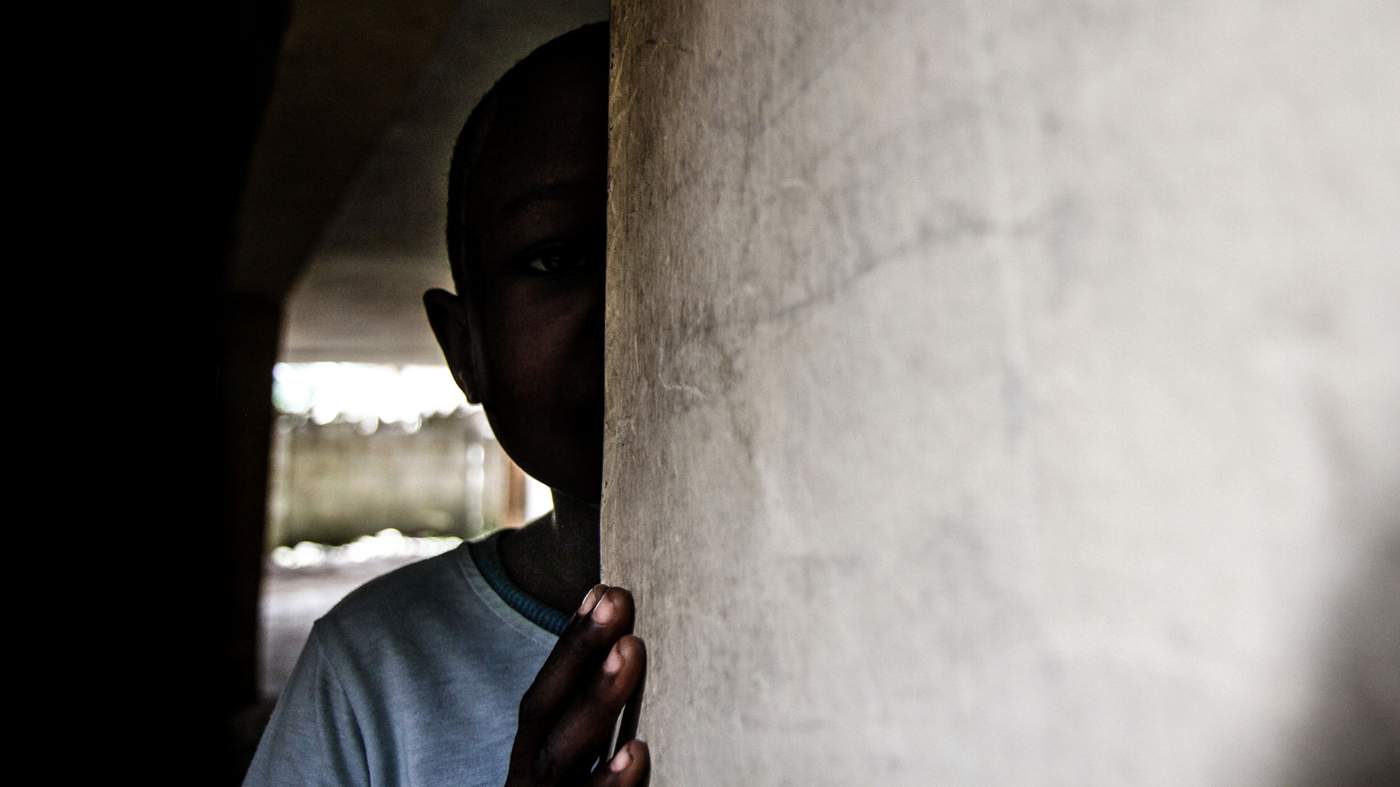 Click here to view the full multimedia experience on the BBC website
The BBC also published a version of the multimedia in Swahili.
Sitting on a chipped wooden bench, the three-year-old swings her legs excitedly. Her sandals barely touch the floor as she watches a Teenage Mutant Ninja Turtles cartoon.
It is hard to believe Comfort is a witch.
Yet this is why she and her two older siblings are now living in an emergency shelter in the city of Calabar, in the southeast corner of Nigeria.
It's little more than a basement with a television and half a dozen threadbare mattresses.
The door is locked most of the time for the children's own safety.
The shelter was intended to be a temporary solution - a stop-gap until the children could be placed with extended family.
But no-one wants to risk bringing the children - all of whom have been branded witches - into their homes.
Once her cartoon has finished, Comfort totters outside and lifts her shirt to reveal a sea of whitened welts across her back.
These ragged scars trace the outlines of the red-hot machete that a neighbour used to force her to "confess".
Names of the children in this story have been changed. Illustrations are superimposed on top of photos to protect identities.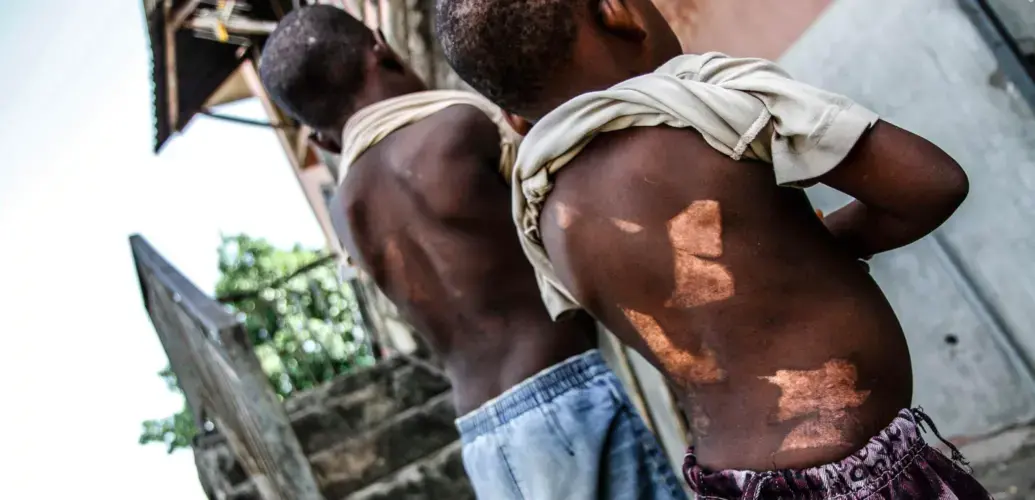 Led into Darkness
In early February, Comfort and her sister Hope, 15, and five-year-old brother Godbless had been living with their grandmother Christiana in nearby Akampka.
Their parents had died suddenly in unexplained circumstances, and while this had made Christiana wary of the children, she had agreed to take them in.
Already diagnosed as HIV positive and not taking her anti-retroviral drugs, Christiana's health was failing and she was becoming increasingly thin and frail.
Blaming the children for her ailing health, Christiana took them to her local church for guidance.
There, a so-called prophet confirmed her worst fears - the children were branded witches.
For Christiana, this explained everything - the death of her daughter and son-in-law, her sickness, and the children's rowdy behaviour.
Shortly afterwards, a neighbour called Rankin overheard Christiana accusing the children of cutting the rope of the washing line in the family compound - blaming their witchcraft for their actions.
After talking to Christiana and finding out more about the accusations, Rankin returned the next day with a friend.
"He started beating us and told us to untie our grandmother from the witchcraft world," says Hope.
The children tried to escape through the surrounding palm trees but were quickly rounded up by the two men and taken to the neighbour's house.
Their hands and feet were bound, and Rankin heated up a machete blade in the coals of a nearby fire.
"They then asked us if we were witches," says Hope from the safehouse in Calabar. "We said, 'No'."
"So he started beating us in turn with the hot machete, from morning until afternoon."
Blood bloomed black on the ground as again and again they were asked to confess.
"We eventually said, 'Yes'," says Hope. "Then they asked us if we are the ones that killed our father and mother - we said, 'Yes'.
"They asked us if all these troubles in our family - we are the ones who caused them - we said, 'Yes'."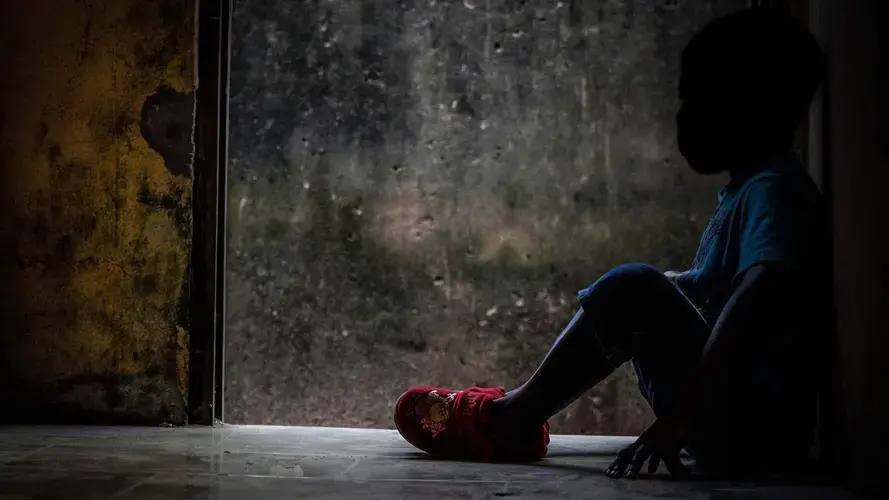 When I visit the mud-walled church where the children say there were branded and beaten, the prophet they say labelled them as witches is not there.
Instead I meet pastor Israel Ubi. He claims no-one at the church makes such accusations, or conducts deliverance ceremonies to exorcise alleged witches.
"There is no witchcraft here," he says.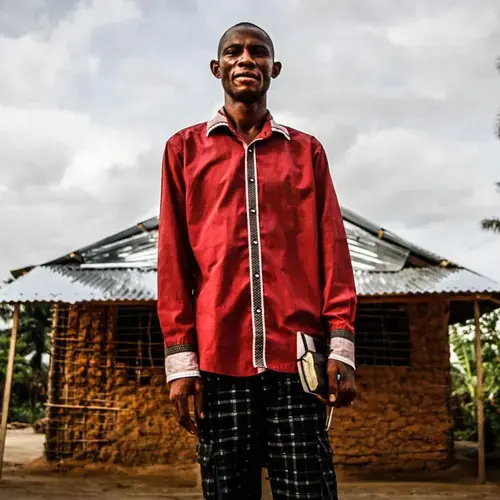 When pushed on the subject, he acknowledged that the church did deal with "marine spirits and demons" that many in the Niger Delta believe live in and around oceans, seas and rivers.
It was the children's uncle Sunday who reported the machete incident to the police.
The taxi driver, who says he doesn't believe in witchcraft, angrily dismisses the "prophet" who branded the children.
"As a result of her health, my mother believed in [his] words. Prophets - they are criminals, they are people who are destroying people's lives."
The stigmatisation of children as witches is a recent phenomenon in the Niger Delta region, which suddenly exploded in the 1990s. Before that, elderly women were the main targets of witchcraft accusations.
By 2008, it was estimated that 15,000 children had been branded in the southeastern states of Akwa Ibom and Cross Rivers.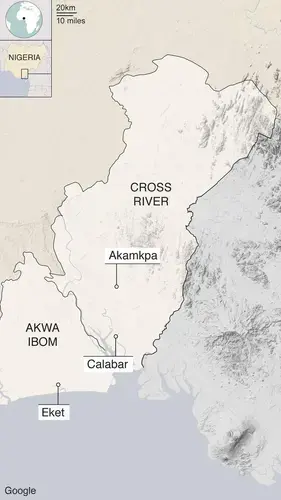 According to research from that period, cases that had been documented included children and babies who had had nails driven into their heads, been forced to drink cement, set on fire, scarred by acid, poisoned, and even buried alive.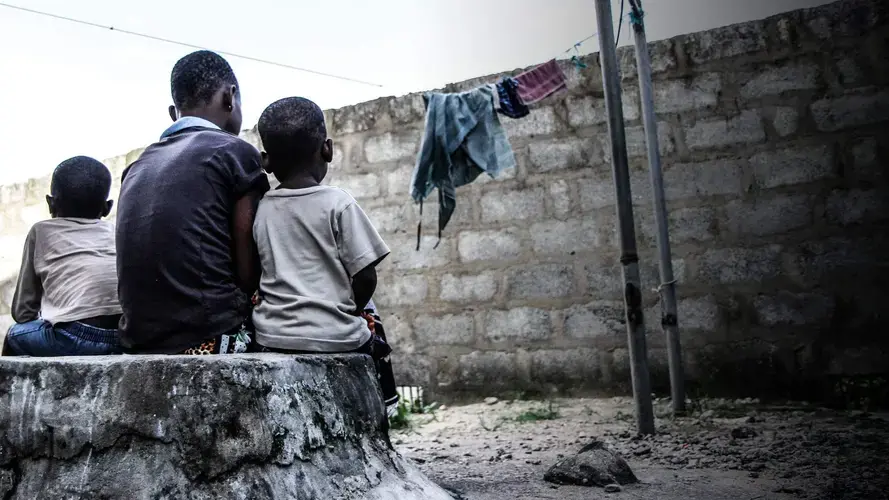 A separate 2010 Unicef report notes it is typically vulnerable children with physical disabilities, or illnesses such as epilepsy, who are targeted.
Others are branded for appearing withdrawn, lazy, or unruly.
Nigeria's criminal code prohibits accusing, or even threatening to accuse, someone of being a witch. And the Child Rights Act of 2003 makes it an offence to subject any child to physical or emotional torture, or submit them to any inhuman or degrading treatment.
However, while this piece of legislation was enacted at the national level, the country's 36 states are still required to formally ratify it. This not only gives individual states exclusive responsibility - it allows them to make laws relevant to their specific situations.
Only about three-quarters of Nigeria's states have domesticated the Child Rights Act, and to date only the state of Akwa Ibom has included specific provisions concerning the abuse of alleged child witches. Its 2008 law made witch branding punishable by a custodial sentence of up to 10 years.
And despite lobbying attempts, Cross River State has yet to amend its own 2009 version of the legislation to specifically outlaw the offence.
But regardless of the fragmented attempt to criminalise it, witch-branding continues under the noses of the state governments and police of Akwa Ibom and Cross River states.
Oliver Orok, minister of sustainable development and social welfare for the Cross River State government, told the BBC the ministry was "working assiduously to eliminate these practices".
"The state government in partnership with Unicef and other development partners organised a summit to deliberate on amending the law to include, among other things, the issue of branding children as witches and its consequences," says Mr Orok.
The minister says "criminal law has abolished such practices". However, 10 years on, no-one has been successfully prosecuted in the courts.
There has been an increase in advocacy across the state to deal with the issue, Mr Orok says, and that money had been made available to build a home for children at risk.
He adds that if the government was made aware of cases, it "would move against such churches and their prophets".
Lawyer James Ibor argues that the police are poorly funded, and not equipped to carry out these types of investigations.
"Often we have to push for investigations," he says.
Ibor runs a local organisation in Calabar called Basic Rights Counsel Initiative (BCRI), which specialises in legal cases concerning child rights abuse - it also runs the emergency shelter where Comfort and her siblings are staying.
He tells me about two children who were poisoned by their father, who believed they were witches.
He pleaded guilty, but there were no resources to send blood samples to Lagos to confirm the children's cause of death.
One year on, their bodies remain in the morgue, and the father has yet to be tried.
Ibor claims that cases have stalled for years.
He says his job is made harder by the reluctance of the police and government to investigate controversial issues combined with a lack of willingness from families and communities to provide evidence.
About a quarter of his ongoing cases relate to witchcraft, he says.
But this phenomenon is not just restricted to Nigeria's more remote regions.
Just six months ago, the Nigerian media reported on 40 children who were rescued from a witchdoctor's "torture camp" in the capital of Abuja.
And this May in Lagos, a boy was badly beaten by his mother with a koboko, or horsewhip.
"So we have the laws," says Ibor. "The problem is not the laws - the problem is implementing these laws and until then our children are not safe."
And he blames some of the "prophets" and "pastors" for sowing fear across the Niger Delta region where poverty and a belief in witchcraft are widespread.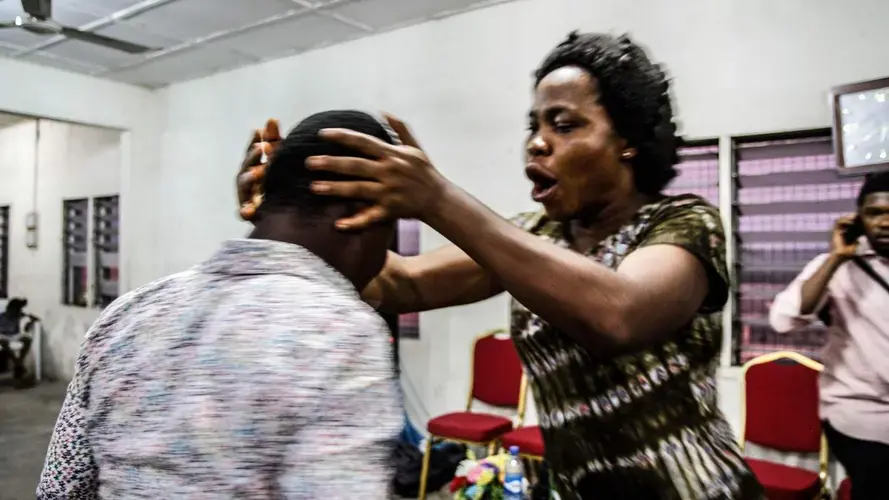 Exorcism
Sweat slaloms down the girl's face as she pirouettes across the cement floor.
A man catches her by the waist, before twirling her around the airless hall.
But this is no dance recital – this is a brutal ballet designed to deliver the child from witchcraft.
Welcome to the deliverance of Joy. Welcome to the Streams of Life Ministry.
It is a Friday evening and suffocatingly hot inside the hall of the Pentecostal church.
Three pastors have formed a tag-team to heal the 15-year-old.
Over the course of 30 minutes they take turns slapping her head, pinching her earlobes, and grabbing at her stomach.
"Your clothes are on fire, your head is on fire, your belly is on fire," they repeatedly scream in her face as they twist her around and around.
Joy raises her hands in self-defence.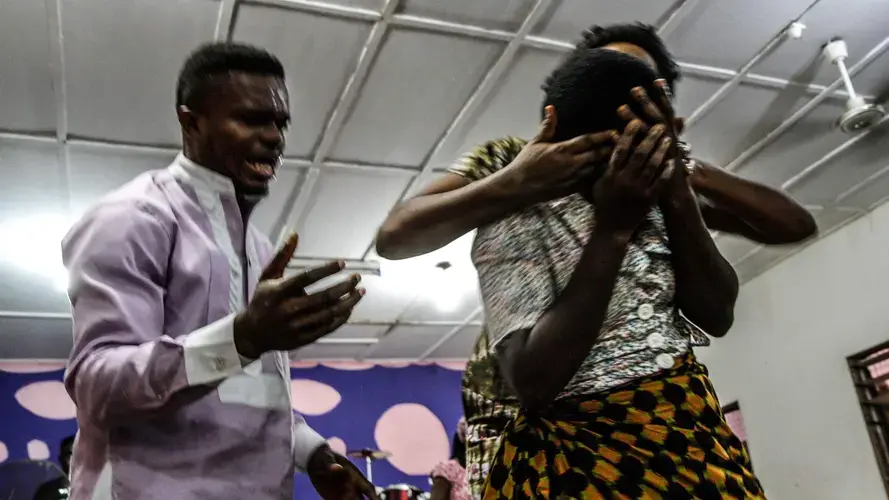 Four children have been identified by Pastor Eunice Emmanuel to be "exorcised" this evening. The youngest is just eight years old.
"The power comes from the Holy Spirit," she explains before the ritual begins. "He empowers us to do His work, to administer salvation to the children.
"When you pray for the children you see the spirits manifest, speaking through them - you will hear them speaking."
"By the time the deliverance is complete, the child becomes like a madman who has recovered his sanity."
The pastor explains that her Calabar-based ministry is ultimately offering a service to the wider community.
These deliverances not only stop parents from disowning their children, they stop the spirits from leading them astray, she says.
"And who knows, they may go to marry your daughter," she adds, "So before you know it, the witchcraft we are running away from is already in your house."
Pastor Eunice addresses the spirit she accuses Joy of harbouring.
"Do you go to a coven? Are you a witch? Do you drink blood? Do you eat flesh? Do you kill?"
"I have destroyed one person," Joy finally cries.
Only when the girl finally collapses on to the floor is the deliverance considered a success.
Lawyer James Ibor says Pentecostal churches like these encourage their congregations to blame witchcraft for their misfortune or personal failures.
One recent case involved a boy who was beaten when the family motorbike broke down; in another, a girl was accused, and flogged by her father after he lost his job.
"They sell fear so that they can keep members who continually pay offerings and tithes (weekly donations).
"That is the only way they will stay relevant and keep making money."
Last year the UN convened its first workshop focused on witchcraft, both in Nigeria and other countries.
In its final report, it stated that "the exact number of victims of such abuse is unknown, and is widely believed to be underreported".
It also recognised the role that "supernatural entrepreneurs" play in diffusing and legitimising fears related to witchcraft, and in particular, child witches.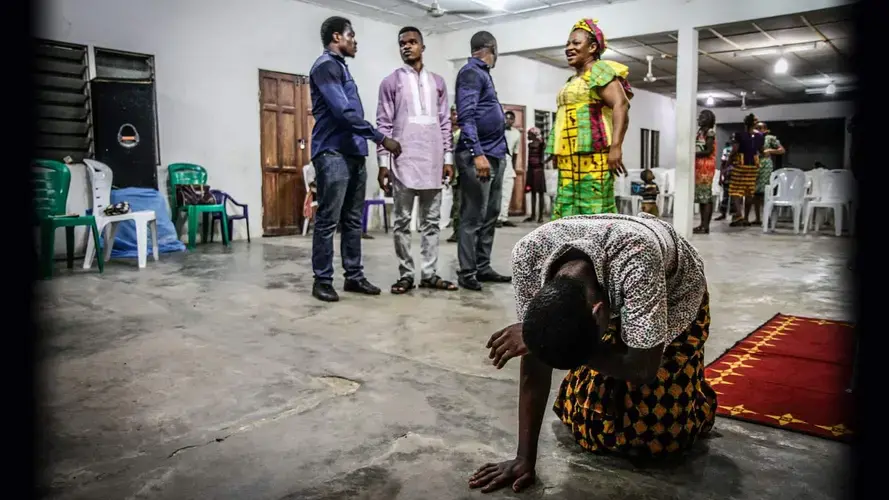 Tied to a Tree
Bassey recalls how two girls were accused by a pastor two years ago at the Divine Zion of God Church in the small town of Akpabuyo in Cross River State.
A pregnant congregant had gone past her due date by several weeks, and the seven and 10-year-old girls were held to be responsible and branded witches.
The woman had approached a pastor at her local church and paid for a consultation. Although she gave birth successful shortly after, the damage had been done.
A week later, Bassey heard the girls' screams as he returned from his fields.
They had been tied to a palm tree, and were being beaten with canes and machetes by three men.
Ebe Ukara, a desk officer for the Child Rights Implementation Committee in Akamkpa, says that 60% of the child abuse cases that cross her desk are witchcraft-related, and more often than not prompted by a pastor's declaration.
Those pastors, she says, can make a tidy profit from people who turn to them for help, although she stresses that not all Pentecostal churches are out to hoodwink their followers.
But for the "fake prophets", children are the easy targets who can be blamed for the poverty and misfortunes that plague families and communities.
Judging from the billboards that adorn roundabouts - from the capital of Abuja to the Niger Delta - beer and salvation are big businesses in Nigeria, commodities to be bought and sold.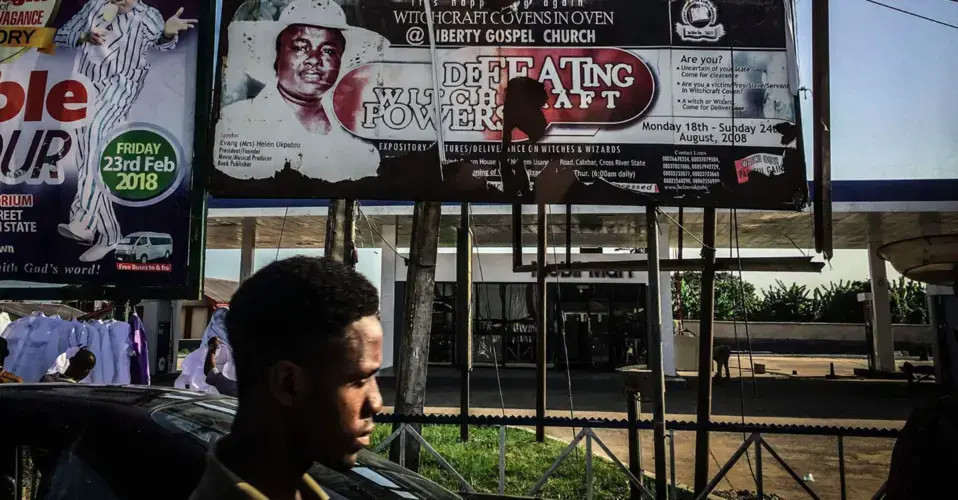 Every other poster promises some miracle - how to get that job, find a spouse, deal with miscarriages, cure infertility, and of course, eradicate witchcraft.
But these posters underline the two key
characteristics of the Pentecostal doctrine that has spread throughout Nigeria since the 1970s.
Firstly, this form of Christianity emphasises success and plenty - if someone is failing in life then this is a sign that something is suspiciously awry.
Secondly, Pentecostal churches portray the world as a literal battleground between Godly forces and demonic spirits.
So the new Pentecostal movement has since popularised the notion that material fortune is universally available, but that access to it can be blocked by supernatural forces.
But these Nigerian church leaders are not acting out any traditional African religion or superstition.
On the contrary, Nigerian Pentecostal leaders have copied their American televangelist counterparts whose churches often behave more like builders of economic empires than religious organisations.
This has resulted in a religious hybridisation where indigenous beliefs in the supernatural world have been combined with an extreme form of Christianity that critics say manipulates their congregants.
"Those 'mushroom' churches are a big problem - their prophets operate in profits," says Ukara.
This phrase mushroom churches is often used to describe the smaller and more informal prayer houses that seem to sprout up quickly almost overnight.
These are largely unregulated.
One such church is the Ark of Noah, which operates from a house in Calabar South.
House of God
The tiny Winnie the Pooh slippers outside the front door are the only hint that a deliverance is underway inside.
In a canary yellow shirt, Prophet Gideon Okon stands praying over the three children accused of being witches.
"God opens my eyes to see people's problems," Okon says. "That's how I know who is a witch."
He says that nobody brings children to him, that his revelations come to him when he fasts.
"If that person is ready and willing to be delivered, then we start talking a price," he says.
Okon says that the final figure varies depending on the type of ritual that needs to be performed.
"The strongest and hardest to kill are marine spirits," he says. "For that I would charge about 200,000 Naira ($556), but that's negotiable with the parents."
In the Niger Delta region, the average person is lucky to make a pound a day.
But Okon, who used to work for a construction company, later denies that he charges for his services. He says he accepts "donations".
After several hours of prayers and singing, the three children - aged between 10 and 15 - are forced to drink a green, viscous liquid from a soft drink bottle.
It is the first thing they have been allowed to consume after three days of forced fasting.
Okon tells me it is a blend, of water, palm oil, sand, leaves and seven ground centipedes.
"God told me what ingredients to use", he says.
"They are specific to the person."
Only when they vomit, are the children deemed to have been "healed".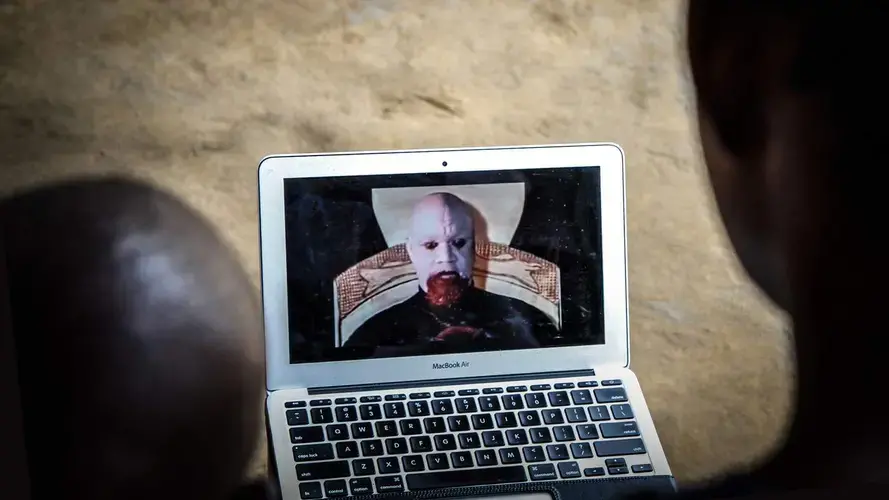 End of the Wicked
The film industry in Nigeria - known colloquially as Nollywood - is booming.
It pumps out more than 2,500 movies a year, making it the second-largest producer after Bollywood in India.
These movies typically fall into five distinct genres - romance, comedy, historical epics, gangster stories, and the so-called "hallelujah" category which promotes strong religious messages.
They can be seen in beauty parlours, bars, restaurants and on buses. They are not only popular in Nigeria, but across Africa and in the diaspora.
Evil School, Family of Witches, School of Witches are but a few of the more recent examples of Nollywood movies that negatively portray children as witches.
The most infamous is End of the Wicked, which focuses on the Amadi family which is living with the father's mother - who we find out is a witch in a coven.
The family's children are influenced to join the cult, and in the movie are shown eating flesh and plotting to murder their parents.
Produced by the Liberty Gospel Church, the 1999 movie also starred the church's leader Helen Ukpabio as the pastor who ends up heroically exposing and destroying the coven.
The film was hugely controversial and, at the time, was widely blamed for the surge in witchcraft accusations against children in the years that followed.
It was criticised for blurring the line between fact and fiction. It not only used the real-life pastor starring as herself, but the film begins with a note that this is part of an expository series.
Nigerians themselves have criticised such movies for proliferating pernicious stereotypes about the continent.
In a recent book chapter on the influence of Nollywood films on culture, academic Françoise Ugochukwu references the viewpoint of one frustrated Nigerian in an online forum.
"Films of this type have painted an even more negative image of Nigeria...making it appear to be a nation bogged down by superstitions and primitive beliefs," reads one post on the forum. "Isn't it bad enough for the West to demonise every aspect of our traditions, and now we are doing it to ourselves?
"Does anyone seriously think that all our ancestors did was sit around performing so called satanic rituals all day?"
Lawyer James Ibor argues it was movies like End of the Wicked that not only popularised the notion that children could be witches, but that people could easily become witches by eating tainted food.
"The narrative changed with the influx of Nollywood in the 90s," he claims. "Walk into any movie shop here, and select randomly 50 different films and I bet you 80% of them are on witchcraft and juju."
But paradoxically one of the main reasons for the popularity of Nollywood films is that they provide a platform for Africans to tell their own stories.
One Nollywood film producer, Orok Atim, says that however "negative" the theme of witchcraft may be, it is an issue that affects the lives of Nigerians - hence they expect to encounter it when watching Nigerian films.
Orok Atim is sat in front of a makeshift shrine on the set of his latest movie.
While his latest film is actually a love story (pictured), Atim has a passion for making movies about the supernatural.
His next movie will be about a deceased friend's experience of witchcraft.
"Witchcraft exists in our society today," he says. "If you don't show what is happening in society then you are just wasting your time.
"I use my movies to educate, entertain, and to tell the world that witchcraft is real."
None of his films explicitly portrays children as witches.
Atim argues that, far from perpetuating traditional beliefs in the supernatural, his movies allow Nigerian audiences to face their fears.
Through special effects, his movies make the invisible visible; they give people a visual perception of something spiritual that is rarely seen but is regularly talked about.
And Atim baulks at the idea that movies like End of the Wicked could be responsible for a rise in child witchcraft accusations.
"[But what you are saying is] just a rumour to kill the Nollywood movie industry," he adds. "No-one would just come up with a story that does not exist."
Diana-Abasi Udua Akanimoh, who works for the NGO Way to the Nations in Akwa Ibom state, says she has witnessed first-hand the ripple effect witchcraft-themed films can have.
"I went to a church here in Eket and the pastor was talking about stopping marine spirits and witchcraft," she says. "He started telling his congregation that he had seen such things recently in a movie."
"So people who are ignorant will be thinking, 'Oh, if the pastor is saying this then that means this is the truth'."
Akanimoh, who manages a safe house for children accused of being witches, says that while films may not be the root cause of these accusations, they certainly build upon tradition to justify their actions.
And social worker Ebe Ukara claims that "people watch these movies and imitate what they see these advanced prophets doing".
Ukara was involved in the rescue of Comfort and her siblings after they were beaten by the prophet and attacked with the machete.
"Movies today are teaching a lot of things that were never practised before," she says. "Carrying a child to a church to beat them - that never used to exist."
But minister Oliver Orok says the government doesn't believe Nollywood is to blame for the problem, but rather the "long customs and traditions of some communities".
Cast Out
Charity is just one of the many children now living on the streets after being accused of witchcraft.
For the past two years, the 13-year-old has been living in a makeshift hut in the middle of a dump site on the outskirts of Calabar.
Inside four girls of a similar age are still curled up sleeping - there are no mattresses, there are no mosquito nets.
Life here is hard, but on a good day she can make 1,500 Naira ($4) foraging for recyclable plastic soda bottles and tin cans among the piles of trash at the site.
"I feel good living here," Charity whispers. "Going back to live at my uncle's house would be like putting me inside the fire."
After her father died, she went to live with her uncle.
When he tried to sleep with her, she was accused by his wife of bewitching him.
"They tied my hands, and threatened to throw me down the pit latrine," she says.
"They kept me like that for a day," she says. "So I just told that I am a witch so that they would untie me."
After her "confession" her uncle stopped feeding her, and she decided to run away.
The Lemna dump is home to a few hundred skolombo - street children - like Charity.
Many share a similar story - they were either thrown out or fled their homes after being accused of sorcery.
A handful of Nigerian organisations such as the Basic Rights Counsel Initiative (BRCI) and Way to Nations try to do more than just rescue youngsters accused of witchcraft - they try to reunite them with the very relatives who have ostracised them.
Such attempts are rarely successful, even with extended family members.
Back in Calabar, James Ibor is facing the dilemma of what to do with Comfort and her two siblings.
They want to leave the shelter, but none of their relatives wants them.
"How do we break the news to these children that your aunties, your uncles are not willing to even see you?" he says.
"These kids then maybe start to even think that they are witches."
RELATED ISSUES

Religion

Women

Children and Youth