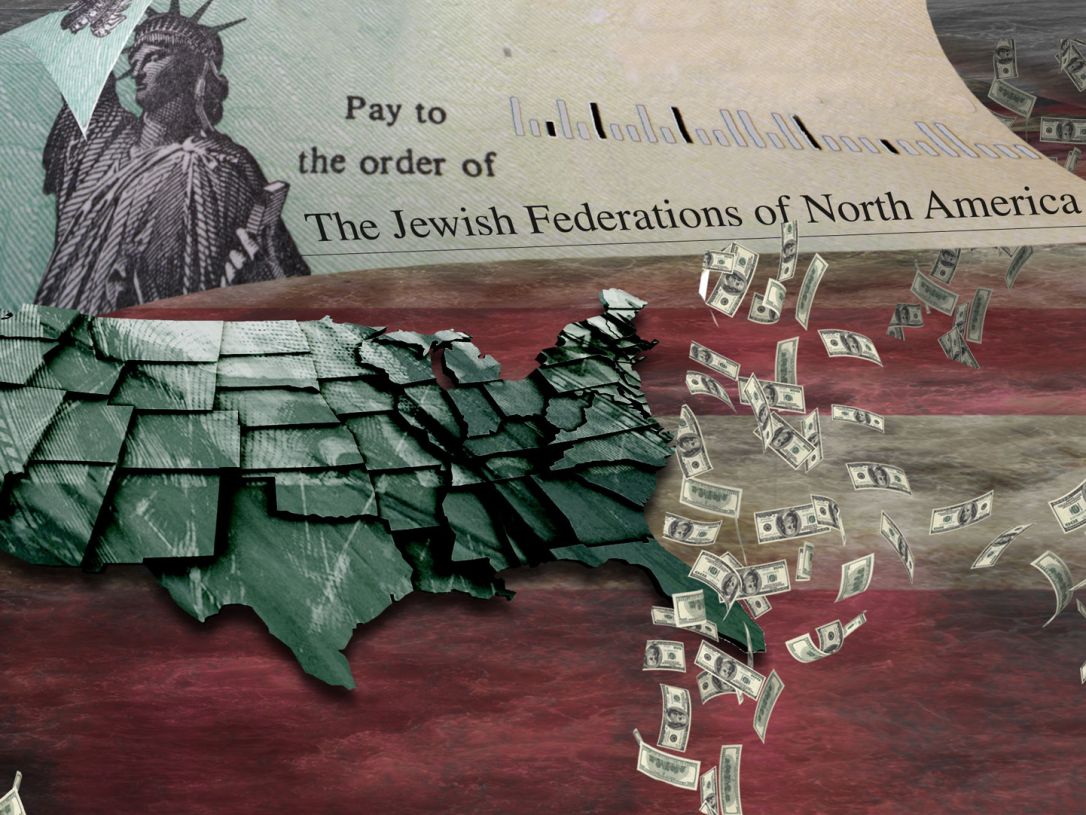 Editors Note: For the full-multimedia presentation, please click here.
Sometimes asking the family to Shabbat dinner involves no more than crossing the office to ask.
Nepotism is a notorious corollary of nonprofit activity in general, if only because a relation's enthusiasm fired up the kinfolk over supper, or because of limited choice, or for other reasons. The world of the Jewish Federations of North America is not immune.
Like all American nonprofit organizations, the Jewish Federations disclose family ties in formal documents. Thus we learn that, for example, in 2015, there were family relationships between 49 out of a total 150 trustees at the Cleveland Federation. The same federation reported business relationships with 52 of their trustees.
Click here to access all the Federations' 990 tax forms (Return of Organization Exempt From Income Tax), broken down by state and city.
Asked to comment, Rebecca Dinar, JFNA's Associate vice president for Strategic Communications and Marketing, stated, "The close-knit nature of ethnic and religious groups in North America has helped Jewish communities remain strong over the past 100 years. Particularly in communities where most Jews live in relatively close proximity (like in Cleveland) and in smaller Jewish communities (like Utica, New York), a small pool of people tend to shoulder the lion's share of responsibilities of communal leadership. Additionally, interested party transactions are disclosed on the Form 990."
Cleveland is not exceptional. A Haaretz investigation into the net of the U.S.-based Jewish federations shows that the nonprofits frequently list related board members, executives and other employees.
In Memphis, the Jewish Federation listed 18 family relationships between board members in 2012 (after which it stopped listing such relationships).
"As a small Jewish community with multi-generational families we have a limited pool of leadership," Laura Linder, president and CEO of the Memphis federation, explained. "It would be very limiting and potentially harmful for us to have a policy that prohibits members of the same family from serving in leadership positions within our organization."
Inevitably conflicted
Experts in nonprofit law agree, to an extent. According to Beth Kingsley, a D.C.-based lawyer representing nonprofits, "Just from an organizational perspective, having related people on the board can be a problem because it's hard for them to act independently as directors."
At what point would the number of family or business relationships be considered problematic? It depends on the size of the board. "If you have, say, five people on a board and four are related to each other, then there's a question about the sort of independence and public accountability...You have to look at the whole picture," says Kingsley.
In Birmingham, 14 of 33 board members were related to each other or to other Birmingham federation employees, as of 2014. One such case is Sammy Friedman, son of Executive Director Richard Friedman.
"You'll have a hard time compensating any of them without running into a conflict of interest," says Lisa Runquist, a Los Angeles-based lawyer specializing in nonprofit law. "It's not uncommon to have private foundations that are family-controlled. In that case, you shouldn't be normally compensating one or more of the relatives," she adds.
The Jewish Federations are not private foundations, they are public charities, which are regulated less strictly under the IRS. The Birmingham federation's former assistant executive director, Daniel Odrezin, told Haaretz that none of the federation's employees sign conflict of interest agreements.
"It's good practice for nonprofits to monitor conflicts of interest, but it's not necessarily wrong if they don't," Runquist told Haaretz "You can exist without having a signed conflict of interest situation," she added. "The question is whether there actually is a conflict."
Small communities with big families
Like many of the federations, the Birmingham Jewish Federation works closely with its supporting foundation, the Jewish Community Foundation of Birmingham. The two separate nonprofits exchanged over $1.5 million in reimbursements for shared space, equipment, and paid employees, as well as grants and contributions between 2013 and 2014.
According to Kingsley, such sharing is not uncommon among related organizations. Less common but not atypical is that the Federation's executive director, Richard Friedman, is married to the Foundation's executive director, Sally Friedman.
As is typical in a supporting foundation arrangement, the board of the Birmingham Jewish Federation elects the board of the Birmingham Jewish Community Foundation, Odrezin explains. The supporting foundation's board approves all grants to the federation, and determines compensation for foundation executives, including Mrs. Friedman.
"You know, if you have a married couple," Kingsley says, "that's just a whole other layer of connection that can become an issue in exercising their fiduciary duties. It's not necessarily a sign of wrongdoing by the organization, but I just think that it's potentially troubling."
The Friedman couple, Odrezin explained, have led the Federation and Foundation for more than 30 years and "were both independently hired by their respective organizations." Also, their salaries are determined independently by their respective boards, he added.
Moving on: Between the Birmingham federation and the foundation, 21 executives or board members have family relationships. Six executives and board members hold simultaneous positions at both the foundation and the federation.
Asked about family relationships between executives and board members and potential conflicts of interest, the federations generally replied that it's hard to avoid when relying on small Jewish communities with large families for staffing.
For Kingsley, the fact that so many kin are involved in determining pay for their own relatives in Birmingham, where Odrezin confirmed that employees do not currently sign conflict of interest agreements, is potentially problematic. "If I were doing sort of an internal audit of the organization, I would ask that question," she says. "If the IRS came in and audited them, they would ask that question."
Husband and best man
Beyond conflict of interest agreements, there are steps nonprofits can take to ensure good governance. "There may be good reasons to hire your husband as executive director...but you want to make sure that that decision was made independently of that interested person. That's something you're not going to see unless you get corporate minutes," says Kingsley.
Runquist agrees: if a board has several related people, decisions should be vetted by unrelated board members.
According to public record, in 2013 the Jewish Federation of Palm Beach County listed family relationships between 34 board members and employees, and contractual relationships between five board members. In 2014 the number of people with family relationships dropped to 21, and the number of contractual relationships dropped to one between two board members. In 2015, the federation listed family relationships between 15 board members and employees, and the same contractual relationship from 2014.
In Greensboro, several people employed by the Jewish Federation were spouses of current and former federation trustees. According to public record, Susan Gutterman, wife of acting federation trustee David Gutterman, was paid over $100,000 a year salary and benefits in 2012, 2013 and 2014 for her role as the federation's endowment director. Her husband David was not paid a salary, and represented the local Beth David Synagogue on the federation's board during the same period. Marilyn Chandler, executive director of the Greensboro Federation, said that David Gutterman was not paid a salary by the federation.
There's certainly no prohibition on employing kinfolk at nonprofits like the federations, says Marcus Owens, a D.C.-based lawyer specializing in nonprofit law. "It's possible, it's not uncommon, for family members to be employed by the same organization."
Especially in small communities, charities employing members of the same family are no surprise; but as family and business relationships accumulate, says Owens, it may raise questions about manipulation of the organization.
At nonprofits with higher than average numbers of related persons, "the inquiry there is whether the individual who has hired the family member is qualified, or if they're being paid fair wage for services, and if they're showing up to work," Owens tells Haaretz. "But the key point there is that the individual is qualified and actually performs." If he is, there's no problem, he sums up: "Employing family members can be fine assuming that it's not a way to divert money to someone for a no-show job."
Akela Lacy contributed to the research on this story.
RELATED ISSUES