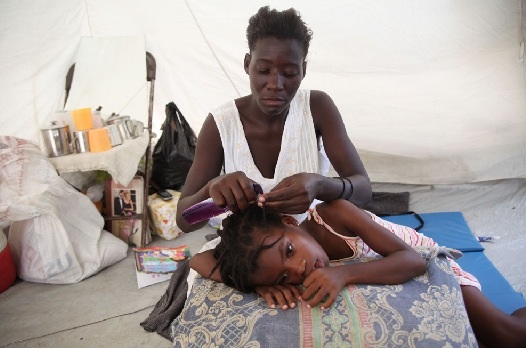 Nadine and her two young children live in a small tent in Port au Prince, on the plot where their house stood before the earthquake. They don't have much—the tent is surrounded by rubble and anchored with cracked cement blocks—but the inside is neat. Nadine has set up a twin bed and a single mattress, an old television and a fan. The children have adopted two cats, one white, one black. And on afternoons, Nadine's daughter and her friends sit on the floor of the tent and play cards.

Nadine and her children fled the vast tent city, Champs de Mars, in the fall, after police shot tear gas into the encampment in response to a violent protest. Now, in this little tent, 37-year-old Nadine has tried to create what, in the absence of an actual structure, at least feels like a home for her 7-year-old daughter and 10-year-old son. And while life here is safer and better than it was in the camp, Nadine says that she doesn't think a new government, or anything else the Haitian people have been promised, will make a difference, particularly for people like her.

Nadine is HIV positive, and according to the United Nations, there are as many as 120,000 people like her in Haiti. Many, like Nadine, have been living under tarps and in tents since the January earthquake that devastated the country—conditions that experts warn could lead to a major health disaster.

Video by Andre Lambertson

Nadine, who doesn't want her last name used because the stigma attached to HIV/AIDS in Haiti, has to worry more than most when she cannot find food or water, or when the rain drips into her tent at night, soaking her clothes. With her weakened immune system, the drastic drop from the day's blazing heat to the damp cold at night can make her catch a cold, and then tuberculosis. She has to have clean water as cholera would quickly kill her. And she needs food to take her anti-retroviral drugs to keep full-blown AIDS at bay.

After her house collapsed during the January earthquake, Nadine first came to Champs de Mars with her children, hoping to find food and shelter. But she wasn't lucky enough to get a tent or food distribution cards, and ended up living with five other relatives under a tarp. She and her children often went without food, and the filth, rapes, and other violence in the camp left Nadine with little hope. And fleeing the camp didn't improve her outlook.

"Sometimes I feel depressed and I say, well, why don't I go? Why don't I leave this world?" says Nadine. "There is no hope coming, especially for those people like me living with HIV. I thought that the government could help us, but that's not what happened."

Haiti used to be a model for combating AIDS. Experts at first thought the epidemic might wipe out a third of the population. But instead the country became a surprising success story: Thanks to significant financial support from the U.S. President's Emergency Plan for AIDS Relief as well as the Global Fund to Fight AIDS, tuberculosis and malaria prevalence rates fell from 9.4 percent in 1993 to 2.2 percent in 2008.

January's earthquake, however, destroyed many health facilities, and experts are afraid that with the high rates of rape, prostitution, and promiscuity in the camps, there will be an explosive increase in the number of new HIV infections.

"I think we could well have 200,000 to 300,000 affected by HIV," says Esther Boucicault, founder of Foundation Esther Boucicault Stanislas, a grassroots HIV/AIDS organization. "Because what can you do in a tent? Nothing. Nothing, no entertainment, nothing. The only thing you can do is sex. So you have sex."

Doctors doing HIV testing at a clinic at one of Haiti's many tent camps are seeing at least 15 to 20 new cases each day in that one camp alone, says Beatrice Dalencourt Turnier, a social mobilization officer at The Joint United Nations Programme on HIV/AIDS.

Shortly after the earthquake, Turnier and her team tried to distribute condoms in the camps, but those in charge of the emergency response did not see this as a priority. "Once somebody has access to food, to water, to shelter, the next need is affection and sex," says Turnier. "But it's very difficult for people that work in an emergency to understand that. When people are giving out food and you're telling them they need to give condoms, it's like 'Why do you want to bother me with that?'"

For those already living with HIV, the immediate challenge after the earthquake was getting access to anti-retroviral drugs. While some of the larger organizations that serve people with HIV were able to resume distribution of the vital drugs in the weeks after the earthquake, many smaller organizations were destroyed, leaving their clients without medication, food, and other services.

Nadine was able to get her medication after four days from one of Haiti's largest HIV/AIDS organizations, but it has been hard for her to take her twice-daily dosage of drugs because she doesn't want anyone to know she is HIV positive, because of the stigma.

"I have to hide myself to take my medication, but finally, when people discover I am taking medicine they ask why. I say I am taking the medicine to have an appetite to eat more," she says.

Nadine discovered she was HIV positive almost eight years ago, when she was pregnant with her daughter. While her husband initially stayed with her after the diagnosis, he left Nadine and their children three years ago. She has never had steady work, in part because of the HIV, and now works as a vendor, selling food with her cousin in downtown Port au Prince to earn a little money. However, her family does not know that she is HIV positive, and on the days when she is sick and cannot work, her aunt calls her lazy, and refuses to give her leftover food so that she and her children can eat.

"Some organizations before the quake used to give us money to pay for school for the kids. And also they used to give us some food," says Nadine. "After the quake they stopped. They say they don't have money anymore. It's not good because they know we are not working; that we need money; that we need food. I don't have money for school fees, so my children cannot go to school."

The problem is a simple lack of funding. The smaller organizations often do not have the connection to international aid sources that some of the larger organizations have.

Boucicault, the AIDS activist who is HIV positive herself, hopes that whoever is elected as the new president of Haiti will do a better job of providing for those living with HIV. If international aid stops flowing, she says, "all the people in Haiti living with HIV will die, because the government has never taken care of them."

Nadine for her part is gathering the necessary paperwork to immigrate to New York, where her grandmother lives. She knows that it will be difficult, but it is her only source of hope.

"President Obama said that… even though you have HIV you would be able to have your residence in the States," says Nadine. "In the meantime, I accept the way life is, and my kids also. We have to accept life the way it is."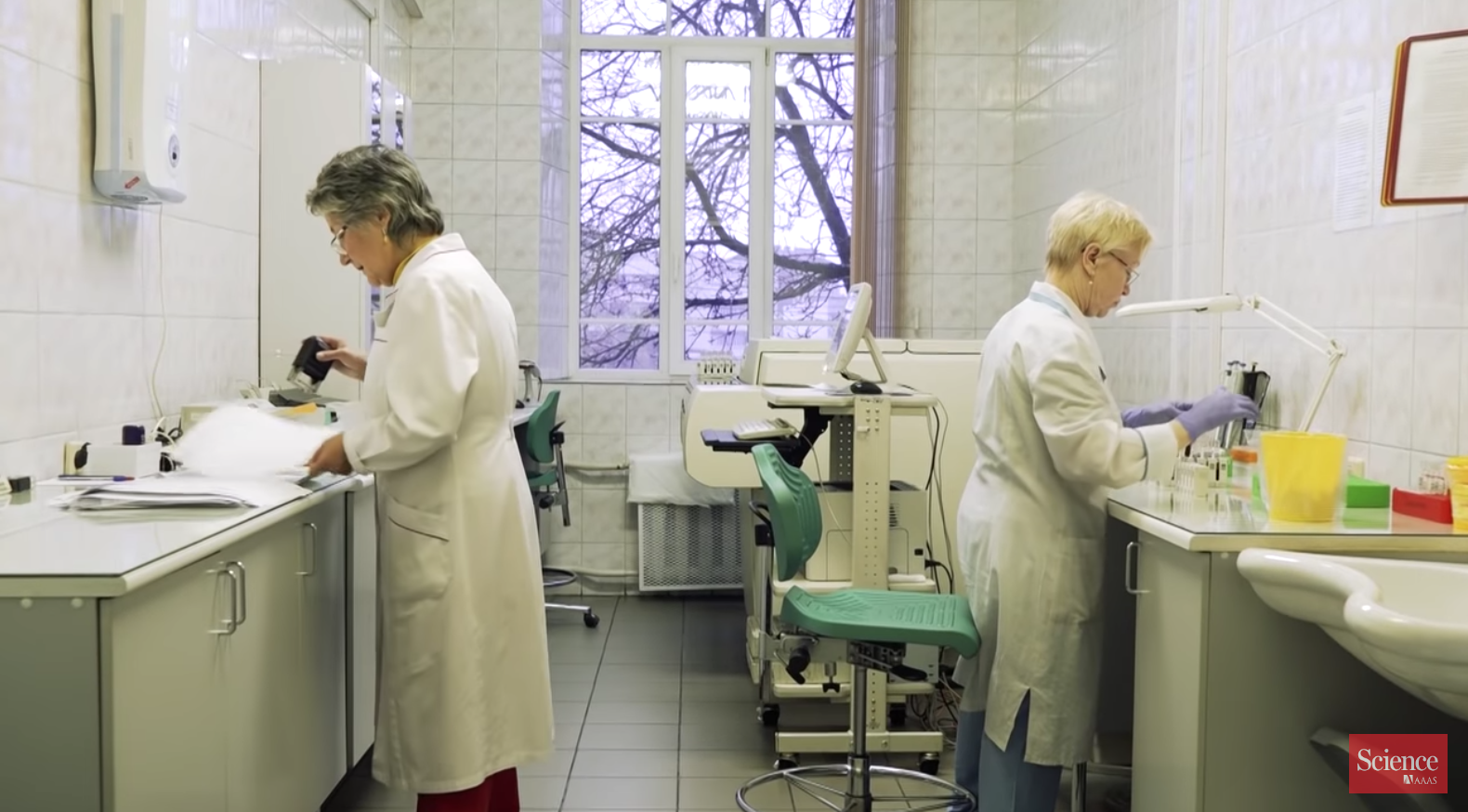 Five of the main metrics that public health experts track to gauge progress against HIV are: How...
RELATED ISSUES