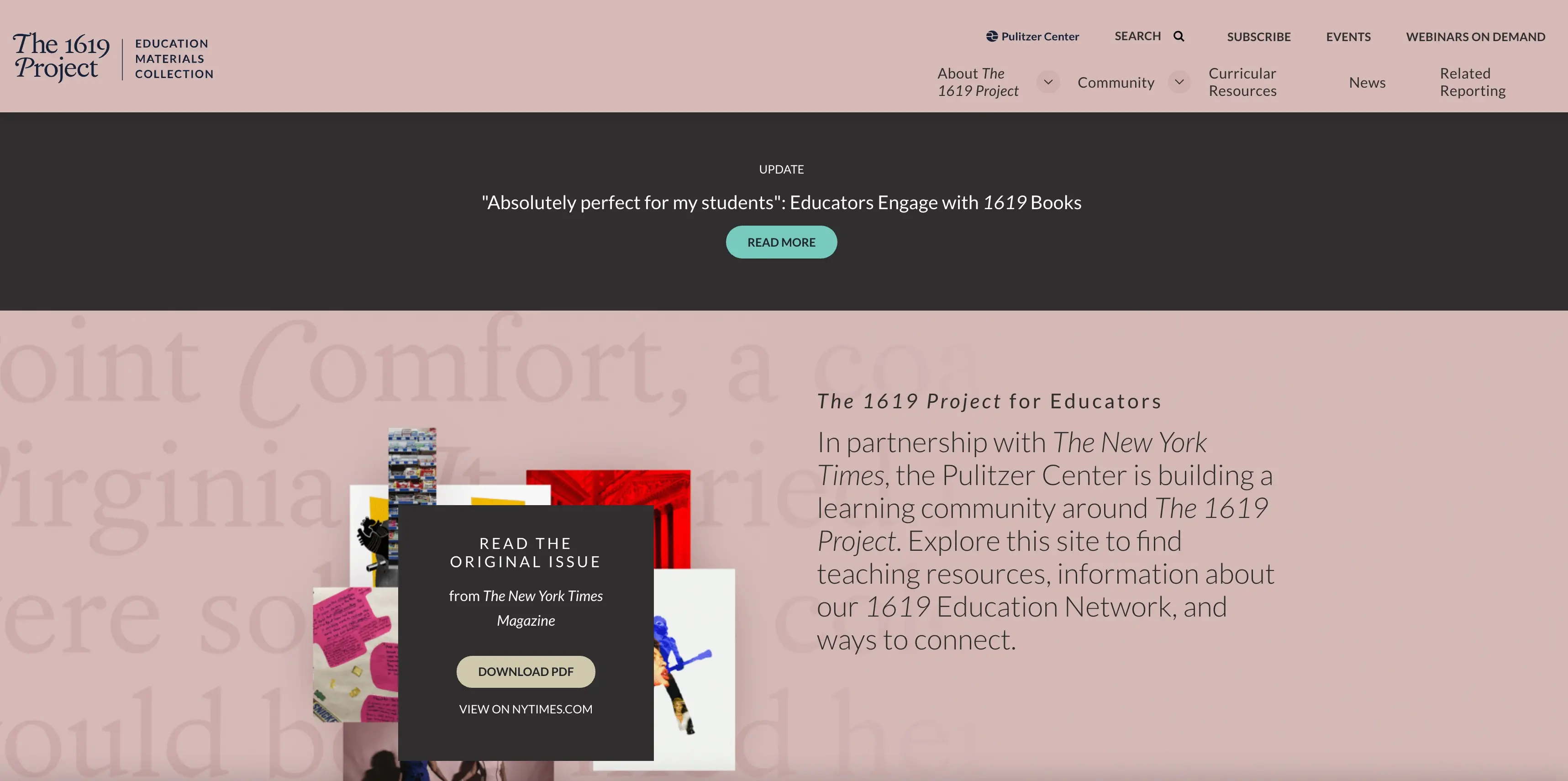 New Web Portal Focusing on 1619 Showcases Honest Classroom Engagement
"The 1619 Project book has helped me reshape, rethink and reframe how I teach African American history," Abigail Henry says. "I have been teaching African American history for 10 years, and I feel like it's finally this year that I'm teaching in a way that meets the needs and demands of my students."
Henry is a former architect who teaches African American history at the high school level in Philadelphia. She was one of the educators who had the chance this fall to share with her students advance copies of The 1619 Project: A New Origin Story, the expanded book-length version of the landmark set of essays on the continuing impact of American slavery that was first published in The New York Times Magazine in August 2019.
What was it like, teaching the project that has attracted the interest of educators nationwide—while also prompting heated school board meetings and cable TV caricature and spilling over into political campaigns?
Henry's reflections and curricular approach are part of 1619education.org, the new web portal we launched on Tuesday in conjunction with the publication of A New Origin Story and Born on the Water, a children's book by lead 1619 writer Nikole Hannah-Jones and Renée Watson, illustrated by Nikkolas Smith.
On the web portal, you'll find dozens of new lesson plans and resources, some created by the 40-plus educator teams across the country that are part of our 1619 Education Network and some by primary and secondary school teachers and professors at graduate schools of education, all of whom received advance copies of the books this fall from Penguin Random House (PRH).
The range of approaches is remarkable, from art-themed projects like student-painted masks reflecting on roots and an exploration of how popular music today can be traced to the songs of enslaved people to a four-week unit at a middle school in North Carolina focused on the causes and consequences of the Civil War. Henry said one successful initiative in her Philadelphia charter school was an exercise dividing the class into two groups, one group reading an essay from A New Origin Story and the other a group of essays published on July 4 by the conservative journal National Review—and then debating the question as to which year was more important in American history, 1619 or 1776.
"The beautiful part about this debate is the conversation that happened after," Henry said. "Many of the students truly felt that 1776 was more important AND they still believed 1619 should not be banned from teaching in schools."
Of course, some states and districts are trying to ban The 1619 Project from classrooms. In my own view, attempts to curtail inquiry and discussion are wrong and usually fail. The materials on 1619education.org, and the reflections by teachers like Henry, are powerful reminders of just how important this discussion is.
"One of my biggest frustrations regarding any criticism of The 1619 Project is the framing of it," Henry said, with a focus on issues like white guilt or privilege instead of "celebrating how The 1619 Project provides a means for Black students to investigate the struggles and achievements of their ancestors after the arrival of enslaved Africans.
"My students are 99.9 percent Black, and through the past three weeks they have been asking some of the best history questions I have ever experienced," Henry said.
1619education.org includes links to dozens of reporting projects we've supported addressing racial justice, from mass incarceration and police accountability to the disproportionate effect of COVID-19 on minority communities. The most recent example: the project Wires and Fires. In the series, an investigation by the Milwaukee Journal Sentinel shows that the rates of suspected electrical fires in the city's poorest ZIP code, where residents are predominantly Black, are as much as 30 times higher than the rate in more affluent neighborhoods.
The web portal was created in partnership with designers and developers at Threespot and Inclind. They've been meeting weekly with our education and communications teams for months, giving this important work the elegant and accessible presentation it deserves. We're grateful to them, to our partners at PRH and The New York Times—and to the many journalists, educators, and students who welcome honest discussion about the issues and history that shape who we are today.

RELATED ISSUES