Project January 4, 2008
Coca Si, Cocaina No: Evo Morales' Coca Policy in Los Yungas, Bolivia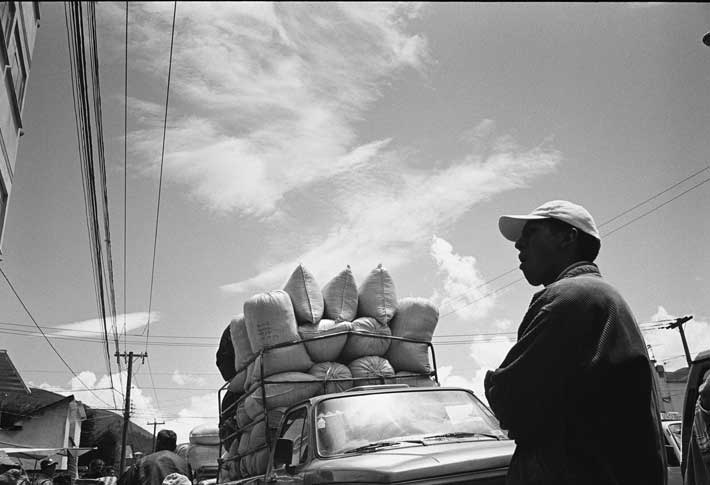 For the past two years, Bolivian President Evo Morales has shifted drug policy in Bolivia toward a program he calls "Coca Si, Cocaina No." Though the "zero cocaine" program continues to work against illegal cocaine production and trafficking, it also allows an increase in the cultivation of coca for legal purposes. Morales, a former coca grower himself, owes much of his political support to "cocaleros" — as coca farmers are known in Bolivia.

His controversial "Coca Yes, Cocaine No" program focuses on the industrialization of coca for products like tea, medicine and toothpaste, much of it with financial help from Morales' regional ally, Venezuelan president Hugo Chávez. According to Bolivia's Coca Industrialization Directorate, there are an estimated 50,000 coca growers in Los Yungas, who already support the effort to market coca legally.

On the other hand, Morales remains opposed to the unregulated and illegal growth of coca for cocaine production. He is encouraging growers to meet voluntary limits while continuing to cooperate with the United States government in stepping up efforts to stop cocaine traffickers. But U.S. law enforcement authorities remain skeptical of Morales' "Coca Yes, Cocaine No" program, arguing that any increase in coca cultivation will lead to an increase in cocaine production.
×

PART OF: Coca Si, Cocaina No: Evo Morales' Coca Policy in Los Yungas, Bolivia

January 18, 2009

×

PART OF: Coca Si, Cocaina No: Evo Morales' Coca Policy in Los Yungas, Bolivia

September 30, 2008

×

PART OF: Coca Si, Cocaina No: Evo Morales' Coca Policy in Los Yungas, Bolivia

May 30, 2008
RELATED ISSUES