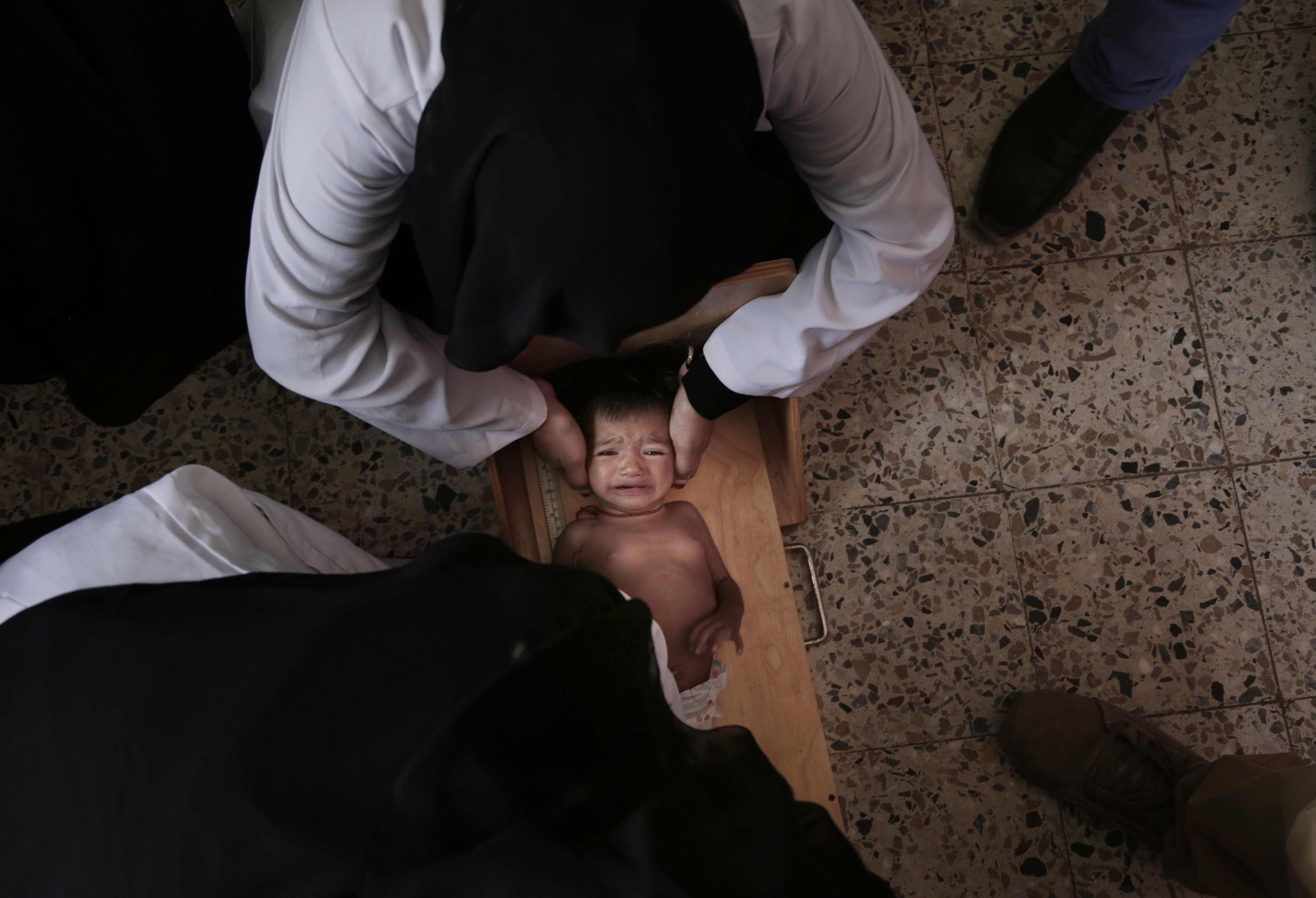 From November 9 - December 8, 2019, Pulitzer Center grantee Nariman El-Mofty's Pulitzer Prize-winning project will be exhibited at Dupont Underground in partnership with the 2019 World Press Photo Exhibition.
El-Mofty's project, "Jalila: Surviving War and Famine in Yemen," details the lives of Jalila and Hagar, a baby and mother that El-Mofty met while at a clinic in Hodeidah. Hagar is a mother of eight who skips meals to allow more food for her children but, rather than perpetuate the narrative of victimization, El-Mofty hopes her work humanizes the people she photographs. Originally exhibited at Photoville 2019, the photos are a powerful look into the lives of the ordinary Yemenis enduring famine and civil war.
El-Mofty is a photojournalist based in Cairo for the Associated Press. Recently, her team at the AP was honored with the 2019 Pulitzer Prize in International Reporting for their year-long coverage of conflict and crisis in Yemen. Their reporting was supported with a grant from the Pulitzer Center. Previously, El-Mofty won the Overseas Press Club Olivier Rebbot Award, also for her coverage of war in Yemen, and was a 2017 Magnum Foundation fellow. 
The powerful World Press Photo Exhibition represents the best visual journalism of the past year. Images explore a wide range of topics including everything from migration and press freedom to diplomacy and gender identity, from conflict to fashion and Paralympic sports to climate change. The exhibition will be on display at the Dupont Underground, a massive abandoned trolley station under Dupont Circle. It houses 21 projectors casting 13' images of the year's most important stories, a wall of large prints of WPP prize-winning photographs and a retrospective of over 60 years of Photos of the Year.
The exhibit is open daily from 11am-7pm (doors close at 6pm). Purchase tickets via Eventbrite or at the door, accessed on 19th St. between the Starbucks and the Dupont Hotel. 
Discounted admission: $10 (Students/teachers, journalists, active/former military, disabled persons, and seniors aged 65+)
General admission: $15
Children under 14 enter free (however should be accompanied by an adult, given the nature of the some images).
Visitors are welcome to revisit the exhibition multiple times at no extra cost.
There will also be an opening reception on Friday, November 8th, from 6:30-10pm. RSVP here. 
For more information on how to help the people of Yemen, please visit https://www.monareliefye.org/
RELATED ISSUES

Issue
Conflict and Peace Building
Conflict and Peace Building

Children and Youth