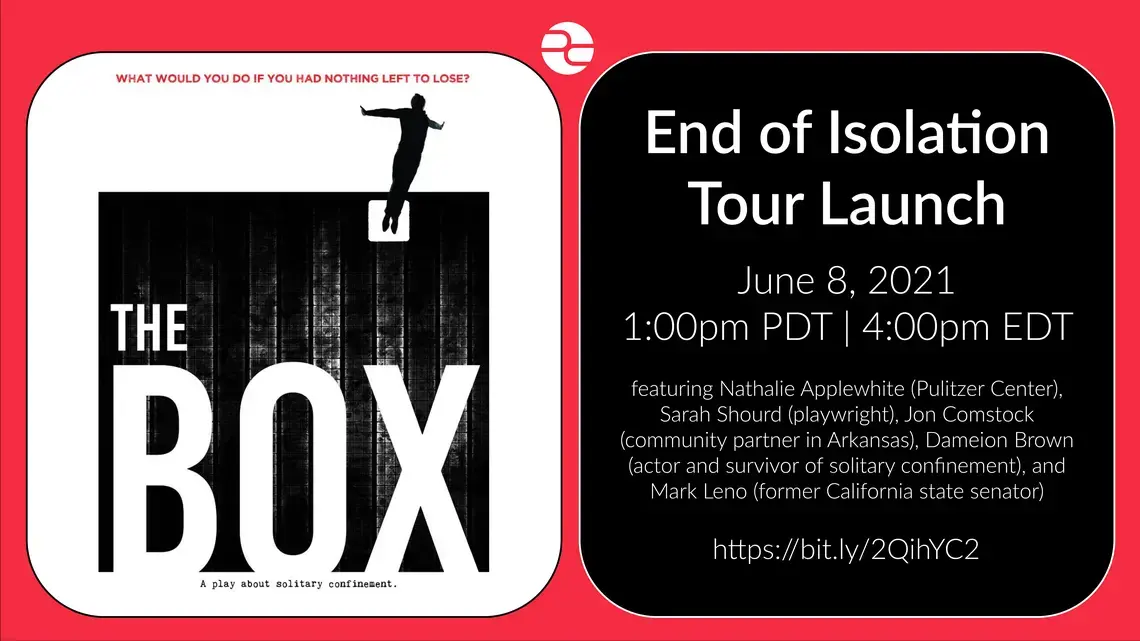 The pandemic has invited all of us into a space of deeper empathy and understanding of the harmful impacts of isolation and, by extension, prison. Join us and help launch the End of Isolation Tour 2021. Grantee Sarah Shourd and her team—with support from the Art for Justice Fund, the Pulitzer Center, and individual donors like you—are creating a national, pop-up tour of The BOX, a play written by Shourd, a survivor of solitary confinement.
On Tuesday, June 8, at 1:00pm PDT/4:00pm EDT, come learn more about our plans for the planned tour, which will include stops in New Orleans, Arkansas, St. Louis, and Detroit. The response to live performances of The BOX, as well as the online adaptation presented last fall in collaboration with the Pulitzer Center, has been overwhelming. The traveling version is updated to reflect on the shared experience of isolation by society at large as a result of the pandemic.
The tour will be organized in partnership with local campaigns across the country, with the goal of elevating, supporting, and maximizing their impact. Through theater, traveling visual art, and artistic ritual, our tour will create a space for collective healing. Each performance will be followed by a survivor-led healing circle focusing on imagining ways to address and repair harm in line with transformative justice.
At the launch event, you'll have an opportunity to support a vision for impact-driven scalable theater at an early stage and hear directly from The BOX cast members and creators.
"This tour will act like a booster shot that will infuse the community with energy for action," said Jon Comstock of DecARcerate Arkansas.
We'll hear from:
Nathalie Applewhite, Pulitzer Center
Sarah Shourd, playwright
Jon Comstock, community partner in Arkansas
Dameion Brown, actor and survivor of solitary confinement
Mark Leno, former California state senator
Please join us! We need your help and advice as we explore how we can bring this urgent and timely performance to the widest possible audience, in the cities planned thus far and beyond.
To give toward the tour, please click here, and list "End of Isolation Tour" under "Additional Info" at the bottom of the page. Any level of support is appreciated!
RELATED ISSUES