Event
Ask Me Anything: AI Accountability Fellowships and Digital Witness Fellowship
Event Date:
June 2, 2023 | 9:00 AM EDT TO 9:45 AM EDT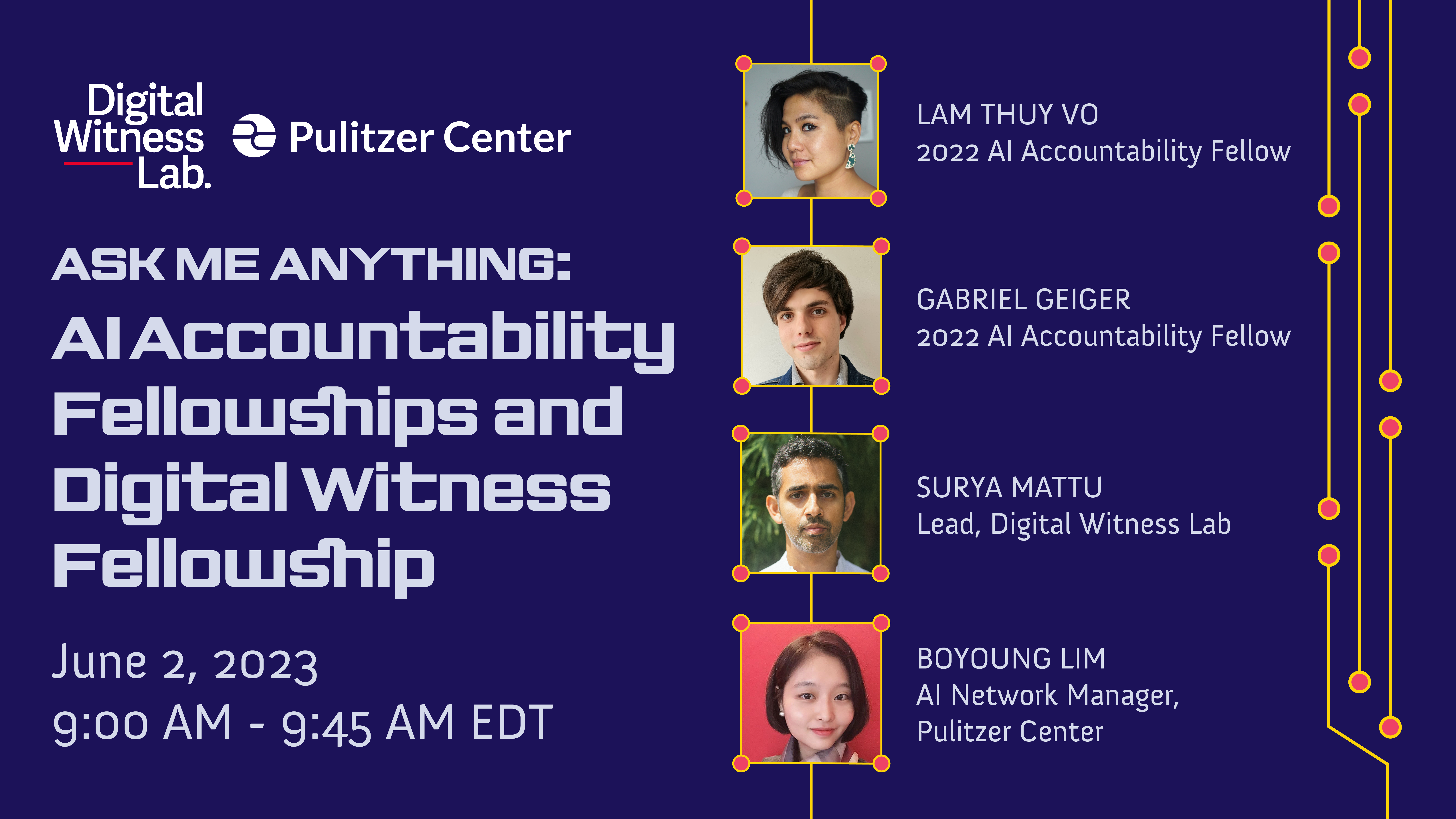 Click here to see the start time in your time zone
Are you looking for support to work on in-depth AI accountability stories? Would you like to join a global community of peers in a ten-month fellowship that includes financial support for your reporting project, mentorship, and training opportunities?
That is what we are offering with our AI Accountability Fellowships. The Fellowship is part of the Pulitzer Center's AI Accountability Network. The Pulitzer Center is recruiting six to eight journalists from anywhere in the world to report on the impacts of algorithms and automated systems in their communities.
While we welcome projects on a broad range of issues related to the impact of AI in society, this year we are also placing special emphasis on certain topics. We are seeking to support at least one project that examines the intersection of AI and conflict, war, and peace. In partnership with Digital Witness Lab at Princeton University, we are also recruiting one project that focuses on the role the messaging platform WhatsApp plays in influencing public discourse in a particular community.
Join us on June 2, 2023, to learn more about the AI Accountability Fellowships and the Digital Witness Fellowship. At this virtual meeting, Pulitzer Center editors and Surya Mattu from the Digital Witness Lab will discuss the details of the current call for proposals. Two of our inaugural AI Accountability Fellows will join us to share their experiences and tips.
During the meeting, you can ask us about the application process, get tips on how to make your applications stand out, and learn what we are looking for in future Fellows. Make sure to check our Frequently Asked Questions here before joining us. Hope to see you there!
RELATED INITIATIVES