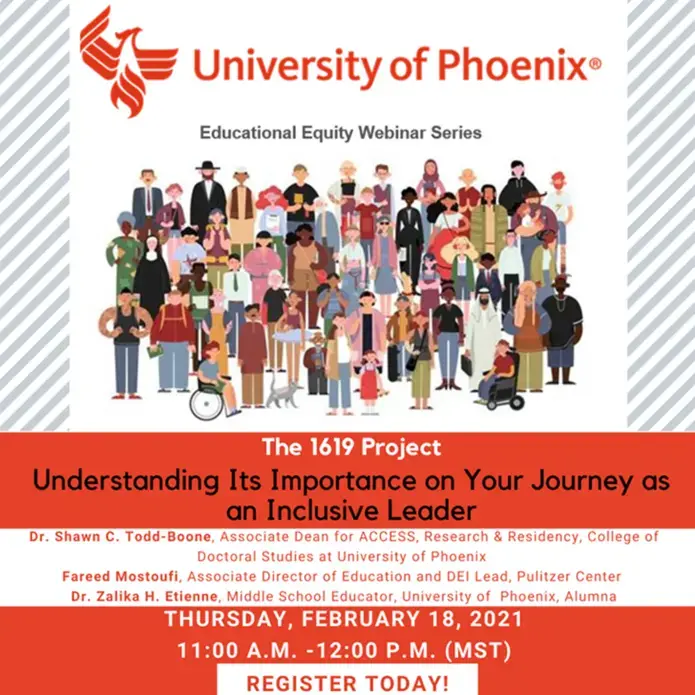 Join the Pulitzer Center and the University of Phoenix on Thursday, February 18, 2021 at 12:00 pm MST for "The 1619 Project: Understanding Its Importance On Your Journey As An Inclusive Leader."
In this session, participants will explore the legacy of slavery in America, and the impact of Negro Work Songs and Negro Spirituals on Hip Hop and modern-day story-telling. Institutional leaders will be able to leverage Black music history in education, and corporate leaders will be able to take away critical topics related to diversity and inclusion within their organizations.
Panelists include:
Dr. Shawn C. Todd-Boone, Associate Dean for ACCESS, Research & Residency, College of Doctoral Studies at University of Phoenix
Fareed Mostoufi, Associate Director of Education and DEI Lead, Pulitzer Center
Dr. Zalika H. Etienne, Middle School Educator, University of Phoenix, Alumna
To review the Pulitzer Center's 1619 Project curriculum, click here.
We also invite educators, administrators, content specialists, and curriculum supervisors for K-12 schools and school districts to apply for the inaugural cohort of The 1619 Project Education Network. Educators and administrators working with adults and youth in jails, prisons, or youth detention facilities are also encouraged to apply.
As part of this paid, virtual program, a cohort of 40 education professionals will receive grants of $5,000 each to support exploration of key questions of racial justice and other pressing issues in a community that also includes award-winning journalists and the Pulitzer Center education team.
RELATED ISSUES