This unit was created by Stephanie Tsakeris, an 8th grade Social Studies teacher at Dr. Jorge Prieto Math and Science Academy in Chicago Illinois, as part of the 2022-2023 Pulitzer Center Teacher Fellowship program. It is designed for facilitation across approximately 15–20 60-minute lessons. For more units created by Pulitzer Center Teacher Fellows in this cohort, click here.
Objectives:
Students will…
Determine the difference between breaking news and underreported stories
Investigate and analyze the Native American experience from the past and present
Design and execute a podcast that tells an untold story from their life or community
Unit Overview:
"Our stories may not individually change the world (although some do). But putting what happened on the record to be reckoned with, built on and maybe used later to spark change—that's more than a job. It's holding up a mirror to the society we live in and contrasting it with the kind of society in which we want to live." 

-Khadija Sharife
This unit takes students on a journey that investigates the power journalism has to change the world through the lens of the Native American experience. Students will begin by building their knowledge of Native American history in order to make connections to the current issues related to the underreported stories regarding the lack of reform in tribal jails. These stories will be analyzed using the following questions:
What's not right and for who?
What voices are missing?
Are the proposed solutions to problems working and for who?
What impact does this story have on you? the world?
What does this story reflect about society? In what way is it a mirror to society?
Why does the world need to hear this story?
Once students have had an opportunity to investigate the Native American experience and how this experience reflects society in the past and present, they will begin the process of planning their own investigative reporting that focuses on an underreported story related to their life and/or community. Students will learn different journalistic styles and techniques in order to share their stories in the form of a podcast. Their podcasts will focus on answering one or all of the following:
What story do you know of that the world needs to hear?
What are the untold stories in your family,  neighborhood, or community?
How do your stories act as a mirror for society? What does it reflect?
Preparing to Teach This Unit:
Before launching this unit, it would be helpful for students to engage in media literacy lessons that cover some or all of the following topics: 
What is the news? 
How do you stay informed and why should you care to?
Where do you  get your news from? Is it reliable? How do you know?
What is bias? How can you use the Interactive Media Bias Chart from 3 Ad Fontes Media, Inc. to make informed decisions about the news?
How do different news sources look and sound different when reporting on the same news story?
Before introducing the podcast project, determine where students will share their podcasts. My class uploaded their podcasts to a class website. Consider what platform you'd like to prepare to share and present these podcasts.
Fifteen-lesson unit plan for teachers, including pacing, texts and multimedia resources, performance task, and rubric for the unit.
Unit Resources:
Native American History
Teaching American Indian History with Primary Sources by Dan Eshet, Salem State University, 2020

"Trail of Tears" from We Shall Remain, PBS Learning Media (5:24)

LIFE LAKOTA: The Cheyenne River Reservation, VATIV (15:15)
Reporting
"A National Disgrace': Years After Promised Reforms, People Keep Dying At Federal Tribal Jails" by Nate Heygi from Promised Justice for Boise State Public Radio

"Indian Affairs Promised To Reform Tribal Jails. We Found Death, Neglect And Disrepair" by Nate Hegyi from Promised Justice for NPR 

"NPR Investigation Reveals Misconduct, Negligence Against Inmates In Tribal Jails" by Nate Hegyi from Promised Justice for WBUR

"A Mother's Death In Tribal Jail Highlights Need For Medical Care On-Site" by Nate Hegyi from Promised Justice for Boise State Public Radio

"Carlos Yazzie Needed A Hospital. Instead, He Ended Up Dead In A Tribal Jail" by Nate Hegyi from Promised Justice for Wyoming Public Radio

"'The Crumbs': Federal Neglect Leaves Tribal Jails In Disrepair—If They're Open At All" by Savannah Maher from Promised Justice for Boise State Public Radio
Podcast Resources
What are Underreported Stories? from the Pulitzer Center (3:26)

A Day in the Life of an Anxious High Schooler by CeCe Benz, SoundCloud (4:30) See educator note on this resource below

Depression Memes and Me: Why I stopped looking at Depression Memes by Zuheera Ali, SoundCloud (3:57)  See educator note on this resource below

"Our Fifth Annual Student Podcast Contest," The New York Times Learning Network

"Making a Podcast That Matters: A Guide With Examples From 23 Students," The New York Times Learning Network

"Project Audio: Teaching Students How to Produce Their Own Podcasts," The New York Times Learning Network

Sound Trap

Important educator note about podcasts off of SoundCloud: Preview the comments listed under the podcast before you share the link with students. SoundCloud has some challenges moderating comments that may be harmful. You may want to offer an alternative and/or upload the podcast to a separate platform so students do not have to visit the site.
Common Core Standards:
RI.8.1 Cite the textual evidence that most strongly supports an analysis of what the text says explicitly as well as inferences drawn from the text.
RI.8.2 Determine a central idea of a text and analyze its development over the course of the text, including its relationship to supporting ideas; provide an objective summary of the text.
RI.8.3 Analyze how a text makes connections among and distinctions between individuals, ideas, or events (e.g., through comparisons, analogies, or categories).
RI.8.6  Determine an author's point of view or purpose in a text and analyze how the author acknowledges and responds to conflicting evidence or viewpoints.
W.8.4 Produce clear and coherent writing in which the development, organization, and style are appropriate to task, purpose, and audience.
 W.8.5 With some guidance and support from peers and adults, develop and strengthen writing as needed by planning, revising, editing, rewriting, or trying a new approach, focusing on how well purpose and audience have been addressed.
 W.8.6 Use technology, including the Internet, to produce and publish writing and present the relationships between information and ideas efficiently as well as to interact and collaborate with others.
W.8.7 Conduct short research projects to answer a question (including a self-generated question), drawing on several sources and generating additional related, focused questions that allow for multiple avenues of exploration. 
W.8.8 Gather relevant information from multiple print and digital sources, using search terms effectively; assess the credibility and accuracy of each source; and quote or paraphrase the data and conclusions of others while avoiding plagiarism and following a standard format for citation.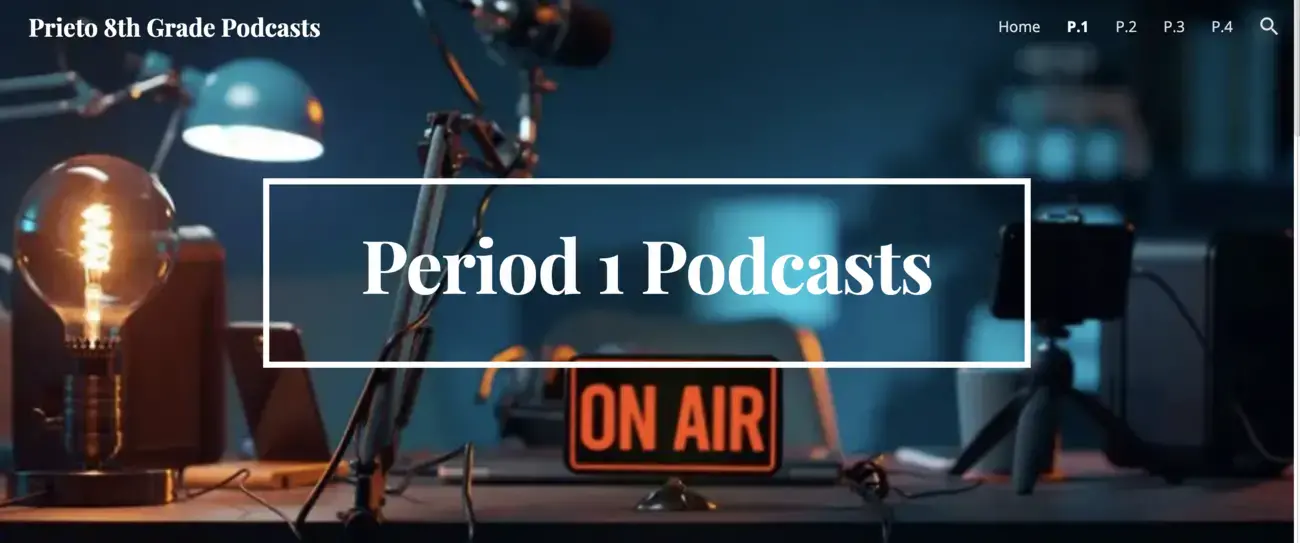 Students create podcasts that capture an untold or underreported story from their own lives and lived experiences. Podcasts focus on addressing one of the following essential questions:
What story do you know of that the world needs to hear?
What are the untold stories in your family, neighborhood or community?
How do your stories act as a mirror for society? What does it reflect?
Visit Prieto 8th Grade Podcasts to listen to any of the 43 underreported stories. Topics include but are not limited to:
Immigration
Homelessness
Small businesses
Inflation
Mental Health
Gun Violence
Police Brutality
"I was inspired to speak about this topic because my brother had an experience with police brutality like many other people I know and heard of. I personally don't feel like it's talked about enough, and how serious it is. And with this podcast I hope to make even a small bit of change."

Thaly, Police Brutality Issues
REPORTING FEATURED IN THIS LESSON PLAN
RELATED ISSUES