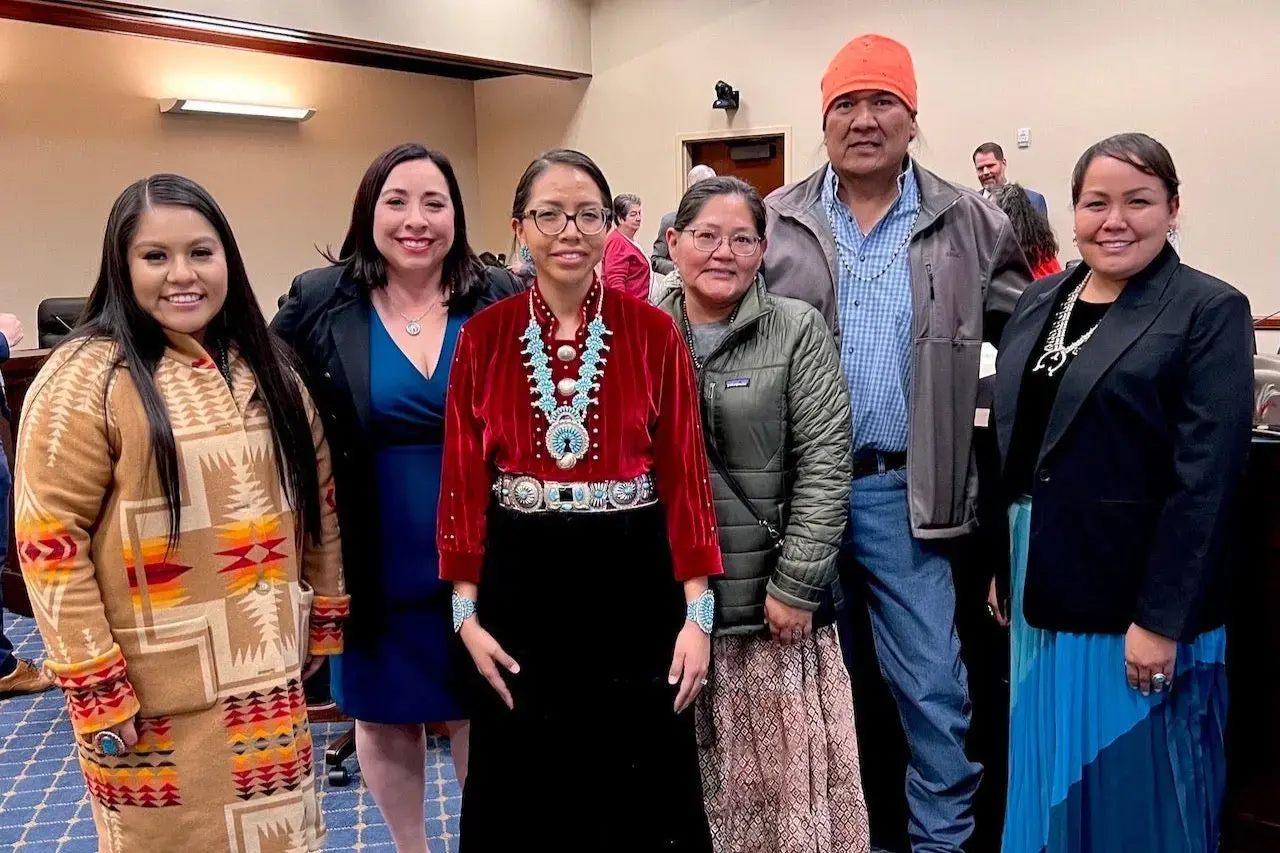 Women Changemakers in South Korea, Berlin, and the Navajo Nation
"We have to be there to support one another, especially in a male-dominated policy realm," said Crystalyne Curley, speaker of the Navajo Nation Council. "We are making history at the same time, but […] At the end of the day, we are still mothers and sisters and we have that common shared value of protecting and serving our people."
Looking back on Women's History Month, we at the Pulitzer Center are celebrating the work of women journalists and stories on underrepresented gender equality issues.
As part of the project Democracy on the Ballot: Arizona's 2022 Midterm, grantee Arlyssa Becenti wrote about women's historic gains in the 2022 Navajo Nation elections. Although Navajo women face obstacles in campaigning, the tribal council elected its first female speaker. In addition, nine out of 24 council members are women. Their election not only means equal representation, it also opens the door for the council to tackle new policy issues, Becenti reports.
On the other side of the globe, South Korean women are rejecting traditional gender roles, reports grantee Anna Sussman. The 4B movement challenges Korean patriarchal society through four Korean concepts that start with "bi-," or "no:" the refusal of heterosexual marriage, childbirth, dating, and heterosexual sexual relations. This fervent rebuff of societal norms comes in response to serious issues including harsh beauty standards, hierarchical familial structures, and under-prosecuted cases of femicide, revenge porn, and dating violence. While a drop in marriages jeopardizes Korea's fertility rate, it may draw attention to a wider sentiment among Korean women.
Meanwhile, women in Berlin are questioning the very blueprint of the city. In Beyond the U-Bahn: Gendered Mobility in Berlin, 2022 Gender Equality Reporting Fellow Laura Goodfield digs deep into Berlin's urban design. Goodfield investigates how transportation can be a gendered issue: Women in Germany use public transit more because they are disproportionately responsible for unpaid care work and errands, but the city is built to prioritize cars. One possible solution is Volksentscheid Berlin Autofrei, or "Car-Free Referendum Berlin," which proposes a car-free zone in the city center to make public transit the primary mode of transport for all, not only for women and caretakers.
These Pulitzer Center-supported stories and more demonstrate that women's rights have come a long way, but still have a long way to go. Our Education and Outreach programs are also working to amplify gender equality issues. Check out our list of featured journalists for virtual classroom visits.
In honor of women's contributions, this month and every month,

---
Impact
Pulitzer Center grantee Alessandro Cinque has won a World Press Photo regional award for his project, Alpaqueros. Cinque's reporting uncovered the challenges faced by alpaca farmers in Peru who struggle to support their lifestyles in the face of climate change.
Several Pulitzer Center grantees have been long-listed for One World Media awards for their work in 2022. Among those who have been celebrated are Rainforest Investigations Network (RIN) and AI Accountability Network fellows Hyury Potter and Varsha Bansal. Potter's project, The Big Green Laundromat, uncovered organized crime in the Amazon rainforest and was nominated in the Environmental Impact category. Grantee Ankur Paliwal's project Dirty Coal and Land Rights of Indigenous People in India was also long-listed in this category.
AI Accountability Network Fellow Varsha Bansal's project, India's Gig Workers and Algorithms, was also nominated. Bansal is a member of the Pulitzer Center's first AI Accountability cohort and has been nominated for One World Media's International Journalist of the Year award. In the Digital Media category, grantee Jeff Tollefson's project, Protecting the Amazon's Isolated Tribes, was long-listed. In the Print Media category, post-grad Reporting Fellow Damilola Banjo's story, "In Lockdown With Their Rapists," was long-listed. In the Popular Features category, grantee Thomas Heaton's project, WWII: Collateral Damage, 80 Years On, was also long-listed.
---
This message first appeared in the March 31, 2023, edition of the Pulitzer Center's weekly newsletter. Subscribe today.
Click here to read the full newsletter.
RELATED ISSUES