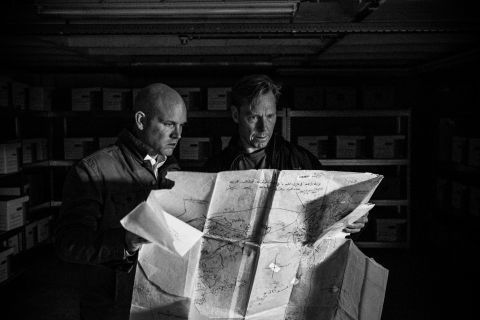 TORTURE AND TORMENT IN SYRIA

In an important and deeply disturbing report for The New Yorker, Pulitzer Center grantee Ben Taub tells the story of a secretive organization called the Commission for International Justice and Accountability that has spent the last four years painstakingly documenting war crimes and other atrocities perpetrated by the Syrian government.

Ben is a stellar young journalist who produced his first piece for The New Yorker the same day he graduated from Columbia Journalism School last year. As a new round of peace talks gets underway in Geneva this week, his story gives voice to some of the torture victims, and stands as a powerful indictment of the international community's wholly inadequate response to the crisis in Syria.

KENYA'S WAR ON AL SHABAAB

Kenya is supposed to be one of the bulwarks of stability in Africa and a key U.S. ally in the fight against Islamic radicalism in the region, but as Pulitzer Center grantees Nick Schifrin and Zach Fannin report in their three-part series for the PBS NewsHour, Kenya's war on the Somalia-based terror group Al Shabaab may be creating a new enemy.

A heavy-handed security crackdown in northeastern Kenya, home to many ethnic Somalis, has created mistrust and hostility. Rampant corruption along with a chronic lack of infrastructure and opportunity has made these borderlands a fertile recruiting ground for Al Shabaab extremists. "Until Kenya stops breeding its own enemies, the country will remain divided and Al Shabaab will continue to exploit these differences to wage war," says Nick.

If you are a teacher, and you would like to use the NewsHour's reporting in your classroom, click here for a lesson designed by our education team. Or you can use the Lesson Builder to design your own, drawing from our growing archive of reporting from Africa. It's easy to use—and it's free.

PANAMA PAPERS, CONTINUED

Last week, we highlighted the work of Pulitzer Center grantee Carrie Ching, who created a video animation for the International Consortium of Investigative Journalists' ground-breaking probe into a shadowy Panamanian law firm that enabled politicians, business leaders, celebrities and others to hide billions in assets from tax authorities.

The investigation, triggered by the leak of some 11.5 million documents, has already resulted in the resignation of one head of state. As it continues to gather momentum and media attention, another one of our grantees, Uri Blau, gives Nieman Reports an insider's peek on how this massively complex investigative project took shape.

CELEBRATING OUR TENTH: VIDEO HIGHLIGHTS

Last week we marked our first decade with the announcement of a $12 million endowment challenge grant from Emily Rauh Pulitzer and a $1 million contribution toward that challenge
from Katherine Moore. A dinner in New York featured talks by Judy Woodruff of PBS NewsHour, Kathy Im of the John D. and Catherine T. MacArthur Foundation, and our journalist grantee Jason Motlagh. A short highlights video captures a memorable night.

On the following night we did a joint presentation with the Pulitzer Prizes Centennial that featured talks by Pulitzer Prizes Administrator Mike Pride, Jon Sawyer of the Pulitzer Center, and three two-time Pulitzer Prize winners now associated with the Pulitzer Center: Paul Salopek, Larry C. Price, and David Rohde. The talks tell a powerful story of what the Pulitzer Prizes mean—and what it means to live the Pulitzer legacy.

Until next week,

Tom Hundley
Senior Editor
RELATED ISSUES