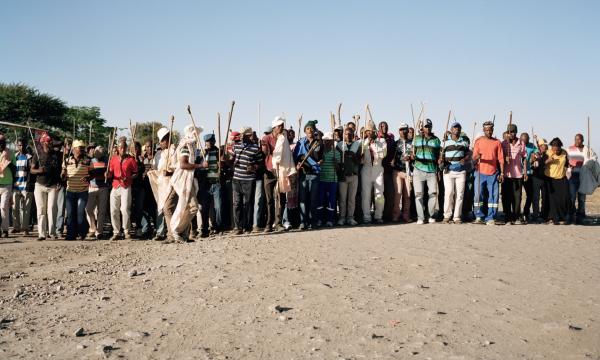 BENEATH THE SURFACE IN SOUTH AFRICA

Last week marked the second anniversary of the Marikana massacre, a dark moment in South Africa's post-apartheid history when security forces shot and killed 34 striking mineworkers. The world was shocked by the brutality of the incident, but according to Pulitzer Center grantee Jack Shenker, it was not an isolated event.

"Throughout history, South Africa's mines have been the incubators of every major shift in the country's political and social development: The modern state was founded on its mineral wealth beneath the soil, the apartheid system grew out of pass law regulations designed to maximize profits for mine owners, and the resistance struggle that eventually overthrew apartheid was born and stoked in the furnaces of gold, diamond and platinum concessions dotted throughout the land," says Jack.

In a penetrating feature story for The Guardian's weekend magazine, Jack and photographer Jason Larkin revisit Marikana and find that the fault lines dividing Africa's richest economy have continued to deepen. "This region is once again in the eye of a storm which commingles wealth, power and an extraordinary battle for change from below – the outcome of which could not only reshape South Africa, but echo much further afield as well."

BOOTS ON THE GROUND IN IRAQ

As U.S. airstrikes attempt to hold Sunni extremists at bay in an increasingly fractured Iraq, it appears that the Kurds and their peshmerga militia are the Obama administration's only reliable allies in the region. "But Kurds are not a monolithic group with a single ambition, and the peshmerga have not always represented a unified Kurdistan," writes Pulitzer Center grantee Jenna Krajeski in her latest dispatch for The New Republic.

Jenna has been using a series of Pulitzer Center grants to report on the Kurds for nearly three years. During this time she has emerged as one of the authoritative voices on this complex and important story, contributing work to The New Yorker, The Nation, Foreign Policy and many others.

"Since 2003, when Iraqi Kurdistan was deemed the 'success story' of the war, the region has been propped up as an example of the U.S.'s good intentions by those trying to rationalize military force, particularly conservative American policy makers," writes Jenna. "But progress has come alongside reports of rampant corruption, a widening gap between the rich and poor, and increasingly authoritarian tendencies in a government still dominated by family names."

REFUGEES SAVING EACH OTHER

The flood of refugees created by civil war in Syria has overwhelmed the resources of cash-strapped aid agencies. In Lebanon alone, a poor country of 4 million, there are already 1.5 million Syrian refugees, with more on the way. This means the refugees must fend for themselves in a host country that views them with increasing hostility.

Pulitzer Center grantee Alice Su, writing for VICE News, tells the story of a resourceful group of Syrian refugees who raise money via social media from private donors for fellow refugees without access to UN or NGO aid. Most of their donors are Syrian expatriates in Europe, America, and the Gulf. The cash they've collected has paid for everything from basic school supplies to at least one open heart surgery.
RELATED ISSUES