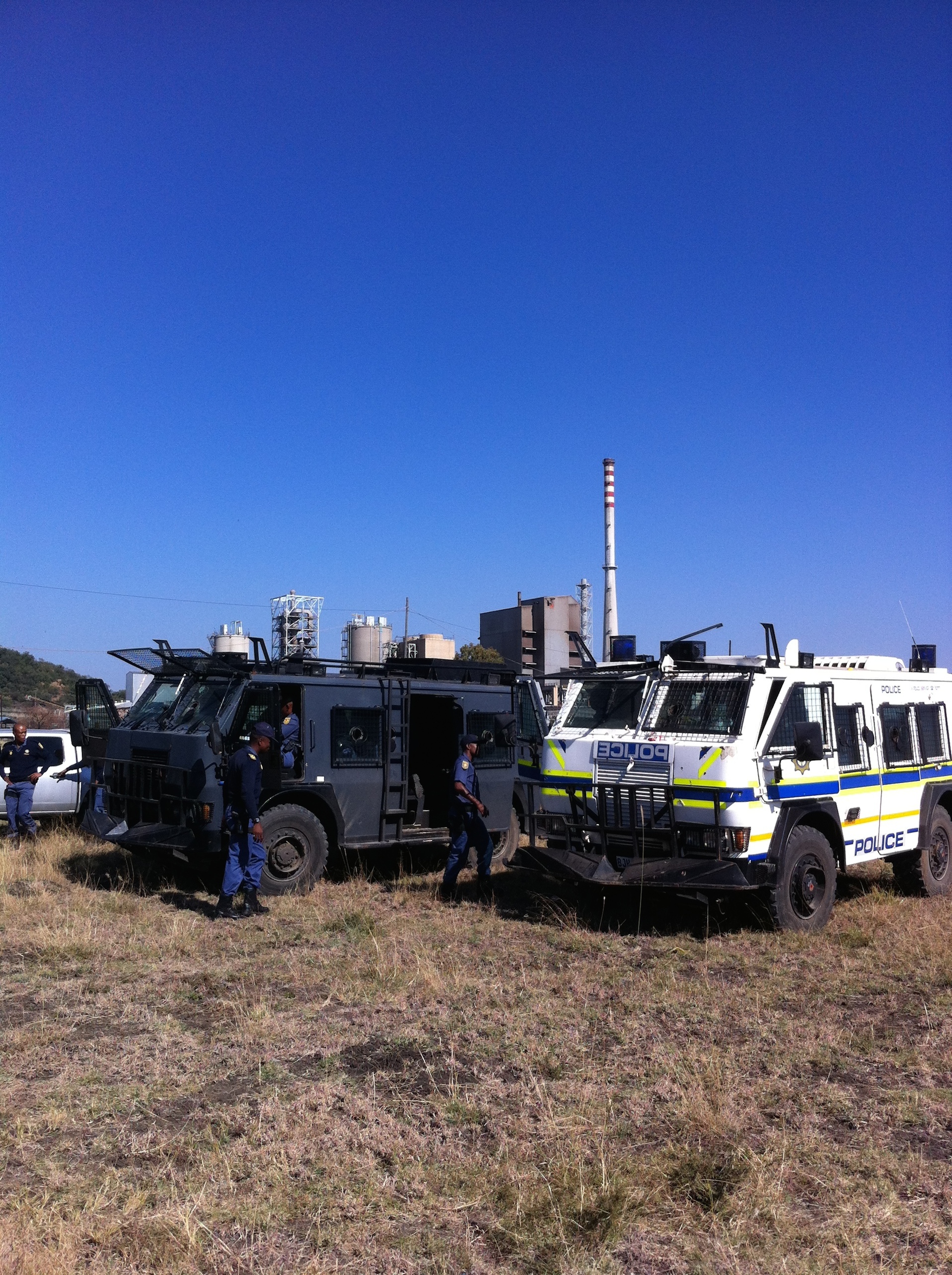 MARIKANA, South Africa — Like every other day in Marikana, strike-break day opened with music. In the early hours of the morning in Nkaneng settlement, which lies just to the north of Lonmin platinum mine, a few shacks always start humming with the arrival of the sun: sometimes it's calypso, sometimes maskandi (a type of Zulu folk song), sometimes R&B. Today, though, the volume levels were kept lower, tighter. There was something about the air that made you want to crouch and stiffen, and even the first-light melodies seemed nervous as they met it.

Four months into the largest, longest work stoppage in South African history, this was the day when it was all supposed to end. Fresh lengths of razor wire had been unrolled in the night, studding the mine entrance with metal plaits; each was illuminated by a pair of giant floodlights also wheeled in for the occasion, and each cast a tiny, twisted shadow on the road below. For many in Marikana, the visual parallels were disturbing. "The massacre always stayed in my mind," said Bhele Dlunga, a Lonmin miner and strike leader who survived an infamous police shooting spree during a similar strike two years previously. "I find it very difficult… And now the memories are coming back more often."

There was no shortage of trigger-points for Bhele's memories on this mid-May morning. Echoes of the recent past were everywhere: bouncing off police trucks that congregated in the scrubland north of the railway line, swirling around the knobkerries that small groups of miners thrust rhythmically into the air while toyi-toying around Wonderkop stadium, punctuating every public order warning issued by grave-faced government officials on TV. Police minister Nathi Mthethwa raised the specter of violence and anarchy and promised a zero-tolerance approach to troublemakers. "A firm warning has been given to all those who will attempt to take the law into their own hands by intimidating those who are going to work," he announced. "There has been intimidation, damage to property and other lives lost."

Lives had been lost. In the run-up to strike-break day, several were killed on both sides of an intra-union conflict – though the most deadly incident this region has ever seen in modern times remains, by some margin, the one perpetrated by police themselves. The self-organization of workers in their struggle for a basic wage of R12,500 appeared, by and large, anything but anarchic; what splits there were in the Marikana community could largely be traced back to an aggressive lobbying campaign by Lonmin itself. The company had spent the previous weeks trying to bypass formal union structures and sending out text messages directly to employees urging them to return to work. In 2012, when most miners were members of the National Union of Mineworkers (NUM) and decided to take wildcat industrial action because they felt their labor leaders had grown too close to the political and business establishment, Lonmin executives cynically refused to engage with them – citing respect for the "recognized" union.

This time around, with most miners now members of the rival Association Mineworkers and Construction Union (AMCU), which was leading the strike, Lonmin's respect for the "recognized" union seemed to have vanished; instead they went over AMCU's heads and fought to drive a wedge between workers in an effort to bring the strike to an early end.

"Political violence comes from a rivalry that is being engineered by the companies themselves," argued Chris Molebatsi, a local community activist. "People are starting to open their eyes to what is happening … I get disgusted by all this. No one should profit at the expense of life."

To a number of Marikana residents I spoke with, the shared public narrative of big capital, big government and the NUM regarding the strike revealed a toxic collusion of money and power in contemporary South Africa, one that was arrayed relentlessly against workers' interests. "[President Jacob] Zuma stands on the other side of that fence," insisted Nophelo Makaula, a mine employee's wife, pointing to the Lonmin plant perimeter as she collected scrubland kindling for fuel.

Ultimately the strike-break attempt was a dismal failure for the platinum houses; worker solidarity stayed firm, the numbers who reported for work were minuscule, and the battle for a living wage – and, arguably, a more equitable South Africa – continues. But you wouldn't know it from the news bulletins that evening, which largely parroted Mthethwa's "dangerous criminals' discourse" and ignored the workers' victory. Despite the dramatic ramping up of security force visibility around the mine throughout the day, there were few incidents of violence after all. Late that evening though, after darkness had fallen, columns of smoke twisted over the horizon as protests flared in the nearby conurbations of Bapong and Mmaditlokwe.

The rubber bullets fired by police trying to disperse the crowds made cracking noises across the veld; these days the sound of such cracks is almost as familiar as the maskandi and calypso beats that greet the morning, all part of Marikana's rebellious musical tapestry. The mainstream media may be shutting its ears, but if strike-break day was anything to go by that music is only growing louder.
RELATED ISSUES