Editor's Note: this video contains sensitive content about discrimination and sexual assault.
"I really have to laud the Pulitzer Center for this [webinar]. It's not just the journalist that's getting to speak their piece, it's also the people we report on that get to be a part of this as well—and that completely [...] removes this power dynamic that exists between reporters and the people they report on. Thank you so much for this," panelist Vijayta Lalwani said during the webinar Respect Your Elders: Strengthening Intergenerational Queer Communities. Lalwani is author of the Center-supported "Long Shadows in the Sunset," an article published in queerbeat profiling elderly queer people in India.
An audience member reflected: "I enjoyed the inclusion of a collaborator from the journalists projects/work. This event taught me a lot about how to build trust and connect with BIPOC queer sources, and to nurture long-lasting connections."
The webinar discussion, moderated by Pulitzer Center Outreach Coordinator Ethan Widlansky, covered time, family structures, institutional exclusion, and storytelling.
There is a "lack of chrononormativity—our milestones are so different," Lalwani said. "We don't necessarily marry or have children. [...] There's so much trauma we have to overcome."
"It's very difficult [...] to find [legacy] in a patriarchal society," added panelist Maya Sharma, an author and queer activist from Gujarat, India.
Panelist Rajvi Desai, a 2023 Pulitzer Center Reporting Fellow from Columbia University School of Journalism and co-producer of Mother Wit, paraphrased Jules Gill-Peterson, an associate professor of history at Johns Hopkins University, speaking in the movie Framing Agnes: "The biggest lie we've been told as trans people is that visibility will be our emancipation."
Panelists also talked about changing attitudes.
"You can have 1,000 trans people in one room, but that doesn't mean that any one of us is the same. [...] We are still living among society in our own way," said Keasha Houston, a member of the Crown Heights queer community in Brooklyn, New York, and a collaborator on Mother Wit. "We're outside, we're taking the train, we're taking dogs for a walk, we have kids of our own, we are whole citizens. We are part of the neighborhood now."
"We're making families; we have families," Sharma added. "But sometimes the knock at the door is very frightening and it can sometimes tear us apart."
"There ain't no way I'm going to be living my life comfortably and let somebody take it away," Houston said defiantly. "I'm gonna fight for mine."
Te Shima Brennen, Desai's co-producer of Mother Wit and a 2023 Pulitzer Center Reporting Fellow from Columbia University's School of Journalism, spoke about finding their family.
"We don't have the same examples that white counterparts have. [...] Finding people to look up to as teachers feels like a piece of my soul that's been missing for a really long time," Brennen said. "This automatically wants to make you turn around and give [mentorship] to the next generation."
"There is a lot of weight put on queer and trans people to be patient and understanding and hope that the system in and of itself will do the right thing," Brennen said of education and health care systems. "And I feel like that's not necessarily the case all the time. And I think it does hinder some people from going into that system."
Educators and health professionals will implore patience. "You need to be gentle with me because it's my first time coming across someone like you," said Brennen, describing a position familiar to queer people in which they must explain their existence to people in power.
"As you get older, you tend to love yourself more," counseled Houston. "And you become who you are. You tend to move with a little bit more ease. I'm still here for a reason, and I'm still pretty, honey."
Finally, panelists discussed what it means to tell stories of queer aging and communities.
"Having someone talk to you, ask, wait, and [doing] [...]. It makes me feel good about myself. I was asked questions I had not asked myself. It was a [...] partnership," said Sharma.
"I don't think you can tell nuanced stories if you don't have that bridge of trust built because something beautiful comes out of that," said Brennen, "and it's really seen in the pieces that take time to build trust."
"It's a blessing," said Houston, "when people get to know you because you can tell them your whole story and not give them half of it."
"Just show up," urged Desai.
Resources: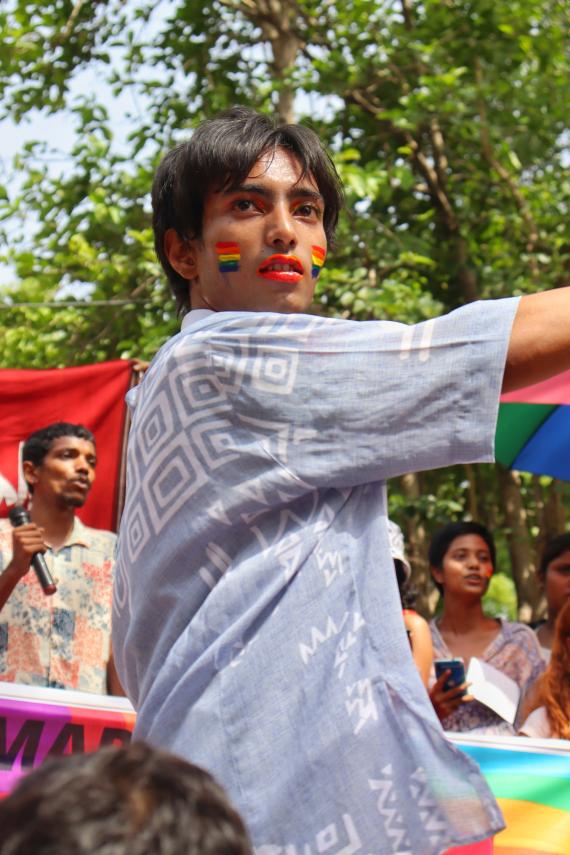 About 17% of India's population belongs to the LGBTQ+ community, but its members are unable to live...
RELATED ISSUES