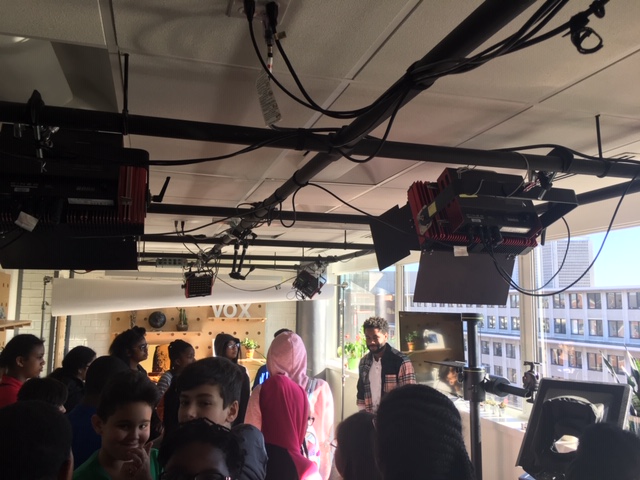 On Tuesday, December 18th, students from Creative Minds Public Charter School in Northeast Washington, D.C. traveled to Vox's Connecticut Avenue office to explore how explainer videos are reported and created. The visit, one of six student trips to Pulitzer Center media partners this school year, connected students with Vox staff and Pulitzer Center-sponsored reporting published by Vox to teach students how how visuals can be used by to engage and educate people on important issues.
Before the field trip, students met with  Senior Education Manager Fareed Mostoufi to explore the Pulitzer Center mission and analyze how an explainer video created by grantee Eli Kintisch for Vox uses film, dialogue, animation and editing to inform audiences.  The video, part of Kintisch's Center-supported series "THAW: Into the Deep, Dark Arctic," explores the effects of climate change in the Arctic. It also describes how warming temperatures in the Arctic are altering the behavior of the polar jet stream, a high-altitude river of air that drives weather patterns across the globe. Students reviewed the content of the film, evaluated how Kintisch used different kinds of visuals to explain the content, and ultimately developed questions for the editors and graphic designers that they would meet at Vox the next day.
"How long does it take to produce a story?" many students wondered.
"How does someone become a journalist?" others asked.



On their field trip, students were welcomed by health and science editor Eliza Barclay, who described how journalists engage different visual media to communicate diverse news stories in clear, engaging ways. "We're trying to give really good answers to the news," she began.
Office Coordinator Lindsey Botts then led students on a tour of the Vox offices and introduced them to technicians, human resources personnel, and reporters who cover sports, politics and pop culture.  Following the tour, students discussed visual storytelling with illustrator and designer Christina Animashaun. Following their discussion with Animashaun, students  connected with producer Carlos Waters, storyeditor Ellen Rolfes, and surprise guest Eli Kintisch to dive deeper into how reporters, editors and illustrators collaborate to create a successful explainer video. When asked how she decides on her stories, Rolfe said, "All you have to do is ask a question and explore it."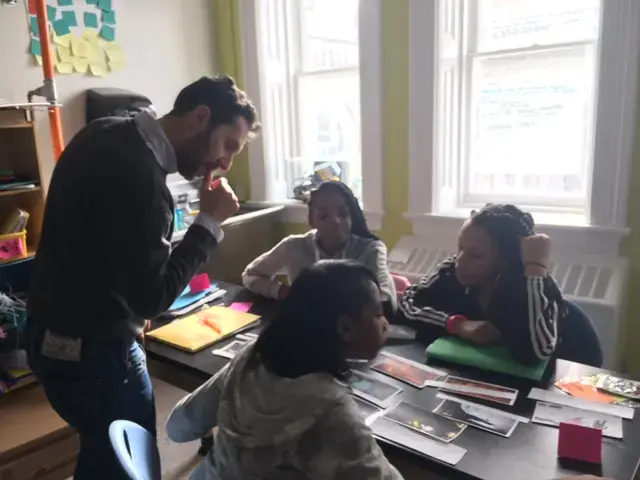 Eli Kintisch works with students from Creative Minds Public Charter School as they evaluate how images and audio narration work together in Kintisch's Vox story, 'How a Warmer Arctic Could Intensify Extreme Weather.' Image by Fareed Mostoufi. United States, 2018.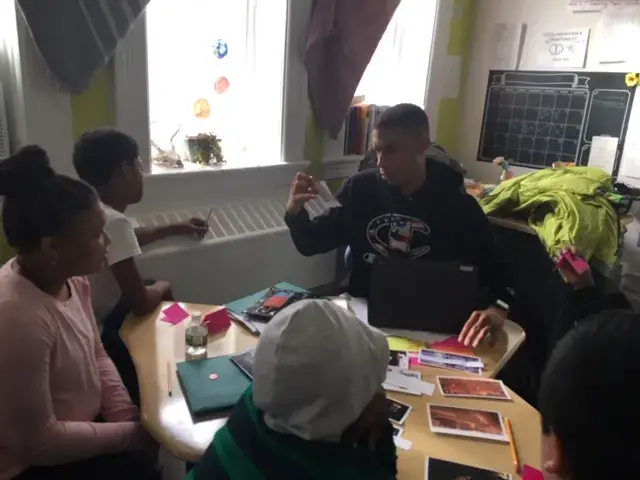 Students work with their teacher at Creative Minds Public Charter School to evaluate how images and audio work together in Eli Kintisch's reporting for Vox to explain the global impacts of rising temperatures in the Arctic. Image by Fareed Mostoufi. United States, 2018.


Kintisch and Mostoufi returned to Creative Minds after the field trip to guide students in applying the visual storytelling skills they learned at Vox to creating an outline of their own film about how their school differs from other schools in Washington, DC. They started by reviewing different types of visuals, and then worked together to draft a short script for a film that introduces the history and mission of Creative Minds.
"There are over 123 public charter schools in Washington, DC," the script begins. "But only one is known for offering a progressive international curriculum from preschool through middle school, which incorporates the latest research on how children learn."
Students worked in groups to determine what kinds of visuals they wanted to connect with each line of their script. Some students chose to focus on using graphics, while others planned a mix of graphics and found footage to accompany their scripts. After sharing their film outlines with Kintisch and their classmates, students reflected on what they learned throughout the three-day workshop.
"I learned that the jet stream is bringing colder air to us now," wrote Justin G in a post-workshop evaluation.
"The temperature in the arctic is rising way faster than I thought it was," added Amelia O.
Many students wrote that their favorite part of the experience was the tour at Vox and the presentation on how graphics are designed to support reporting.
"I learned that every production takes teamwork and a group of people that are willing to be collaborative," wrote Eriona B. 
"I liked the trip because it taught me a bunch about how pros make their videos," wrote Renee P. "I learned how long it took to make and edit their videos and how they plan things. It was really cool."
This field trip was supported by the D.C. Commission on the Arts and Humanities, which receives support from the National Endowment for the Arts. For more information on opportunities to connect students to underreported stories and the journalists who cover them, contact the Pulitzer Center education team by emailing [email protected].
RELATED ISSUES