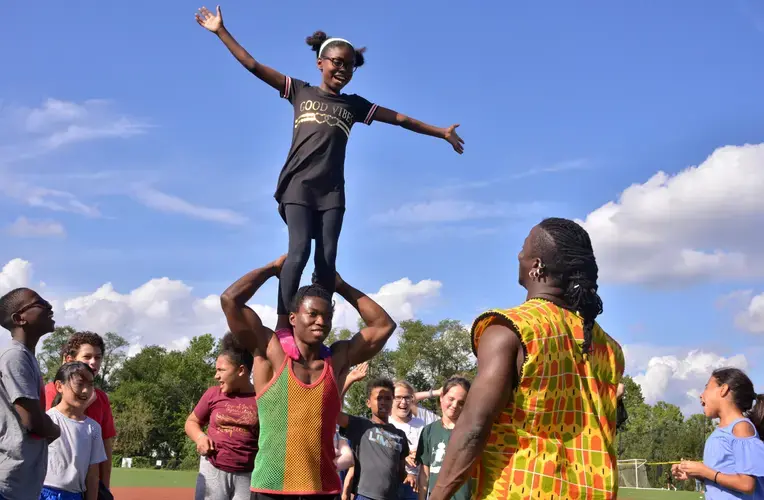 A hush fell over the crowd of 400 middle schoolers as acrobat Yamoussa Soumah charged at three students bent over in a deep bow. Moments before the anticipated collision, he launched himself into the air, flipping over the students as shrieks of excitement filled the theatre.
Over the last two weeks of September 2018, the Pulitzer Center brought filmmaking skills and the circus arts to over 1,000 students in 10 DC schools through a program centered around the Pulitzer Center-supported documentary, "Circus Without Borders." Joined by two acrobats in the film and director Susan Gray, students learned about the documentary filmmaking process and were guided through the first steps of creating their own.
"Circus Without Borders" follows two acrobats, Circus Kalabanté director Yamoussa Bangoura from Guinea, West Africa, and Artcirq director Guillaume Saladin from an Inuit territory in Canada, who introduce circuses to their respective communities to combat issues such as poverty and teen suicide. Based on reporting conducted by Pulitzer Center grantees Linda Matchan and Michele McDonald for the Pulitzer Center project "Nunavut, Canada: Hope on Ice," the film was a seven-year project directed by Gray.
Nearly 200 students were first introduced to the film during pre-screening visits with the Pulitzer Center education team, where they learned filmmaking terminology and practiced identifying different types of footage.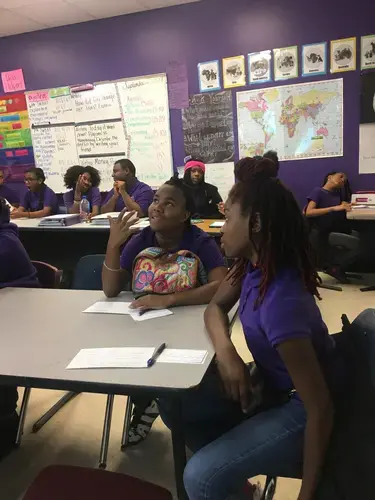 Their newly-acquired knowledge was put to the test during a student screening of the film at the Avalon Theatre, where they met Gray to learn about her career as a filmmaker and her process creating the film. Prior to the screening, they also met the Theatre's programming director Andrew Mencher, who discussed the history of the Avalon and how films are acquired by the independent theater.
Enraptured by the film, students shrieked collectively when the camera panned to a Guinean contortionist and giggled when an Inuit man imitated the falsetto of a traditional song. Little did they know, a surprise awaited them after the film — when the credits started rolling, spotlights turned on to reveal Bangoura playing the kora, a traditional West African harp.
"That's the guy from the film!" A girl whispered excitedly to her class.
He was joined by another Kalabanté member, Soumah, who invited students to perform a series of acrobatic activities followed by a Q&A session. Students were especially curious about the lives of the acrobats in West Africa and discussed how the different circuses showcased their cultures through their art and props.
"There were a lot of skin complexions but they still kept their own unique way of doing what they did from their cultures," one student mentioned.



More than just the lucky handful of volunteers were able to partake in acrobatics at Deal Middle School. After school, students were invited to learn acrobatics with Bangoura and Soumah on the athletics field.
With the acrobats' encouragement and guidance, the group practiced a variety of circus tricks, from balancing on shoulders to handstands.
"It takes courage because once they put you up in the air, there's no going back," Josephine, a sixth grader, said. "And it takes hard work because to be able to have that confidence and to do that skill is just amazing."
This field trip and workshop was funded by a grant from the D.C. Commission on the Arts and Humanities, which receives support from the National Endowment for the Arts. For more information on how to collaborate with Pulitzer Center to connect students with underreported stories published in diverse media outlets, contact our education team by emailing [email protected].
The "Circus Without Borders" program concluded with post-screening workshops led by Gray and Pulitzer Center education staff. Students began by discussing the moments that stood out to them and identified the climax of the film.
They shouted out their favorite scenes, ranging from humorous ("when the naked baby ran in the rain!") to awe-inspiring ("the majestic horses in the circus!"). One student shared that his favorite scene was the Kalabanté acrobats' reunion in Canada because "it was a community piece that reminded me that it's important to stay together no matter where you're from."
The film's emphasis on community resonated with many others. "[The acrobat] didn't just keep his talents to himself," another student said. "He shared it with his country and his money with his family. There are many people who get rich and famous and keep it to themselves."
When a student asked Gray how she decided on to make a documentary on this topic, she advised them to "find what's real."
"Follow your emotions when you're making the film," she added. "You just hang out and observe life, and life will tell you what your film will be about."
After mulling over her advice, students brainstormed their own film ideas. A student who had lost family members to gang violence shared that she wanted to investigate people's motives to join gangs. One hoped to interview artists in his community and showcase their varying methods of expression. Another wanted to examine poverty and privilege in DC by documenting the everyday lives of three families from different socioeconomic backgrounds.
With advice from a professional filmmaker and ideas of their own, many students gained a newfound enthusiasm to pursue their own multimedia reporting projects.
"I'm trying to become a photographer because my parents say that I take really good pictures," said Joelle, a Deal Middle School sixth grader. "[The documentary] gave me courage to be a photographer and … made me want to do gymnastics again."
This project was supported by a generous grant from the D.C. Commission on the Arts and Humanities, which receives support from the National Endowment for the Arts. It was also supported by the DC Arts and Humanities Education Collaborative.
To bring "Circus Without Borders" to your classroom, check out our Lesson Builder or email [email protected].
RELATED ISSUES