Pulitzer Center Update October 7, 2021
Student Filmmakers in Chicago Examine Underreported Local Issues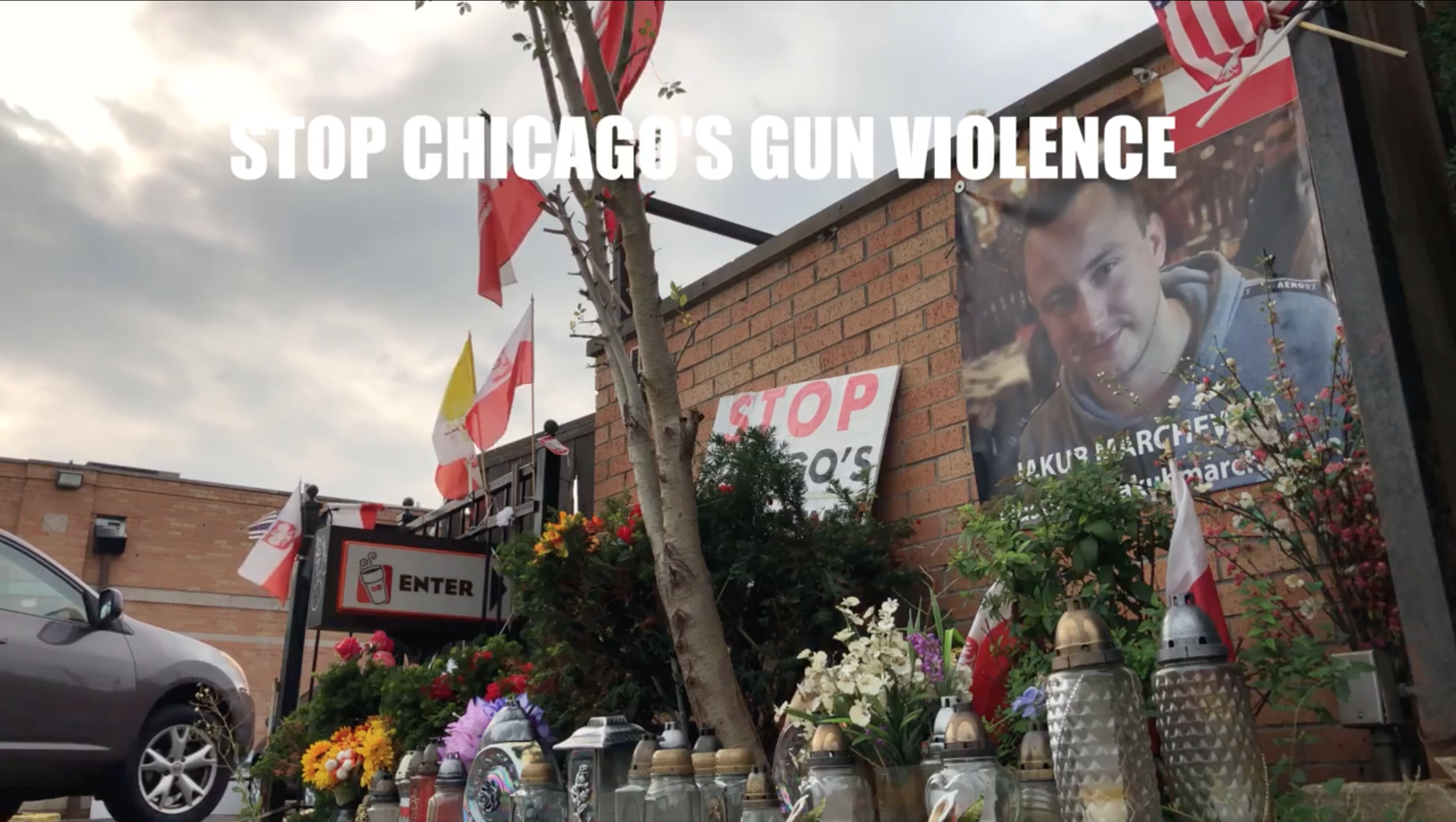 When we asked filmmaker Vashayla Stewart why she and her production partners chose to focus their documentary on gun safety, she said, "Guns in Chicago [are] a big thing and gun safety is something everyone should be informed about. Also I believe being informed about gun safety will help the amount of gun violence that happens in our city." Like so many teens in Chicago, Stewart is passionate about issues that affect her community; organizations like Free Spirit Media provide opportunities for young Chicagoans to explore the stories they want to tell with a comprehensive foundation in media production.
Stewart was part of a five-week virtual program led by Danielshé Rodgers and Terrance Patterson, managers at Free Spirit Labs West. She and 11 other young creatives crafted short documentaries about underreported local issues. For 12 years, the Pulitzer Center has supported this program by connecting students with journalist mentors, a partnership made possible through the Julian Grace Foundation.
"Pulitzer Center plays a big part in the summer programming. Young creators are able to interact with journalists who have done amazing work all over the world. Hearing their stories really opens the eyes of the young creators and helps them branch out into different issues that are happening."

Danielshé Rodgers, Free Spirit Media Program Coordinator
This year, journalists Ashonti Ford, Eli Hiller, Noreen Nasir, and returning mentor Melissa Noel participated remotely.
In the first week of classes, mentors presented on a range of journalism skills and techniques, including storyboarding, cinematography, audience engagement, and interviewing. "It was great to see the way the students took the concepts taught during presentations and applied them to outreach for interviews, vocalizing their b-roll needs and gathering information like statistics," said Noel. "There was great engagement and it was evident that the students paid keen attention and were eager to apply what was learned."
Students formed production groups and met with their assigned journalist mentors weekly. Mentors supported students throughout the production process, from researching their topics to helping them create and adhere to timelines. Journalist mentors added additional support, from sharing footage, introducing organizational tools, and connecting students with their own contacts to complete their films. "Eli offered key insights into the documentary-making process, such as plotting out a script (by offering his previous work as an outline) and shooting b-roll," said Connor O'Reily. "He also provided immense help by offering previous footage he shot and owned for our program, which we used in the documentary. Eli was not just a mentor—he was a key member of our group, and we couldn't have done this program without him."
Students produced films on urgent local issues, including gun violence, homelessness, and unemployment. Many explored the impact of COVID-19 on these issues, highlighting underreported systemic issues that resonate globally.
Under the guidance of Ford, a Pulitzer Center grantee and a reporter with Spectrum Bay News 9, young creators Laurel Peralta, Neavia Taylor, Andrew Williams, and Miguel Ramirez produced a film about gun violence in Chicago. Opening on the story of Jakub Marchewka, a victim of gun violence, the film weaves personal narratives, hard-hitting statistics, and interviews with advocates against gun violence, highlighting both the senselessness and the far-reaching impact of the issue in Chicago. Peralta notes that the group focused on this issue because "gun violence is so frequent and most lives that are taken are just counted as numbers on a chart." Taylor added, "I feel like it's important to highlight because it's a very, very big issue in my community and city."
Supported by Noel, a Pulitzer Center grantee and multimedia journalist, filmmaker Alenis Rios examined the experience of homelessness in a conversation with city-based educators and advocates who described their frustration about the lack of funding and resources allocated to Chicagoans affected by dislocation. In the film, Rios notes that she has "seen a lot of anti-homeless architecture, especially downtown. If there's a bench, they put stuff in the middle so people can't sleep there. That's really sad to see." The film uses statistics about homelessness and an open, compassionate dialogue to unpack the stigmas and draw attention to injustice.
Noticing the high rates of unemployment in Chicago due to COVID-19, young creators Maya Thompson, Boaz Berhanu, and Connor O'Reily focused their documentary on how the pandemic amplified pre-existing inequalities in the city. "There are a lot of people who experience joblessness due to COVID that go unnoticed [and] need help," said Berhanu. Featuring WBEZ journalist and Pulitzer Center grantee Natalie Moore and leading members of the Chicago Economic Awareness Council, the film navigates the additional impact of unemployment experienced in Black and brown communities and the key financial lessons youth in the city have taken away from the pandemic.
Under the mentorship of grantee and documentary filmmaker Eli Hiller, Chicago Unemployment in the Wake of COVID-19 shines a "much-needed spotlight on issues most pertinent to our Chicagoland communities," as Connor O'Reily explained.
Latassia Taylor and Vashayla Stewart chose to focus on the issue of gun safety and prevention because of the pervasive impact of gun-related violence in Chicago."I think it's important to highlight because it's something that goes on in my community and is constantly damaging people's lives," said Taylor. Opening on a poignant statistic about the daily death toll of gun violence victims, Taylor and Stewart facilitate a conversation with three gun safety experts and advocates. Together, they discuss the necessity of public education on how to legally carry firearms, the lack of appropriate regulations around access, and the impact of gun violence on youth in the city. The group also discusses the increase of gun violence in Chicago during the pandemic. Mentored by Pulitzer Center grantee Noreen Nasir, a video journalist with The Associated Press, Stewart and Taylor end the film by discussing actionable solutions for an issue that disproportionately impacts Black and brown communities.
After students screened their final projects for their peers, mentors, and program leads, it was clear that this experience investigating underreported stories was just the beginning of their engagement with pressing global issues. Boaz Berhanu shared that making his film inspired him to "continue researching social injustices that occur in the world and help give attention to them." Miguel Ramirez felt that co-producing his film on gun violence inspired him to participate in "creat[ing] change slowly, but for the better."
Others, like Neavia Taylor, felt that the program helped the young participants see a new side of themselves.
"This program inspired me to be more outgoing and it helped me get used to working and communicating with others in groups," she said.
"Something that will stick with me is hearing some students who haven't had much experience working with video and storytelling say that they learned a lot and want to do more of this," shared Melissa Noel. "It was exciting to hear and I think we have some future filmmakers and journalists in the group!"
RELATED ISSUES

Racial Justice

Children and Youth

COVID-19