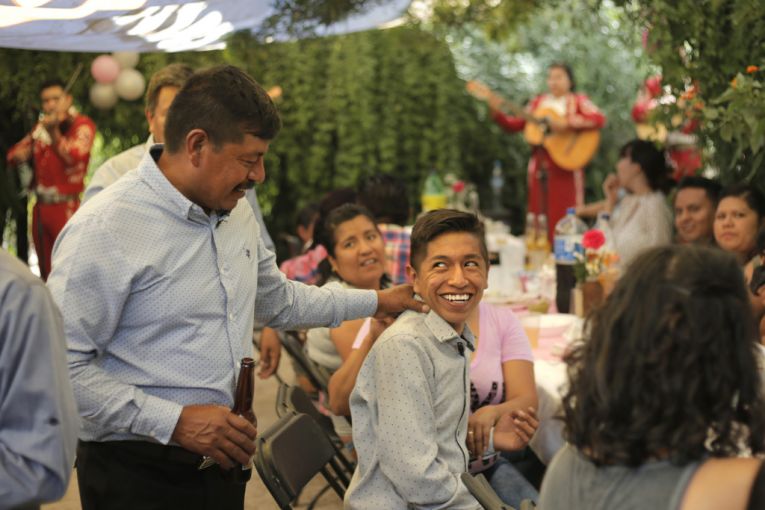 On June 4, 2019, the British Academy of Film and Television Arts announced the nine finalists for the 2019 BAFTA Student Film Awards. Guanajuato Norte, a film by two 2018 Pulitzer Center Student Fellows, Sana Malik and Ingrid Holmquist, was selected as a finalist for the award in the Documentary category.
The BAFTA Student Film Awards are an annual event celebrating the works of the next generation of talented and innovative filmmakers from around the globe. This year's shortlisted 60 films have been selected from the 568 submissions by students at film schools in 38 countries across the world, including Pakistan, South Korea, Chile, Uruguay, Finland, The Netherlands, Portugal, France and more.
Guanajuato Norte follows the story of Winny Contreras, a migrant worker who has worked at Rose's Berry Farm in Connecticut for the past 24 years with men from his hometown in Guanajato, Mexico. His father had also crossed the border to find work, and people from Guanajato have continually left their homes to support their families.
After months away from his family, Contreras traveled home in July 2018 to Guanajato to see his eldest child, Mayra, graduate from university. As U.S. Immigration and Customs Enforcement arrests at the border have increased, undocumented workers have decided to stay at the farm for years, unable to return home to see their families.
"We wanted to make this story to provide depth, nuance, context, and humanity to a group of people that the news often covers with a monolithic narrative," Holmquist said. The film details Contreras's personal story of migration and, in viewing the film, Holmquist hopes that people will start "to put a face to the people who harvest so much of the country's produce."
Contreras' story is personal but has broader resonances in today's political climate.
"This film is an intimate portrait of one father and his family, but Winny's story is similar to countless people living in the U.S. I want people to see themselves or their parents in this story and think deeply about the intimate question of 'what makes home, home?' but also about safe migration policy," Holmquist said.
In the film, Contreras scrolls through old photos on his phone of a dusty landscape in Guanajanto. "When I see this, memories. Only memories," he says quietly to himself. His wife explains that she and her husband are sacrificing so that their children can study and make a better future for themselves. At home, Contreras reflects fondly and honestly on the place: "There is no life here, but there is love. A lot."
The 2019 BAFTA Student Film Awards will take place on Tuesday, July 9, at The Broad Stage in Santa Monica, California.
RELATED ISSUES