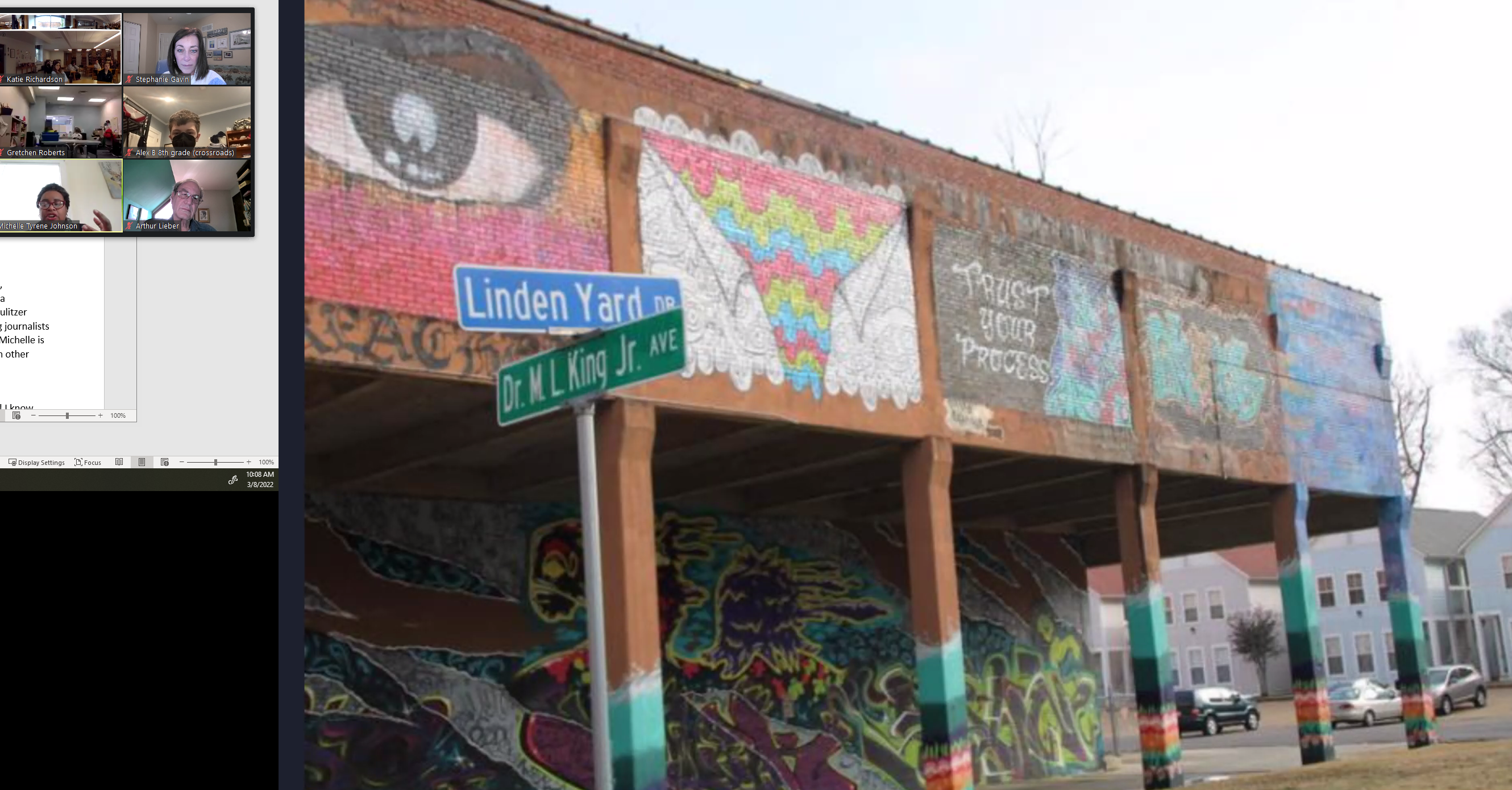 Since 2006, the Pulitzer Center has collaborated with Civitas, a youth engagement nonprofit organization based in St. Louis. Through this collaboration, the Pulitzer Center offers students attending public, private, and parochial schools in the St. Louis area the opportunity to meet with Center-supported journalists, who meet with students to discuss their reporting projects and journalistic processes. Over the years, journalists have discussed their work on climate change, migration, policing, and more. Click here to explore past topics, partner journalists, and photo galleries.
From March 8 to March 9, 2022, grantee Michelle Tyrene Johnson presented to seven schools in the St. Louis area virtually via Zoom. Johnson's Pulitzer Center-supported reporting project, A Tale of Three Kings, was produced in collaboration with and ran at KCUR-FM 89.3, the flagship NPR station in Kansas City, Missouri. The stories in the project explore Martin Luther King Jr' s legacy around the world to better understand a Kansas City challenge around renaming a street after Dr. King. So with the support of the Pulitzer Center, Johnson traveled to Dakar, Amsterdam, and Memphis—all cities with streets named after Dr. King.
Johnson presented the project to over 250 middle school and high school students. When asked why Civitas was interested in collaborating with her, program director Stephanie Gavin said, "Pulitzer shared several names and stories with us and Michelle's project stood out for a number of reasons. One, it was inspired by the Kansas City story of citizens voting down the renaming of a well-known street, The Paseo, after Dr. Martin Luther King Jr. Being in the same state, that resonated with us and we thought students would be interested as well. The racial implications were of interest, especially, because Missouri has made national news for extreme behaviors by area school boards concerning Critical Race Theory and book banning of prominent, traditional canon novels, such as The Bluest Eye by Toni Morrison." Gavin also shared that highlighting cultural experiences outside of the U.S is always of interest to Civitas and so Johnson's international travels to Dakar and Amsterdam were intriguing.
In her presentations, Johnson talked with students about journalism, her project, the importance of travel, and her cultural observations as an American Black woman visiting Dakar, Amsterdam, and Memphis. Johnson shared that it was such a joy to talk with engaged and interested young people about journalism. After her presentations, students engaged in conversation and asked her questions. Two questions that stood out to Gavin were, "Is there a better way to commemorate Dr. King, than to name a street after him?" and "Why do people in Dakar and Amsterdam know about Dr. King?"
Maureen Hoeft, an educator at Ritenour Middle School, noted that she thinks her students gained a better understanding of journalism and were introduced to a new potential career path. "This gave them a glimpse of something that they probably were not very familiar with prior to meeting Michelle," she said. Additionally, she shared that it was great to see students connecting personally with a professional like Johnson. When reflecting on the impact of Johnson's presentations, Gavin notes, "Several teachers emailed us that their students enjoyed the presentation very much and a few were returning to the audio segments of her stories on the Pulitzer website after hearing her talk."
Johnson hopes that her talks with students provided them "a candlelight of experience and wisdom that lights in young people that some will carry on and then pass on to others. In my life, teachers and mentors have often said that one thing that opened up an unknown portal of inspiration and imagination that set me down a new beautiful, powerful path. Many times they didn't even know they did that. I hope I did the same for those eager to discover."
Read more about Michelle Tyrene Johnson's project A Tale of Three Kings here. For the full story with audio segments, visit the KCUR 89.3 website.
RELATED ISSUES