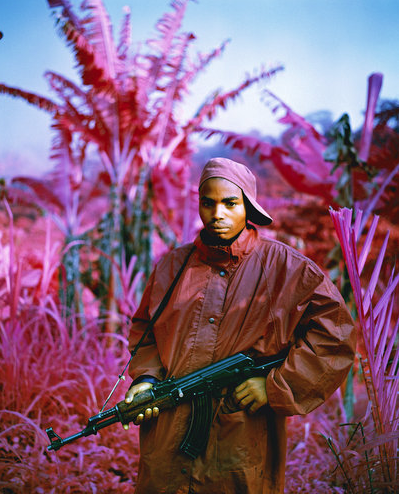 The pink hues of Richard Mosse's photos from his book, "Infra," have recently been accenting the pages of photo magazines, newspaper book reviews and online articles. Among the numerous features are a spread in Hotshoe's April-May 2012 issue, a spotlight in The New York Times Sunday Book Review, and a story in Popular Photography's July 2012 magazine issue – all highlighting the project Mosse began back in 2009 when he discovered that Kodak Aerochrome film, originally developed for military surveillance, was being discontinued.

Mosse used the infrared film to document the ongoing conflict in the eastern Congo. The project turned into "Infra," a photography book co-published by the Pulitzer Center and the Aperture foundation.

"I was interested in [the film's] original purpose as a military tool, but I was also drawn to its peculiar color palette," he said in the Popular Photography article. "I wanted to use it as a way of thinking through this conflict and the rules and conventions of war photography."

In Hotshoe's Hot Books April-May 2012 edition, the review describes the effects of using Aerochorome film to produce the vivid color contrast pictures in "Infra," stating "the infra-red film places a dream-like layer over the story, adding to its impenetrable quality, but validating that aspect – not expecting the viewer to understand and to sympathize with the soldier's plight."

Book reviews of "Infra" were featured in both the Art Street Journal's July 2012 issue and Source's Summer 2012 issue. "Infra" was also spotlighted in ABC Digital News and GUP Magazine online in March 2012.

Mosse's images were even referenced as a source of inspiration for a new clothing collection launched this spring by up-and-coming designer Pedro Lourenço.

Download the full publicity report from Aperture.