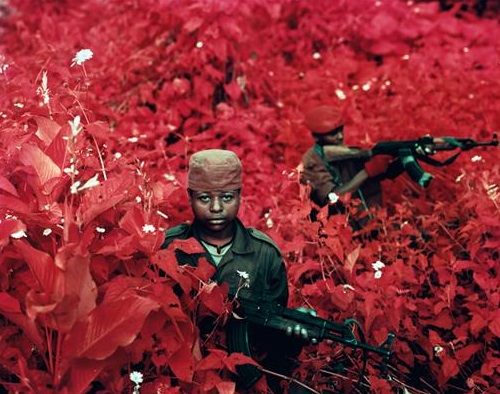 A photograph from Richard Mosse's "Infra" was featured in The New York Review of Books along with an article by New York Times Africa correspondent Jeffrey Gettlemen about "Warfare in Independent Africa," a new book by William Reno. "Infra," Mosse's first monograph, was co-published by Aperture Foundation and the Pulitzer Center.

JEFFREY GETTLEMEN for THE NEW YORK REVIEW OF BOOKS

In December 2009, the Lord's Resistance Army, a brutal African rebel group guided by a wig-wearing commander named Joseph Kony, massacred more than three hundred people in a remote corner of northeastern Congo. Most of the victims were clubbed to death, some were killed with machetes, a few were shot, and a few more were strangled. The LRA, as it is widely known—in Congo it's simply called tonga-tonga, which means something like "those who attack silently"—had just kidnapped hundreds of people and was moving quickly through the bush. Anyone who couldn't keep up was killed. Most often the other conscripts, many of them children, were forced to do the killing.

Read the full article at The New York Review of Books.