Pulitzer Center Update August 22, 2019
Pulitzer Center, Free Spirit Media Students Team Up at SAIC Day of Action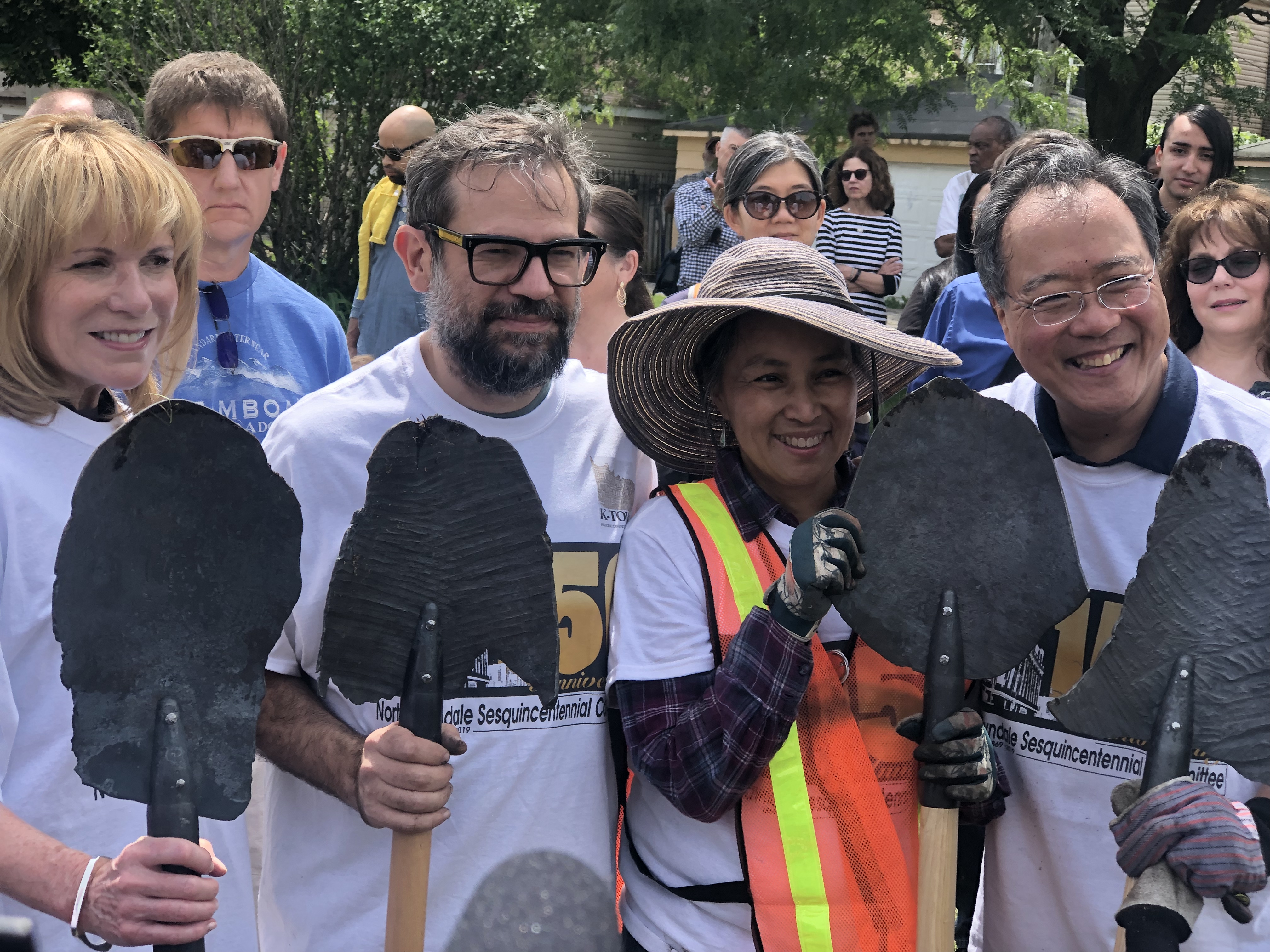 Learning On the Job
It was their first day as documentary filmmakers. Under the June sun, Malachi Glenn-Johnson and Alexus Loving recorded Yo-Yo Ma as he played the cello and planted a magnolia tree in Chicago's Unity Park. This was just one stop on the famed musician's 36-city tour. In Chicago, he had coordinated his event with local organizations, including Pulitzer Center Campus Consortium partner School of the Art Institute of Chicago. 
Glenn-Johnson and Loving were there under the guidance of Pulitzer Center grantee journalist and former Pulitzer Center staff member Evey Wilson. The two high school students were kicking off their documentary-making summer program with the education and media nonprofit Free Spirit Media. The program, now in its tenth year of partnership with the Pulitzer Center, provides multimedia training for youth to create projects inspired by their own communities. With mentorship from Pulitzer grantee journalists like Wilson, the students underwent a six-week process of planning, shooting, and editing their own short documentary films.
Free Spirit Media students Malachi Glenn-Johnson and Alexus Loving filmed the events of the day at SAIC's Day of Action. Image by Evey Wilson. United States, 2019.
Free Spirit Media students Malachi Glenn-Johnson and Alexus Loving filmed the events of the day at SAIC's Day of Action. Image by Evey Wilson. United States, 2019.


Going Local
The Day of Action with Yo-Yo Ma, a community event that brought together scores of local artists, gardeners, and families, was a perfect place to start. The Day of Action with Yo-Yo Ma was part of the cellist's ambitious Bach Project, a six-continent tour during which the musician has been meeting with local artists, activists, and community leaders in order to explore the ways in which "culture helps us to imagine a better future." Ma had reached out to SAIC, who then reached out to its local partners, in order to discuss how best to plan his visit. Oaks of North Lawndale, an urban garden community project launched by SAIC, seemed like a perfect fit with Yo-Yo Ma's message. They decided on a tree-planting event at Unity Park, a once-desolate lot that had flourished at the hands of countless volunteers. The event would also serve to commemorate North Lawndale's 150-year anniversary—a celebration of both the history and future of the neighborhood.
As Glenn-Johnson and Loving learned about B-roll, audio recording, and camera stabilization, they captured the unfolding events: Speakers proudly donning "150 Years" t-shirts reminisced about the neighborhood's fabled past residents, from its first Czechoslovakian immigrants 150 years ago to Martin Luther King in the 1960s. Local vendors supplied everything from food to saplings. Organizers encouraged residents to donate their old trinkets and photographs to a time capsule, to be opened 50 years later for the neighborhood's bicentennial celebration.
Imagining A Better Future
For each Day of Action planned as part of his tour, Yo-Yo Ma has been meeting with local artists, activists, and community leaders to discuss what topics feel most important to them. In Chicago, organizers planned the day with the aim of addressing one of the city's most brutal plights: gun violence. The site they chose for the event was North Lawndale, a West side neighborhood and a part of the nationally registered K-Town Historic District, which has also seen high rates of violent crime and poverty along with a historically tense relationship with local police.
In keeping with the day's theme, artist Pedro Reyes was invited from Mexico City to present his 2017 work "Palas por pistolas," five shovels made out of melted confiscated guns. From the same material, Reyes also built a flute, played by Civic Orchestra of Chicago fellow Alexandria Hoffman. "What we're doing with these weapons is to change the polarity from something that was an agent of death and turn it into an agent of life," Pedro told the crowd. "That is the power that art has." Ma then joined Hoffman in a duet, both of them seated in front of Reyes' five shovels.
After the performance, Ma joined the audience in the planting project, shoveling dirt before nestling a young magnolia tree into the ground. In an interview, he told Free Spirit Media students Glenn-Johnson and Loving what the act of planting meant to him: "There's something about the word 'cultivation' that means everything to me," he said. "It's all about living things. How do we keep ourselves alive, how do we keep other things alive, and maintain them, so we can all thrive together?"
After the event, Free Spirit Media Production Coordinator Terrance Patterson edited and compiled the footage of the event captured by Glenn-Johnson, Loving, and Wilson. The result was a video, a record of the day, and of the students' very first ventures into documentary filmmaking. Along with the rest of their cohort, Glenn-Johnson and Loving would go on to produce their own short documentaries. This year, projects covered a range of topics including homelessness, youth centers, LGBTQIA youth, and racism and criminal justice.
RELATED ISSUES

Issue
Conflict and Peace Building
Conflict and Peace Building

Children and Youth