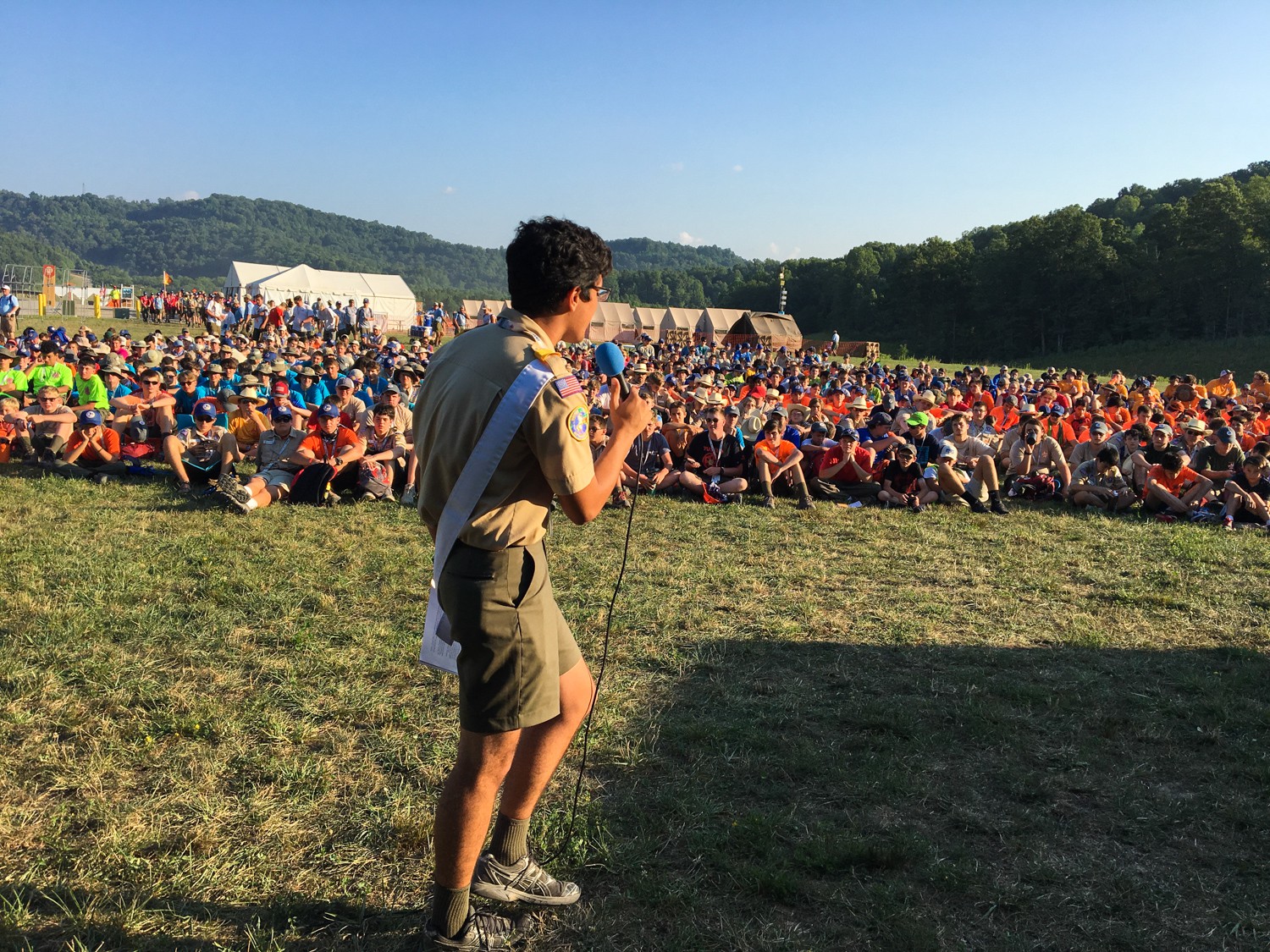 Pulitzer Center Senior Education Director Mark Schulte recently authored a piece for National Geographic about his experiences at the National Scout Jamboree and the Center's work with legendary journalist Paul Salopek.
Schulte introduced 40,000 scouts at the Jamboree to the Out of Eden Walk, Paul's seven-year mission to record his experiences as he travels across 39 countries. The trip is being made on foot, allowing him to engage more thoughtfully with global issues as he speaks with local communities. Later this year, two journalistically-inclined scouts will have the opportunity to join Paul in Asia as he continues his journey.
Schulte describes introducing scouts to Salopek's work:
Four scouts from east Texas peer intently at my Middle East and Central Asia map. Paul's team at National Geographic created this deceptively simple game to engage the kids in the story of the walk so far. Their goal: to match up five Milestones—photographs and captions every hundred miles along the trail—to markers along the 5,000-mile red zigzag that connects Ethiopia with Kyrgyzstan.

"This caption mentions the Kurds, and I think they're up here around northern Iraq," says Noah, one of the Texans. "And this guy looks like he might be Saudi."

The game is part of a toolkit developed in a partnership between the Pulitzer Center and the Boy Scouts of America to train the 40,000 scouts at the jamboree how to observe and record their experiences thoughtfully and with intention. How to be, in other words, slow journalists.
Travelling with Salopek is truly a once-in-a-lifetime experience. A two-time Pulitzer Prize winner, his work as a foreign correspondent has been featured in the Chicago Tribune, National Geographic, The Atlantic, and Foreign Policy.
The Pulitzer Center has worked extensively with Salopek since 2012 to bring his adventures to the classroom, visiting schools all across the United States and speaking with students. The Out of Eden Walk has inspired our own 'Walk Like a Journalist' and 'Out of the Lab' events, which encourage students to break away from their social circles and engage with different groups of people in their communities.
These educational programs lie at the core of the Pulitzer Center's mission to produce thoughtful and productive discourse through improved awareness of global issues. We work hard to ensure that our grantees' stories meaningfully impact the way future generations think about the world. Our Campus Consortium program has given students from over 30 universities the opportunity to directly engage with journalists. We also give teachers the opportunity to take the conversation into their own hands through our innovative Lesson Builder platform.
You can follow Paul's Out of Eden Walk here.
RELATED ISSUES