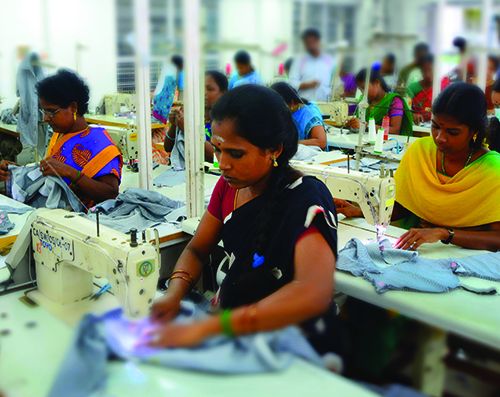 Dear Educators,

This week's News Bite lesson examines the challenges and benefits of manufacturing clothing in India in a way that is environmentally sustainable. We are also very excited to announce the winner of the Out of Eden Walk essay contest for scouts attending Philmont Scout Ranch this summer. Learn about the winner and read essays by the runners-up below!

News Bite Lesson: Environmental Sustainability in India's Fashion Industry

This week's News Bite lesson plan asks students to analyze how journalist Esha Chhabra responds to different viewpoints on sustainability practices in the Indian textile industry through discussion, writing and research. Students then use the details of Chhabra's reporting as inspiration for conducting their own research projects that analyze sustainability practices by textile companies in their own countries.

Featured Lesson: Explore Your World Through the News

This week's featured lesson plan was written by Tracy Crowley, Information Literacy Specialist for CCSD21 District Schools in Wheeling, IL. This highly interactive lesson guides students towards an understanding of what journalism is and why it is important through exploration of various and differing sources. By the end of the lesson, students will be able to describe different ways information can be presented. Click here for more lesson plans and unit plans from Crowley and her team at CCSD21.

Education News: Announcing the Winner and Runners-Up of the Out of Eden Walk Essay Contest for Philmont Scouts!

After receiving many dozens of essays from scout and venture groups around the United States, the Pulitzer Center has selected a winner for its Out of Eden Walk essay contest. The identity of the winner will be revealed in August while hiking at the Boy Scouts of America's Philmont Scout Ranch in New Mexico.

"We were delighted to see such a geographically diverse range of entries, from Massachusetts to California to Texas, Florida and many other states," said Mark Schulte, the Pulitzer Center's education director. "The scouts applied the slow journalism lessons of the Out of Eden Walk in many different settings, from city streets to suburban cul-de-sacs to physically challenging adventure hikes. We were impressed with their thoughtful and observant writing."

The winner will travel to Central Asia to hike with with journalist Paul Salopek as part of Out of Eden Walk, a decade-long project walking in the footsteps of early man from humanity's cradle in Ethiopia to the southern tip of South America.

The runner-up essays have been published on the Pulitzer Center's website, and PhilNews, Philmont's weekly newpaper, will publish the winning entry later in the summer.

The Pulitzer Center first brought Paul Salopek's Out of Eden Walk project to the Philmont Scout Ranch in 2015, and this year's contest represents a growing partnership between the two organizations.

Philmont Scout Ranch, the Boy Scouts of America's high adventure base, challenges scouts and venturers with more than 214 square miles of rugged northern New Mexico wilderness. Backpacking treks, horseback cavalcades, and training and service programs offer young people many ways to experience the United States. Click here to read essays by the runners-up.

Featured Project of the Week: Ireland Still Rising After 100 Years? by Laura Flanders


Click here to learn more about Laura Flanders and her reporting on challenges facing communities in Ireland 100 years after the Easter Rebellion.

If you are interested in connecting Flanders to your classroom in-person, or over Skype, please contact us at [email protected].

If you would like to sign up for our newsletter, please click here.

RELATED ISSUES