When Robert Lee and Tristan Ahtone published their remarkable article, "Land-Grab Universities", in High Country News on March 30, 2020, Dr. Amanda R. Tachine (Navajo professor in higher education at Arizona State University, on the land of the Akimel O'odham and Pee Posh) knew that her classes were going to engage with the article and in an analysis of the relationships between land, universities, and Native peoples. Reflections on land/place, belonging, and universities are part of ongoing efforts that many in Native communities and education institutions, including Dr. Bryan McKinley Jones Brayboy at Arizona State University, are working on for Indigenous futures and in building equitable campus environments.
The lesson on "Leveraging Our Place: Native Nations and Land-Grab Universities" was first developed by Dr. Tsianina K. Lomawaima and Dr. Tachine for college freshmen to think about the significance of Indigenous lands and college campuses, especially as they embark on their first years of college. Over time, this lesson plan expanded to include reflections on the reporting and research from High Country News for the project Land-Grab Universities. It now acts as a guide for educators and students to extend upon the reporting by analyzing the long-term implications of the Morrill Act of 1862 for Native presence and belonging in higher education. 
Below are reflections from Jaimi Foster and Brody Frieden, graduate students in the Higher Education program in the Mary Lou Fulton Teachers College at Arizona State University. Foster and Frieden engaged with the revised lesson as part of a Diversity in Higher Education course during the spring 2022 semester. Although this lesson was designed for college students, this lesson can be utilized for high school juniors and seniors. We hope that the reflections below provide insights as to what was learned from this lesson and inspire you to engage in these activities in your classroom.
Land Acknowledgement
Before delving into a reflection on this unique activity and experience, we think it is important to acknowledge the original and ancestral inhabitants of the land upon which this is being written. We are writing from the Phoenix, AZ metropolitan area which is the ancestral homelands of the Akimel O'odham and Pee Posh peoples. Since our specific project was focused on the University of Arkansas and their land cessions, we also want to acknowledge the peoples whose ancestral lands the University of Arkansas is now sitting upon (Osage, Caddo, and Quapaw), the peoples who forcibly traveled over the university land during the Trail of Tears, and the 142 tribal nations whose ancestral lands fund the university. Indigenous peoples in the United States and around the world have faced centuries of conflict and genocide, and we want to celebrate their perseverance and their lasting culture and existence.
Reflection 
The "Land-Grab" project has changed our perspective on the history of the land that we call "home." This pertains to both our current home, Arizona, as well as the lands of our ancestors across the United States. As non-Natives, we previously had limited exposure to the history of Native peoples in the U.S. We were not aware of many of the challenges Indigenous communities faced in higher education (and in general), and those we were familiar with were largely based on stereotypes we had witnessed in mainstream media. Learning from Dr. Tachine and other Indigenous scholars (via readings, podcasts and videos) in the past few months has been incredibly eye opening, and the knowledge (and awareness) we've gained from this learning will, without a doubt, impact our understanding of our country's history and the physical land around us for the rest of our lives.
Often, higher education institutions are celebrated for the ways in which they advance society: increasing knowledge and innovation, creating diverse and inclusive environments, being an instrument for social change, etc. However, many people are unaware of the history of Land grant Grab Universities and the complicated, unjustifiable foundations these institutions were built upon. The Morrill Act, which resulted in the loss of 10.7 million acres of land from Native tribes around the United States, is just one of the many sacrifices made by Native peoples (and other people of color) in the building of our nation. If you are seeking to learn more about the atrocities Black and Native peoples endured throughout the creation of our higher education system, we recommend reading Ebony and Ivy by Craig Steven Wilder. Excerpts from this book were required readings from our class with Dr. Tachine, and they helped set the tone for the research that we would later conduct. 
For our presentation at the conclusion of the lesson, "Leveraging our place: Native Nations and Land-Grab Universities," we chose to research the University of Arkansas and the history of its relationship with the Cherokee peoples. We chose this institution because of Jaimi's family's connection to the area; several of her family members are alumni of the institution and she grew up spending her summers nearby in Cherokee Village, Arkansas. 
We will not be including detailed information about our research in this article, but if you are interested, you can find a link to our full presentation here. 
Here is a brief summary of our findings:
This project confirmed for us the following:
Hundreds of thousands of Native peoples died and/or were forcibly relocated from their homelands due to the Morrill Acts of 1862 and 1890.
Higher education institutions across the United States continue to earn millions of dollars in profits from their endowments, while Native communities remain some of the poorest in the U.S.
Native communities have the lowest rates of higher education enrollment in the U.S. even though these institutions could not exist without Native lands 
The vast majority of institutions do not make visible the efforts to support their Native students, financially or otherwise.
A major problem in addressing these challenges is that many Americans are unaware that these problems even exist. Some may believe "Indigenous issues" refer to (historical) tensions between Natives and the federal government, not realizing that the research for this lesson focuses on existing, modern problems that are actively harming Native communities. We as a society need to recognize and bring attention to the implications, both past and present, that policies like the Morrill Act have on this population. Centuries of genocide, removal, imprisonment, starvation, boarding schools, indoctrination, etc. have erased cultures and identities and created long-term consequences that Native people are still grappling with daily. It is the responsibility of non-Native people (who have profited in countless ways from these injustices) to support Native communities in acknowledging and righting the decades of wrongs that have occurred. Reconciliation is possible, and it begins with each of us. 
Reconciliation means finding the courage to look at our past with eyes wide open, unafraid to see our country at its worst, and then, humbly, take steps to heal the damage done. - Ry Moran
Image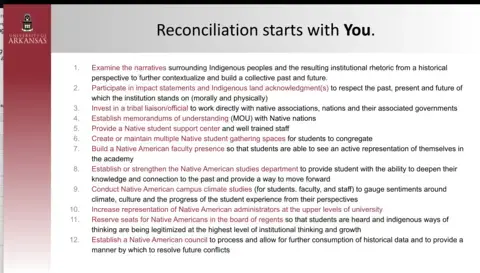 The screenshot above is from the final presentation created by the blog authors. The full presentation can be found here.
RELATED ISSUES

Issue
Indigenous Communities
Indigenous Communities

Issue
Land and Property Rights
Land and Property Rights