Pulitzer Center Update August 12, 2022
Lead Exposure in Cleveland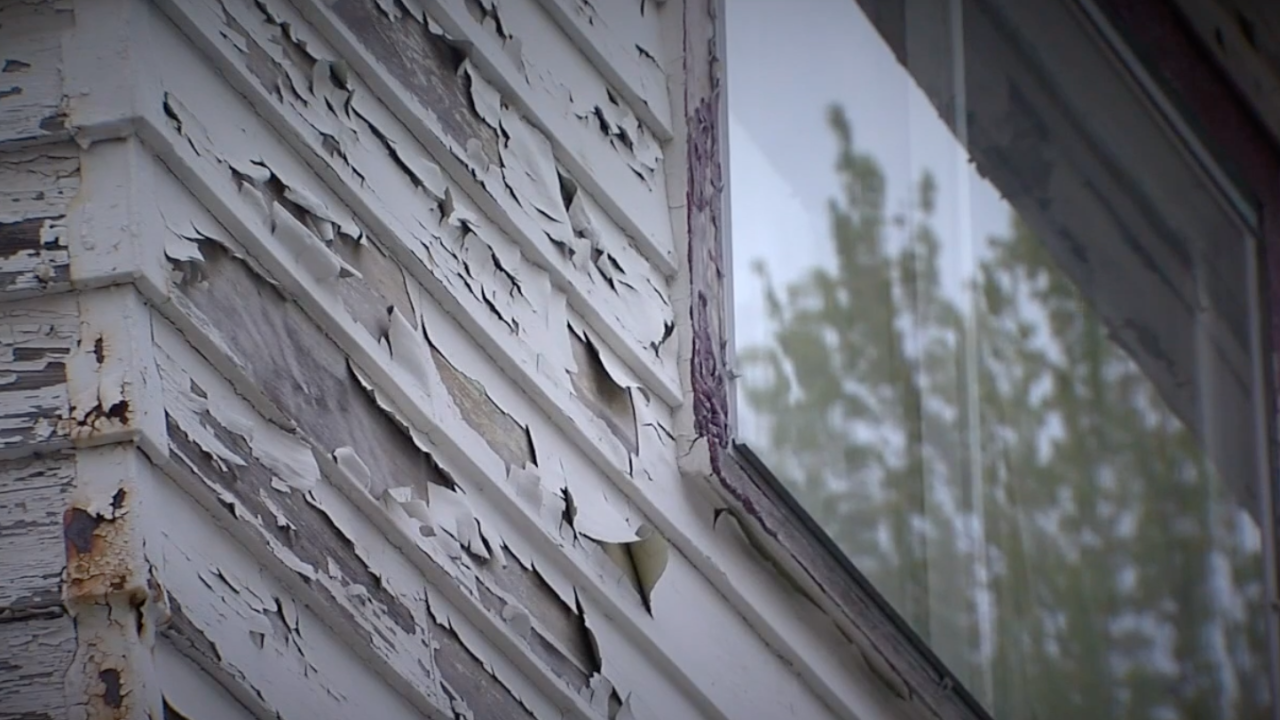 Background
Lead exposure poses a nationwide issue, as proven by research conducted by Princeton University that found half of the U.S. population is exposed to adverse levels of lead in early childhood. 
While lead pipes and paint are frequent culprits of exposure, less obvious sources of lead exposure, such as leaded fuel, pose just as significant of a threat. A number of Pulitzer Center-supported journalists have detailed the ubiquity of the lead pollution crisis.
In his report "Leaded Airplane Fuel Is Poisoning a New Generation of American Children," grantee Michael Coren details the negative health impact on surrounding communities posed by airplanes burning leaded gasoline. Coren describes how the communities surrounding Reid–Hillview Airport in San Jose, California, are consistently exposed to lead pollution through leaded fuel, so much so that elevated lead levels have been found in children who call the area home.
Additionally, grantee Adina Keeling reported on the pervasive presence of lead pipes in Evanston, Illinois, and its impact on systemic inequality, while grantee Larry C. Price detailed how mining projects in Zambia leak lead into neighboring communities.
Cleveland, Ohio, stands as a prime example of the public health crisis posed by lead exposure. The Midwestern city houses Case Western Reserve University, connected with the Pulitzer Center through a summer legal fellowship, and a participant in the recent efforts to address lead exposure in Cleveland. Particularly, the School of Applied Social Sciences at Case Western Reserve provides research and data to Lead Safe initiatives in Cleveland while also maintaining an interactive dashboard tracking the progress of those initiatives.
According to the Cleveland Clinic, the city of Cleveland has rates of lead poisoning that are almost four times the national average. In 2012, a study conducted by JAMA Pediatrics concluded that children in Ohio have levels of lead in their blood more than twice the national rate. The most significant cause of lead poisoning is exposure through lead-based paint and leaded dust. Because over 90% of the housing in Cleveland was built prior to 1978, the year lead-based paint was banned, the risk of lead exposure remains a particularly high and palpable threat.
The Policy / Legal Perspective
The city government of Cleveland has a poor history when it comes to combating the threat that lead exposure poses to its residents. In 2012, the Department of Housing and Urban Development pulled a federal grant for lead removal from Cleveland's Department of Public Health because the city was not addressing the issue promptly enough. In 2016, it was reported that Cleveland city health officials knew of at least 300 properties that housed lead exposure problems bad enough that the homes should have been evacuated, but no action was taken. In 2019, after efforts from a number of advocacy groups and concerned residents, the City Council passed an ordinance aimed at addressing the city's long-standing issues surrounding the presence of lead. The ordinance, § 365.04, provides for:
Requirements that landlords pay for private inspections of lead
Requirements that landlords secure lead-safe certificates and do so for all properties by 2023
Requirements that disclosures are made to renters and homebuyers if a home has an identified lead hazard
The creation of a Lead Safe Advisory Board, a Lead Safe Housing Action Board, a Lead Screening and Testing Commission, and a Lead Safe Auditor
The progress of the 2019 City Ordinance can be tracked through an interactive dashboard created by Case Western Reserve University. However, the enforcement of this ordinance and ensuring that each neighborhood meets its lead certification deadline remains an issue. Addressing the issue didn't erase the damage done in the years preceding the City Council's policy decision. Several lawsuits concerning lead exposure were filed in Cleveland over the years, including a suit filed in 2017 by the Legal Aid Society on behalf of a family whose toddler had been exposed to lead in their home. The suit demanded that the city actually enforce state laws pertaining to lead exposure to keep its residents safe. In 2018, an appeals court ruled that the city must post signs that give notice that the property in question has an unaddressed lead hazard, but enforcement remains an issue.
The prevalence of lead in Cleveland's homes and neighborhoods may prompt you to ask questions of your own home. Whether you reside in Cleveland or elsewhere, the resources mentioned below could prove beneficial as you look into how lead exposure may be present in your life. Below is a series of frequently asked questions and answers that may help you get started:
FAQ
What are the most common sources of lead exposure?

Lead paint and leaded dust are the most common sources of lead exposure. Chipping, peeling, or deteriorating paint in an older home is often a visible sign of potential lead exposure. In homes built before 1978 there is a high chance of the presence of lead paint. 

What do I do if I think there could be lead in my home?
How to carry out a home/property inspection for lead: 

Find a certified inspector to examine your home or the property in question to determine if there is lead present. 

Consult this list of state-certified lead-safe service providers sourced by the Ohio Department of Public Health.

You are encouraged to conduct an Environmental Cleaning of your home 24-48 hours before your inspection, especially if you have peeling, chipped, or deteriorating, potentially-lead paint. 

Visit this HUD resource on how to tackle this step.
The Cuyahoga Board of Health offers the free use of HEPA filter vacuums to facilitate the cleaning process. 

How do I certify my property as lead-safe?

If you do not live in Cleveland, consult your local public health department for the local guidelines for lead-safe certification.
If you live in Cleveland, after an inspection, two documents must be submitted to the City of Cleveland Department of Building and Housing to obtain a Lead Safe Certification: 
These documents can be submitted either by mail or email:

Via mail: City of Cleveland Department of Building and Housing Division of Records Administration; 601 Lakeside Avenue E., Rm 517; Cleveland, Ohio 44114
Via email:

[email protected]

Depending on where you live in Cleveland, there is a different deadline for when your property must be Lead Safe Certified. The dates for each neighborhood can be found on the map below:
Image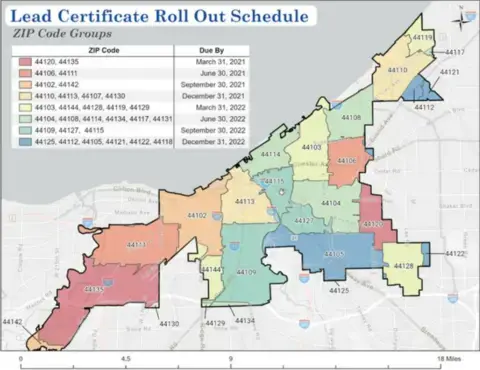 How do I get financial assistance for an inspection? 

If you do not live in Cleveland, look into your local NGOs or your government's lead clearance programs to find financial assistance. 
The city of Cleveland offers financial assistance through its Lead Hazard Control Grant Program.
CHN Housing Partners, a local nonprofit, offers Lead Safe loans, grants, and incentives in partnership with the Lead Safe Cleveland Coalition. 

What is my landlord required to do to combat the presence of lead?

If you do not live in Cleveland, look into legislation issued by your local government and what's required of landlords to combat lead exposure.
Cleveland landlords are required to obtain Lead Safe Clearances for all properties by 2023. Utilize the Lead Safe Roll Out Map listed above to determine the date your landlord is required to obtain certification.
If you qualify for financial assistance through the city's Lead Hazard Control Grant Program, your landlord is required to contribute a minimum $600 toward the cost of the process. 

What do I do if I want to test myself or my child for lead poisoning? 

Screening for lead exposure is done through a simple blood test. All children living in a high-risk area like Cleveland should be tested for lead exposure at the ages of 1 and 2. 
The Cleveland Department of Public Health offers free lead screenings.
The Cuyahoga County Board of Health has also answered commonly asked health questions regarding lead exposure. 
If these options are not available to you, contact your local physician to inquire about the availability of lead screenings.

Who do I contact if I want to voice my concerns about the issue of lead and lead poisoning? 

If you reside in Cleveland:
If you do not reside in Cleveland, reach out to your local health department or local government official to make your voice heard.

What organizations can I contact for help and more information about lead exposure?
Nationwide:
RELATED ISSUES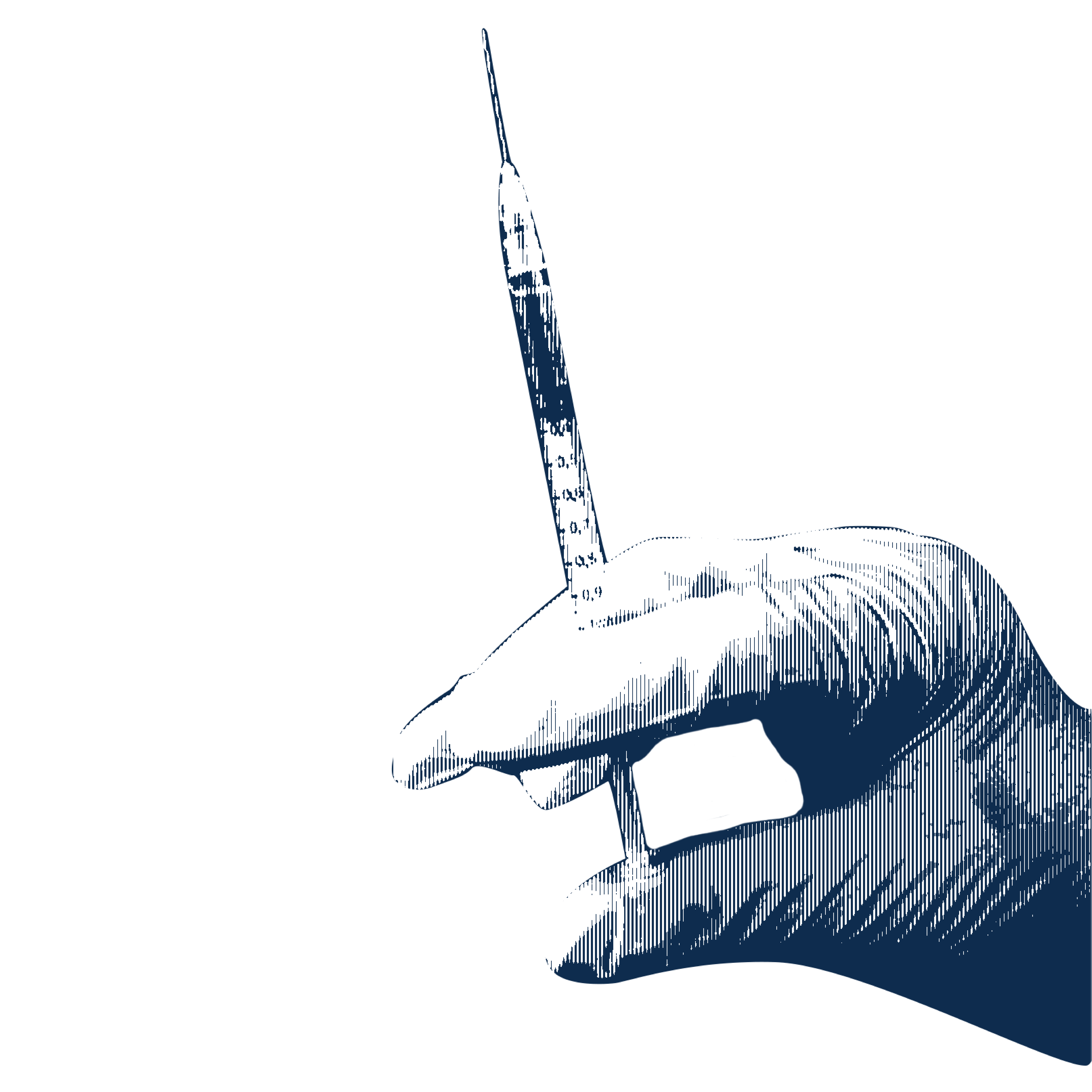 Health

Governance